Editorial: We continue to strive to make Varsity an inclusive space for all
The gender balance has greatly improved in recent years, but that doesn't mean there's not further progress for the paper to make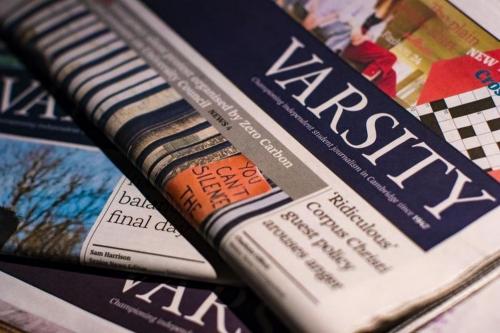 As the Editor of Varsity, I have been deeply saddened by the repeated Grudgebridge claims about a misogynist culture in the paper I dearly love. I cannot speak for the experiences of others, but personally I have always found Varsity to be an inclusive and supportive environment; I encourage those with alternate experiences to come forward so we can work together to resolve any concerns.
Varsity is filled with so many talented and inspiring women and non-binary people, and many men who work hard to support them. As Editor, I will not tolerate any sexism, and I take a proactive role in encouraging and mentoring female members of the team.
I want everyone's experience of Varsity to be of this kind of supportive and welcoming environment
Our paper provides an important platform for writing and thought from across the full spectrum of the student body, on a wide range of subjects. Some of the recent pieces I am proud to have published on feminist issues include critical examinations of drinking society culture,  discussion about rape, and debate on the intersectionality of feminism in Cambridge.
This is not to to disregard the comments which have been made about sexism and gender imbalance in the paper. Varsity is, unfortunately, not yet perfect, but it is important to acknowledge that we have come a long way in recent years. Go back in the Varsity archives and we used to run a regular feature called 'Varsity girl of the week', which profiled an 'eligible woman' from the student population. Like so many old institutions, Varsity has a history which is not separate from cultures of intolerance and sexism.
I have seen Varsity change a lot throughout my three years of being involved. When I first joined the editorial team in Lent 2016, it is true that it was male-dominated. For the last couple of terms, the team has been female-heavy, although this does not mean that there is not still progress which can, and indeed should, be made.
I will not tolerate any sexism, and I take a proactive role in encouraging and mentoring female members of the team
Personally, I did not – and have not – experienced any sexism, or anything other than encouragement and support in my work as a woman involved with Varsity. I say this not to disregard or invalidate the experiences of others, but because it is important to assert that I am not knowingly or intentionally "covering" for a problematic culture.
A number of the claims are centred around the news team, and I have been speaking to news editors from this time to try to understand what was the case. The woman who is referred to in a couple of Grudgebridge posts as the only female news editor has spoken to me about being uncomfortable with some sexist remarks made by other team members during this time.
"I stayed because I didn't ever want there to be another term where there was only one woman on the news team," she says. "I (and others; men, women and non-binary people) pushed hard to change the culture of the news team, and I think we've succeeded. Two years later, it is so dramatically different, and I am so proud of how far we've come".
This term, our news editorial team is four women and one man, and newer members of the team do not seem to have had these negative experiences. One female team member describes Varsity as "one of the most inclusive, positive and encouraging spaces that I have been involved in at Cambridge". A large number of people have messaged me since the Grudgebridge allegations began to offer their support and to state that this is not their experience or perception of the paper.
I want everyone's experience of Varsity to be of this kind of supportive and welcoming environment. As such, I take any allegations extremely seriously. Unfortunately, I cannot act on the claims being made on Grudgebridge, because I do not have enough information about the people involved, and the anonymous platform means I have no way of corroborating the allegations. However, I strongly encourage anyone who has any concerns to contact me directly (editor@varsity.co.uk) to discuss them further in confidence.
We are always looking to cultivate new talent, and I wish to end by reiterating an open call for students to write for us and to join the editorial team in Michaelmas, in order to help us continue making positive change and progress.
With thanks to all the women and non-binary people who have helped to discuss, edit and publish this piece.