Union Announces Lent Line Up
The force is with the Union this term as a certain Mr. Skywalker joins singers, comedians, scientists and the Crown Prince of Iran in a line-up promising "something for everyone"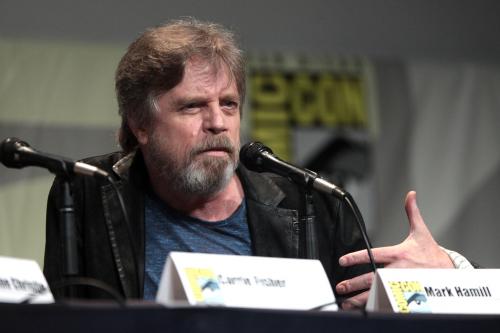 The Cambridge Union Society has released its line-up of debates and speakers events for Lent 2016, featuring a diverse range of figures including BBC journalist Jeremy Vine, Star Wars actor Mark Hamill, funnyman Stephen Merchant, fashion designer Calvin Klein and singer-songwriter Laura Marling.
The term will begin with a debate on media reporting of humanitarian crises. The first week will also feature a forum on institutionalised sexism, featuring Charlotte Proudman. Proudman's response to an unsolicited LinkedIn invitation last year, in which she claimed she had been the victim of sexism, went viral.
The third week will see a debate on the large-scale collection of personal data, and in week 4, the former Crown Prince of Iran will battle it out with MPs and students in a debate over the question of British diplomatic relations with Iran.
Later in the term, Union members will be treated to debates on violence as political expression, the sexualisation of the music industry, featuring Mary Ann Hobbs, and whether taking recreational drugs is worth the risk.
The standalone speakers appear to be less political than last term, when the Union hosted George Galloway and Yanis Varoufakis.
Instead Union members can enjoy a host of artists and journalists, from poet Simon Armitage to the new host of Newsnight and presenter of BBC2's Dragon's Den, Evan Davis.
Also featured are Nobel Prize-winning geneticist Sir Paul Nurse, BBC arts editor Will Gompertz, and Channel 4 political correspondent Michael Crick. 
However, the line-up still features a number of hard hitters such as Labour shadow minister Luciana Berger, Director General of UNESCO Irina Bokova, and National Security Advisor Sir Mark Lyall Grant.
The new termcard sports a host of new formats, including a week 2 conversation on mental illness which ditches the traditional adversarial style of the union in favour of a more open dialogue with a selection of experts.
Speaking to Varsity, the Union President, James Hutt, described how the Union has "wanted to do a mental health debate" in the past "because it's such an important issue for students in Cambridge", "but could never come up with a motion that was feasible to debate in the usual style."
Having consulted with mental health groups on the topic, the Union hope that this conversational approach to debating will enable discussion "without necessarily directly challenging people."
Week 7 will feature a poll of members for the Democratic presidential primary, and the Lent Term Union Ceilidh.
The Union President will pit himself against Andy Burnham, the Shadow Home Secretary, to draw the term to a close with a debate over the question of whether the Conservatives have been unfairly demonised.
The Union has been keen to highlight the wide range of speakers lined up for the coming term, including "former Crown Prince of Iran Reza Pahlavi, current Shadow Home Secretary Andy Burnham, and television and radio presenter Jameela Jamil."
The Union's Speaker's Officer, Josh Ellis, also emphasised the diversity of speakers, adding that "there is truly something for everyone this term".
Highlighting that X-Factor winner Leona Lewis is due to speak, he noted that "some people wait a lifetime for moments like this."
Hutt remarked on the release of the termcard that he was "looking forward to a brilliant term with a few old Union favourites returning."