Cambridge students win prestigious wine tasting competition
The three-strong team beat eight other world teams in the finals in Bordeaux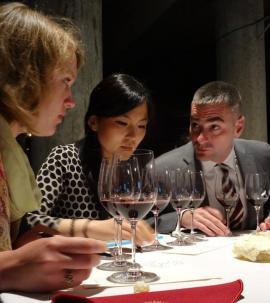 A group of Cambridge students have won this year's Left Bank Bordeaux Cup, one of the world's biggest amateur wine tasting competitions, beating eight other teams from business schools and universities from around the globe.
The final took place in the cellars of Chateau Lafite Rothschild in Bordeaux. The winning trio, comprising Ellie JY Kim, David Beall and Vaiva Imbrasaite, have gained international press coverage thanks to their fruitful year in competitions.
The semi-finals took place in London at the Connaught Hotel, in which the team took part in a trivia round, two rounds of red wine tastings and a round of sweet wine tasting. By the end there was a tie between Oxford and Cambridge for second place. Cambridge won against their opposition with a round of trivia questions to reach the finals in Bordeaux.
Speaking to Varsity, Vaiva Imbrasaite, a PhD student, said that the team only expected to end up in the top half of entrants. Their win came as a "very pleasant surprise", according to Vaiva and "surreal" to her team-mate Ellie. Their prize included return AirFrance tickets from London to Bordeaux, an invitation to the VinExpo dinner in Chateau Mouton Rothschild and a double magnum of Chateau Lafite-Rothschild, which  2002 -
Vaiva commented on travel aspect of the competition: "The travel to the finals was really hectic. I was travelling there straight from a conference in Finland where I was presenting my PhD work, and my team-mates were travelling from London." Both her flight and replacement flight were cancelled because of strike action in France.
She joined the Blind Wine Tasting Society's tasting sessions last year, in which members guess the grape variety, country, region, sub-region and the vintage. She joined the seven-strong Varsity team, doing tastings every day for a month before a Varsity match in February.
A significant amount of their training was self-study, and self-arranged tasting sessions. Team captain Ellie JY Kim said that fellows from Churchill, Downing, and Trinity helped them with the trainings by inviting them to taste their wines out of their magnificent cellars.
Speaking of her introduction to wine tasting, Ellie said: "Blind wine tasting is one the most bizarrely interesting student activities I found in Cambridge.  I started coming to the blind wine tasting society with a friend in October 2011 out of sheer curiosity. It was a refreshing and stimulating challenge to use both my senses, as well as analytical reasoning based on wine knowledge, to make a deduction as to what the wine is."