Exclusive: Christ's triumphant in 2019 Tompkins Table
With 44% of its students achieving first-class degrees, Christ's confidently maintained its position atop the Tompkins Table this year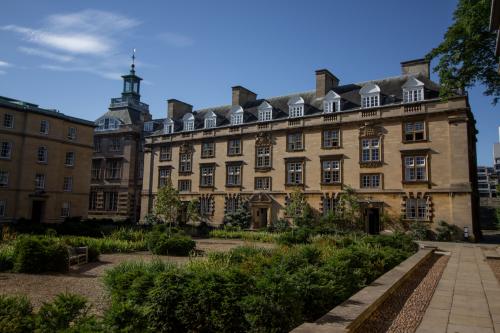 Christ's has topped the Tompkins Table and cemented its position atop the annual ranking of Cambridge colleges by undergraduate Tripos exam performance for the second year running, after unseating Trinity College and bringing an end to the College's seven-year reign last year.
Christ's saw 44.0% of its students awarded first-class degrees in 2019, an almost 7% increase on its performance in this regard last year. This figure is at least double the proportions of students obtaining first-class degrees at seven other Cambridge colleges this year.
Trinity, where 42.5% of students were awarded firsts, pulled itself back up to second place this year after dropping to third place, its lowest ranking in eleven years, in 2018.
The Tompkins Table ranks all 29 colleges home to undergraduate students at the University, and was created in 1981 by Peter Tompkins, then a student at Trinity College studying Mathematics. The table is calculated using a formula which classes all BA Tripos results with a score of 5 for a first, 3 for a 2.i, 2 for a 2.ii and 1 for a third, expressing the result as the percentage of the maximum score that each college could possibly attain.
Click here to view this year's table
Under this ranking system, colleges with larger undergraduate intakes are less susceptible to drastic fluctuations in their rankings.
Christ's achieved a score of 75.7% this year, 15.6% more than that of the lowest-ranking college, Lucy Cavendish, which scored 60.1%. At 16.3%, Lucy Cavendish's proportion of students awarded first-class degrees was the lowest of any College this year, but nevertheless represents an increase from the College's corresponding result in 2018: 13.7%.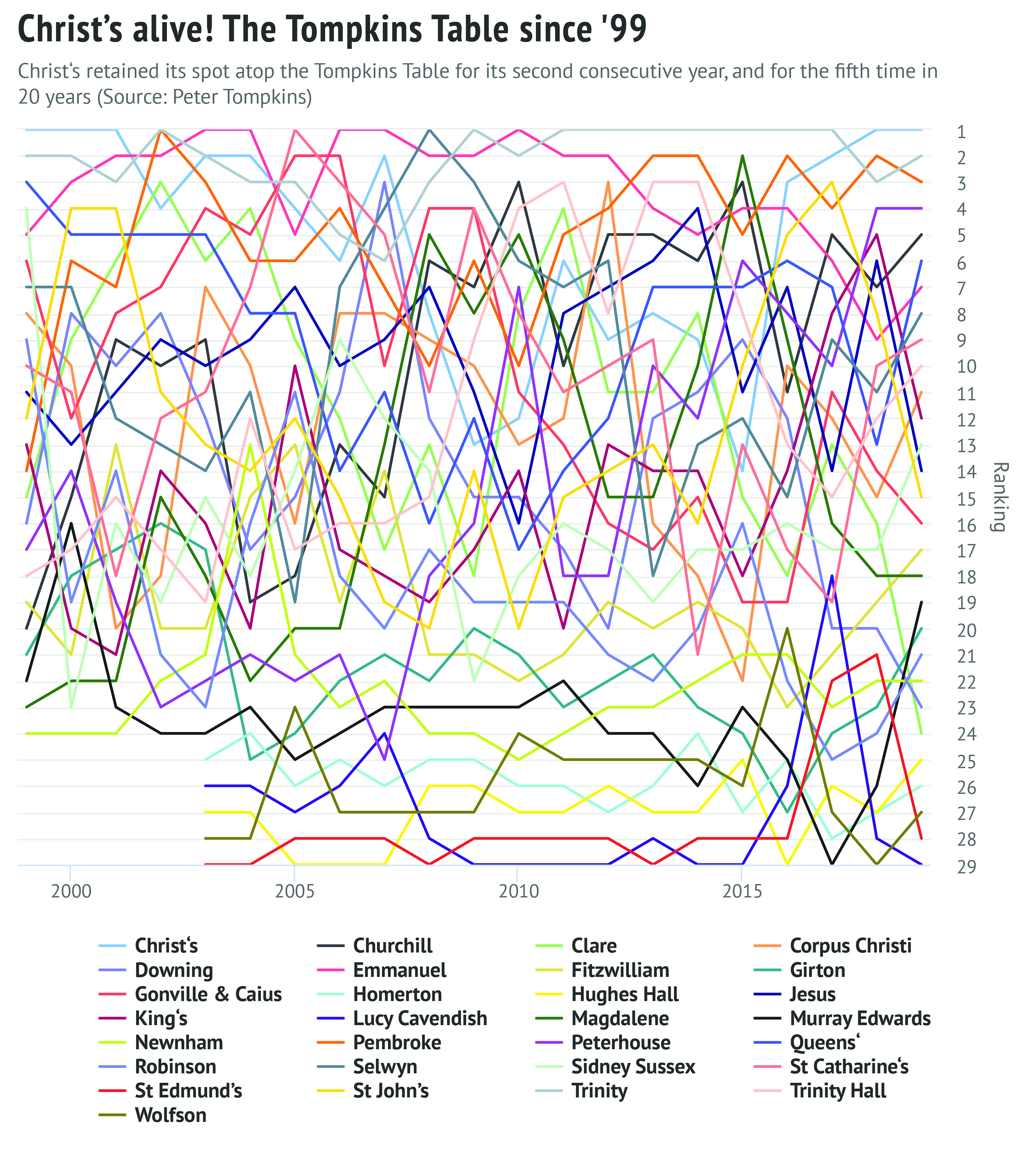 The mature colleges – Lucy Cavendish, St Edmund's, Wolfson and Hughes Hall – all placed within the bottom five on the table, reflecting consistent low performance under Peter Tompkins' ranking system. Homerton, at 26th, was the lowest-ranked non-mature college, followed by Clare, which fell eight places from its 2018 ranking to place 24th in this year's Tompkins Table.
Dr Emily Tomlinson, Director of Admissions at Christ's, said: "It's important to emphasise the fact that men and women from all types of school, all backgrounds, and all subjects, have done exceptionally well at Christ's this year. But what is striking, from my perspective, is the contribution made by women students to the College's success. 41% percent of Christ's women attained a First in Tripos – almost certainly a record for any undergraduate college, and by some distance.
"The gender attainment gap at First-Class level has been remarkably and depressingly persistent in Cambridge and it's heartening to see our students do so much to close it in a year when we have been celebrating the fortieth anniversary of the admission of women to the College."
Speaking of his College's success in this year's Tompkins Table, Senior Tutor of Christ's, Dr Robert Hunt, said: "At Christ's we aim to be consistently in the top quarter of the table of Cambridge Colleges, so we are delighted by the pleasant news that we are again top-ranked in this year's table."
Echoing the comment he gave to Varsity following Christ's ascension to the top of the Tompkins Table last year, he claimed: "We certainly don't place undue pressure on our students to do well; they are all highly motivated already!
"We achieve our good results by attracting strong applicants from a wide range of backgrounds; by providing them with excellent teaching from carefully-selected supervisors; and by giving them strong pastoral support."
As is common, the Tompkins Table saw narrow margins of difference between the scores of the vast majority of colleges. This year, for example, those ranked between 7th and 17th all fell within two percentage points of each other under Peter Tompkins' ranking system.
Due to the small differences between results, the Tompkins Table typically sees a lot of movement in the rankings of those colleges placing in the middle of the table. Compared with last year's results, two colleges moved eight places in the ranking: Jesus fell from 6th to 14th, while Clare fell from 16th to 24th. Four others moved seven places, including Queens', which rose from 13th to 6th.
Following a seven-place increase on last year's results, Murray Edwards placed 19th, the women-only college's highest ranking since 2000.
The Tompkins Table 2019: results in full
| Rank | College | Score | (Rank 2018) | Change in Rank | % Firsts | (% Firsts 2018) | Change in % Firsts |
| --- | --- | --- | --- | --- | --- | --- | --- |
| 1 | Christ's | 75.7 | 1 | 0 | 44.0 | 37.1 | 6.9 |
| 2 | Trinity | 74.1 | 3 | 1 | 42.5 | 37.1 | 5.4 |
| 3 | Pembroke | 72.3 | 2 | -1 | 36.8 | 37.2 | -0.4 |
| 4 | Peterhouse | 71.2 | 4 | 0 | 34.9 | 30.4 | 4.5 |
| 5 | Churchill | 71.1 | 7 | 2 | 34.1 | 34.7 | -0.6 |
| 6 | Queens' | 70.6 | 13 | 7 | 32.5 | 29.6 | 2.9 |
| 7 | Emmanuel | 70.3 | 9 | 2 | 33.3 | 33.7 | -0.4 |
| 8 | Selwyn | 70.1 | 11 | 3 | 32.1 | 29.4 | 2.7 |
| 9 | St Catharine's | 69.9 | 10 | 1 | 31.0 | 30.1 | 0.9 |
| 10 | Trinity Hall | 69.7 | 12 | 2 | 30.3 | 30.6 | -0.3 |
| 11 | Corpus Christi | 69.4 | 15 | 4 | 31.1 | 29.8 | 1.3 |
| 12 | King's | 69.0 | 5 | -7 | 31.3 | 31.0 | 0.3 |
| 13 | Sidney Sussex | 68.8 | 17 | 4 | 29.4 | 27.4 | 2.0 |
| 14 | Jesus | 68.6 | 6 | -8 | 29.9 | 33.4 | -3.5 |
| 15 | St John's | 68.4 | 8 | -7 | 28.6 | 30.2 | -1.6 |
| 16 | Gonville & Caius | 68.3 | 14 | -2 | 27.3 | 27.3 | 0 |
| 17 | Fitzwilliam | 68.3 | 19 | 2 | 27.9 | 25.2 | 2.7 |
| 18 | Magdalene | 67.6 | 18 | 0 | 24.4 | 24.0 | 0.4 |
| 19 | Murray Edwards | 66.2 | 26 | 7 | 24.6 | 18.4 | 6.2 |
| 20 | Girton | 65.4 | 23 | 3 | 22.3 | 20.2 | 2.1 |
| 21 | Robinson | 65.1 | 24 | 3 | 22.0 | 20.9 | 1.1 |
| 22 | Newnham | 65 | 22 | 0 | 22.8 | 22.8 | 0 |
| 23 | Downing | 64.9 | 20 | -3 | 21.7 | 25.3 | -3.6 |
| 24 | Clare | 64.8 | 16 | -8 | 22.1 | 28.4 | -6.3 |
| 25 | Hughes Hall | 64.4 | 25 | 0 | 21.9 | 20.0 | 1.9 |
| 26 | Homerton | 63.2 | 27 | 1 | 18.6 | 19.3 | -0.7 |
| 27 | Wolfson | 61.2 | 29 | 2 | 17.4 | 11.0 | 6.4 |
| 28 | St Edmund's | 60.5 | 21 | -7 | 18.2 | 28.6 | -10.4 |
| 29 | Lucy Cavendish | 60.1 | 28 | -1 | 16.3 | 13.7 | 2.6 |
This article was updated on 5th August to include comment from Director of Admissions at Christ's College, Dr Emily Tomlinson