Murray Edwards threatens students over Dame Barbara Stocking protest
Students were told that the protests could constitute harassment and that protest signs must be taken down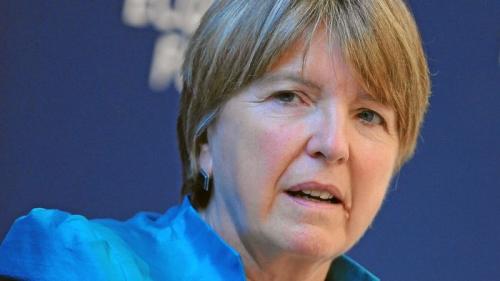 Students have been told to take down signs calling for Dame Barbara Stocking's removal, two weeks after Murray Edwards' Governing Body decided that she would continue as President of the college.
Stocking has come under fire over the past 18 months, following allegations that she mismanaged instances of sexual exploitation at the hands of aid workers during her time as CEO of Oxfam GB.
A report published by the Charity Commission in June accused Stocking, President of Medwards since 2013, of mismanaging the charity's response to the exploitation of women and girls as young as twelve in Haiti in the wake of the 2011 earthquake. 
According to The Times, a number of students had displayed signs in their bedroom windows calling on the college to "Fire Dame Barbara". In response, they claim that a senior tutor told them a planned garden party after their graduation ceremony on Saturday would be cancelled, unless they removed the signs. 
One student quoted in The Times labelled the college's actions "ridiculous" and claimed they "were told [the posters] constituted harassment".
A spokeswoman for Medwards said they would not comment on specific incidents relating to student discipline, but added: "Any statement or action that was designed deliberately to humiliate a member of the college would contravene the college's policy on harassment."
In an email to Murray Edwards' students in June announcing that Stocking would continue as President, Senior Tutor Dr Kate Peters emphasised that the College's Governing Body "took into very serious consideration the findings and recommendations from the Charity Commission's report" and concluded: "Dame Barbara continues to work tirelessly on behalf of Murray Edwards College and will remain as President."
The "Fire Dame Barbara" posters are not the first actions students at Medwards have taken to oppose Stocking's continuing role as President, and the way with which it has been dealt by the College. 
In February, a number of second-year students refused to meet with Stocking in customary mid-degree meetings with the college president. They also released an open letter which labelled Stocking's apology to students "insufficient" and argued that the college's response to these concerns was inadequate. 
Responding to the open letter, Dr Ruchi Sinnatamby, Vice-President of Murray Edwards College, told Varsity that the meetings between the President and second years were "not compulsory". She also stated that they are offered with the intention of providing "an opportunity for students to discuss their experience of College and their time in Cambridge''.
The Murray Edwards' Student Collective told The Times: "We believe that it is indefensible to allow Dame Barbara to remain in a position of both power and respect. We intend to make our dissatisfaction vocal and strongly believe that it is unconscionable for her to remain president of Murray Edwards College."