Dame Barbara Stocking to remain as Medwards President after concerns over Oxfam Haiti revelations
Medwards' Senior Tutor emphasised that "protecting people and safeguarding responsibilities must be a governance priority for all charities, including this College"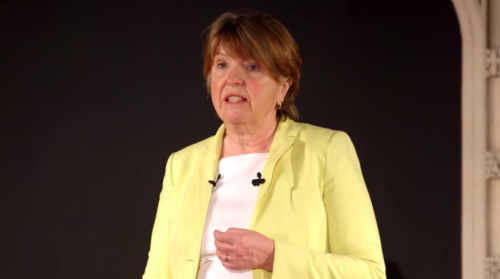 Dame Barbara Stocking will remain as President of Murray Edwards College despite concerns following fresh accusations of mismanaging instances of sexual exploitation at the hands of aid workers during her time as CEO of Oxfam GB, the College's Governing Body has decided.
The Governing Body met on 18th June to discuss Stocking's fate at the College following allegations from a report published by the Charity Commission earlier this month. The report accuses Stocking, President of Medwards since 2013, of mismanaging the charity's response to the exploitation of women and girls as young as twelve in Haiti in the wake of the 2011 earthquake.
In an email to all Medwards students, Senior Tutor Dr Kate Peters wrote that "the College's Governing Body took into very serious consideration the findings and recommendations from the Charity Commission's report", and that "the views of students, alumnae and staff were also reported in detail to Governing Body."
It concluded by confirming the Governing Body's decision: "Dame Barbara continues to work tirelessly on behalf of Murray Edwards College and will remain as President."
The email emphasised that "protecting people and safeguarding responsibilities must be a governance priority for all charities, including this College."
"Governing Body and College Council, as trustees of the College, are committed to upholding these principles for Murray Edwards College."
Dr Peters noted that Stocking's Presidency began in 2013, around two years after she had left Oxfam GB, and had been subject to a routine review in 2018, at which time the Governing Body decided to extend her Presidency "by the statutory maximum of three years."
Stocking's contributions to the College were highlighted in the email: '[The] Governing Body recognises that under Dame Barbara's leadership processes in a wide variety of areas have been introduced in College, and actions have been taken to support all members of the College – from students and recent graduates to Fellows and staff – in their respective careers.'
Oxfam GB is accused of failing to follow up and report incidents of sexual exploitation at the hands of senior aid workers in Haiti under Stocking's lead. Following the report's publication and the announcement of the Governing Body meeting, some students suggested to the Times that they would boycott customary kneeling before the College President during graduation if Stocking were to remain in her post.
Murray Edwards Student Collective (MESC) said that the College "has decided that Dame Barbara's contribution towards Murray Edwards outweighs the implications from the Charity Commission's recent report. What they did not mention in their decision however is the impact her behaviour has had on students, particularly minority students and survivors.
"Furthermore, this is not just a student issue. The college's decision shows a lack of solidarity with the Haitian victims of Stocking's inaction. We believe that it is indefensible to allow Dame Barbara to remain in a position of both power and respect.
"We intend to make our dissatisfaction vocal and strongly believe that it is unconscionable for her to remain President of Murray Edwards College."
This follows last year's revelations of Stocking's involvement in the cover-up of sexual misconduct by senior Oxfam workers in Haiti in the wake of the earthquake of 2011. Roland van Hauwermeiren, the country director for Oxfam, admitted to using an Oxfam-funded villa to host prostitutes. According to a Times investigation, Stocking offered him a "phased and dignified exit" for the sake of the charity's reputation.
At the time, Medwards told Varsity that these allegations were "untrue", for which it later delivered an official apology to students following marked discontent among the student body. Earlier this year, some second-year students refused to meet with Stocking for a customary mid-degree meeting due to what they perceived to be the College's failure to adequately respond to these initial allegations.