CULC criticises Cambridge Union over invitation to 'overt antisemite' Malaysian PM
Prime Minister Mahathir Mohamed spoke at the Oxford Union earlier this year, an invitation which also saw criticism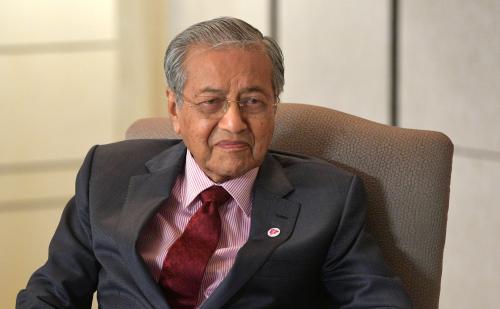 The Cambridge University Labour Club (CULC) has criticised the invitation of Malaysian Prime Minister Mahathir Mohamad to speak at the Union this evening, citing his "vicious" antisemitic views. A former president of the Union has also condemned the invitation.
Mohamad, who is scheduled to appear at the Cambridge Union at 6:30pm tonight, has repeatedly and openly expressed antisemitic views, including referring to Jewish people as "hooked nosed" and holding an "instinctive sense of money."
In an interview on BBC Hard Talk last year, Mohamad challenged a historical consensus that 6 million Jews were killed during the Holocaust, instead claiming that 4 million were killed.
On Facebook, a spokesperson for CULC said: "The decision to open their doors to this man downplays the murderous effects of his hate speech. As ever we stand in solidarity with Jews across the world, who live in fear of attack, and especially those in Malaysia."
Mahathir Mohamad is a vicious antisemite and the current prime minister of Malaysia. He has been invited to the Cambridge Union today. We stand in solidarity with British Jews against the threat to the community posed by the normalisation of this hatred. @CambridgeUnion why? pic.twitter.com/hgaPL3Gc1A

- Cambridge Uni Labour Club (@CULC) June 16, 2019
Adam Cannon, who was Union president in Easter 1996, took to Twitter earlier this week to express his discontent regarding the invitation. "As a former President of the [Cambridge Union]", he wrote, "I'm appalled that they have invited [...] an overt antisemite to speak."
"Free speech does not mean the Union should be giving him a platform to spout his vile views."
In a statement to Varsity, Union Speakers' Officer Adam Davies said: "The Cambridge Union remains committed to protecting both free speech and the safety of our broader community.
"We have worked with the Union of Jewish Students about how to best safeguard the welfare of everyone during the event, and as with all of our events, we will aim to challenge the Prime Minister's views directly.
"We also urge any of our members rightly concerned about the Prime Minister's views and actions to come to the Union this evening to have the chance to question him in person."
The Cambridge Union encouraged members to "come along to engage with, challenge, and question" Mohamad this morning on Facebook.
In January, the 93-year-old politician spoke at the Oxford Union, where he said he could not "understand" the criticisms voiced by audience members regarding his previous antisemitic remarks. "We talk about freedom of speech and yet you cannot say anything against Israel, against the Jews. Why is that so?"
In January, Malaysia banned Israeli athletes from competing in a key Paralympic qualifying round held in Malaysia, a move which was subsequently condemned by the UK Foreign Office.
Andrew Dismore, the London Assembly member for Barnet and Camden, criticised the Oxford Union's decision to invite Mohamad to speak earlier this year, saying: "Jewish Students on campus feel less and less safe. [...] By hosting a noted antisemite, Oxford Union are propagating a hostile environment for Jews, giving a platform to a man who has denied the severity of the Holocaust, propagated antisemitic tropes, and made straightforward racist comments."
Mohamad served as Malaysian prime minister from 1981 to 2003, and was reelected in 2018.