MENAF to host Q&A including current Assad political and media adviser
Dr Bouthaina Shaaban previously told the BBC Assad "has never bombed his people", a claim she said was a creation of "the imagination of the western media".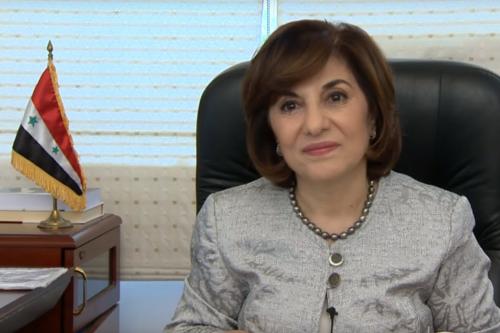 This evening, the Middle Eastern and North African Forum (MENAF) will host Dr Bouthaina Shaaban, a senior political and media advisor to Syrian leader Bashar al-Assad, along with two former British ambassadors to Syria, an MP and a Fellow for Syrian Affairs at The Institute for Statecraft.
The event, called 'The Future of the Syrian State', will take place in Pembroke College. A description of the event wrote that the discussion will explore how Assad's re-gaining of foothold on power will affect the country. It will feature screened answers from the senior Assad adviser to pre-prepared questions from students.
It is not the first time MENAF has given a platform to controversial speakers, previously coming under fire by the Cambridge University Palestine Society last November for hosting Israeli politician Naftali Bennett as well as by eight societies headed by the university's Kurdish Society in protest of their invitation of Turkish Ambassador to the UK Ümit Yalçın in January.
The talk comes as an estimated two thirds of Syria has come back under state control, with ISIS facing extinction and an ongoing withdrawal of US presence in the country. It has also seen the gradual reestablishing of regional diplomatic relations - marked by the Emirati and Bahraini embassies in Damascus reopening and as Syria's parliament speaker travelled to Amman for Arab Inter-Parliamentary Union meeting on Sunday.
Dr Bouthaina Shaaban, educated from the age of 16 in England and obtaining her PhD in English Literature at the University of Warwick, first climbed the ranks of the Syrian government after working for both Assad and his father as an interpreter.
Shaaban came under sharp criticism after she condemned the UN probe on Syrian involvement into the 2005 assassination of Lebanese prime minister Rafiq Hariri, and became one of only six officials at the time personally sanctioned by the US. Speaking to the Today Programme in 2016, she blamed the Western media of "refusing to acknowledge reality on the ground" in the civil war and called UN reports on the regime's use of chlorine attacks against its citizens "unfounded".
The event will also feature two former UK ambassadors to Syria: former master of Pembroke College Sir Roger Tomkys and Peter Ford.
Ford has also gained controversy for his condemnation of the UK's policy in Syria, calling it "incoherent and grotesque" and after denying there was any proof of Assad regime involvement in both a 2016 attack on a UN humanitarian convoy leaving 10 dead and in the 2017 Khan Shaykhun chemical attack, which saw 74 lose their lives.
Independent MP for Barrow and Furness John Woodcock, who quit the Labour Party last July after accusing an inquiry into sexual assault allegations levelled against him of being biased, will also make an appearance.
Finally, Arab military history specialist and Fellow for Syrian Affairs at the Institute for Statecraft Kamal Alam will join the speakers. The institute, an independent registered charity, recently saw a mass data hack and accusations of using its platform politically to criticise the Labour party from its official social media platforms.
When asked for comment on reasons for hosting the event, the MENAF committee insisted to Varsity it was to "maintain [their] commitment to a broad discourse and lively debate about the Middle East's politics" and in this vein "it would be naive to discount a Syrian government perspective".
The committee also pointed out "in the past, [they] have hosted 'anti-Assad' speakers, including the ambassadors of Turkey, Lebanon, and Israel" and stressed that "Dr Bouthaina Shaaban is as orthodox a Syrian government perspective as can be found and while this perspective is not being given unchallenged, it is one worth hearing."
MENAF continued, arguing "Assad's Syria is in the throes of rehabilitation in the Arab and wider worlds, and we see no reason why this should be a topic that is off-limit while senior government officials across the world are discussing this development."