30 University societies condemn MENAF event with controversial Israeli politician Naftali Bennett
The open letter said Bennett "is not welcome to express his well known and deeply racist views at our university"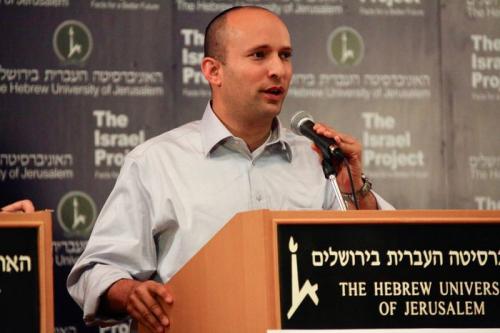 Following previous open criticism of Cambridge Middle Eastern and North African Forum's (MENAF) decision to host controversial Israeli politician Naftali Bennett, the Cambridge University Palestine Society (PalSoc) has launched an open letter urging Cambridge students to boycott the event, set to take place on Monday. 
Prior to its public release on Thursday morning, the open letter had gathered signatures from 30 University societies, including the Kurdish Society, Islamic Society, Cambridge Universities Labour Club and Amnesty International, among others.
Naftali Bennett did not respond to Varsity's request for comment on the open letter.
The letter criticises MENAF's decision to host Bennett, as well as their subsequent statement to Varsity, in which they argued: "it cannot be said that [Bennett's viewpoint] is one not worth hearing."
Detailing Bennett's violent rhetoric towards the people of Palestine, the letter states that the signatories "wish to affirm that he is not welcome to express his well known and deeply racist views at our university" and calls on Macintyre "not to support the propagation of this hatred in our student community."
Cambridge University Students Union (CUSU) told Varsity that they join the thirty student groups "in affirming that Bennett is not welcome in our community." They added, "Hosting this man with a history of racist views and incitement to violence serves only to legitimise those positions and to further put at risk Palestinian and Arab people, including those who are residents of Cambridge or students at this university."
CUSU further noted "that Bennett's attendance will mean the presence of heavy Israeli state security in the university, which is threatening to many", urging students not to attend Bennett's upcoming talk and to stand, instead, "with those who are condemning his presence here".
Responding to the open letter, a MENAF representative told Varsity: "It is a shame that people with so much to say about Mr. Bennett and Israeli policy would boycott an event where he will be engaged by a professional journalist and the audience will be able to do so, too." The MENAF event with Bennett is planned to be a conversation with The Independent journalist Donald Macintyre. 
They added that "recent developments in Israeli politics make Monday even more exciting."
'An issue that should resonate with the consciousness of all students'
Varsity spoke to two Palestinian students at the University, who wished to remain anonymous about the decision to host Bennett.
One student said when she saw MENAF was hosting Bennett she felt "really hurt". The other added, "As a Palestinian student here at Cambridge, I feel violated", but noted that this "is an issue that should resonate with the consciousness of all students".
The other student said that he believes, "When [MENAF] offers a platform for someone like him to speak it is not a neutral decision, it is siding with the oppressor."
"They will say that inviting him and letting him speak is a matter of free speech. I completely disagree. The insinuation of hatred and violence against Palestinians and Arabs is not free speech: It is simply racism."
One of the students added that she believes the timing of the event further disregards the emotion of Palestinians at Cambridge: "I think it would have been a bit disrespectful to organise this event two months ago, but I think currently, when there is a prospect of another war in Gaza, it is just absolute a shame, especially for students from Gaza whose families are back home."
She acknowledged that MENAF couldn't have predicted that these circumstances would surround the event, but said the ongoing conflict should have prompted its cancellation: "I think out of decency it is not the time. You don't bring someone to promote more violence amidst violence that is already happening."
Continuing, the student said, "I think we should pressure the event to not happen. In the case that it does happen, I would be of the view that a pro-Palestinian audience should be there."
The other student added that Bennett "is not secretly but blatantly racist, and is proud of it", claiming that he is "considered extreme both in Palestine and Israel."