Selwyn sells all fossil fuel direct investments
The College has sold a holding in Royal Dutch Shell, and will instead commit to investing in renewable energy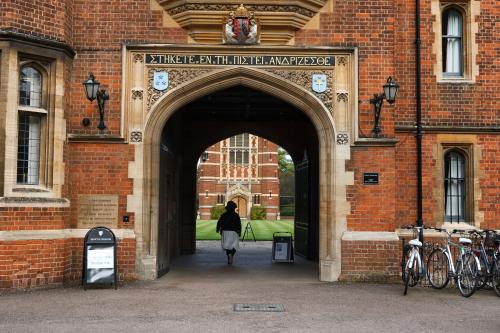 Selwyn College announced today that it no longer holds any direct investments in the fossil fuel sector, after selling a £890,000 holding in the oil and gas company Royal Dutch Shell, making it the latest Cambridge college to clear direct fossil fuel investments from their endowment.
The decision was made by the investment committee and approved by the College Council in keeping with their "long term bias to divestment from fossil fuels".
In a comment to Varsity, Master of Selwyn Roger Mosey said "Selwyn has had a policy of divesting from fossil fuels for some time – recognising the concerns that college members and others have about climate change."
He added that the college felt it was "an appropriate time to sell our shares in Shell" with the College committing to invest "in renewable energy instead."
"We have to balance that with the obligation as charitable trustees to manage our investments in the financial interests of the College."
An investigation by Varsity last year found that Selwyn college had £2,044,298 invested in gas and oil companies. Shell, one of the companies it previously had holdings in, has been previously criticised, particularly for its actions in Ogoniland, in Nigeria.
In November, Downing College announced that they would remove all 'practical investments' from the fossil fuel sector, and offset any remaining indirect investments with investments in environmental impact funds. Queens' is the only known college to have divested its entire endowment from the sector.
Student campaigners have been putting pressure on various colleges to divest – while in November last year, Christ's College Council rejected divestment.
In response to the announcement by the college, Selwyn JCR President Joe Foye told Varsity: "Divestment is an important issue to many students at Selwyn. We're delighted that, following discussions with the college, they have acted to remove all direct investments from fossil fuels. As a JCR, we encourage other colleges to follow Selwyn's lead."
A spokesperson for Cambridge Zero Carbon also said to Varsity: "Selwyn selling its direct fossil fuel investments is another fantastic victory for the Cambridge divestment movement. It is testament to the work of students at Selwyn and sends a clear message that ending investments in fossil fuels is urgent and necessary.
They added that Selwyn must now "commit to remove all their investments, direct and indirect, from fossil fuel companies."
"Students involved in 15 new college divestment campaigns are sending a powerful message to their Colleges and to the University: we must take urgent action against the companies most responsible for climate crisis, and commit to full divestment now."
If you have been affected by any of the issues raised in this article, the following information and support is available: