Far-right Tommy Robinson march met with anti-fascism protest
Members of the far-right English Defense League from around the country marched in Cambridge today, vastly outnumbered by anti-fascism protesters
The Cambridge far-right and anti-fascists turned out to protest
Around 35 'Free Tommy Robinson' protesters took to the streets of Cambridge today, as two anti-fascism marches, attended by several hundred people, were held in counter-protest.
Those from the far-right marched from Parker's Piece, saying they were standing for free speech in support of Tommy Robinson, the jailed founder of the far-right English Defense League (EDL).
'Free Tommy Robinson' supporters and anti-fascism protesters verbally clashed. Members of the far-right group shouted: "It takes common sense to realise we have an Islamic problem", and, "We are not fascists, we are realists." Anti-fascism counter-protesters rebutted: "Whose streets? Our streets."
Close to 4pm, one EDL support threw what appeared to be red dye at a police offer, and was immediately arrested.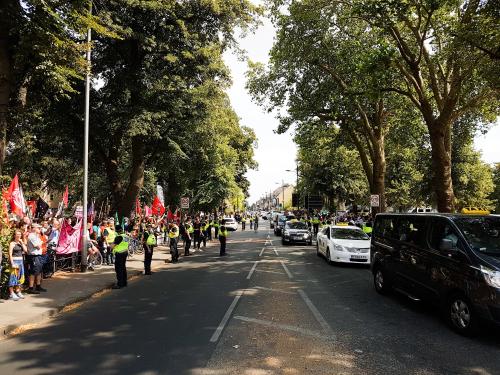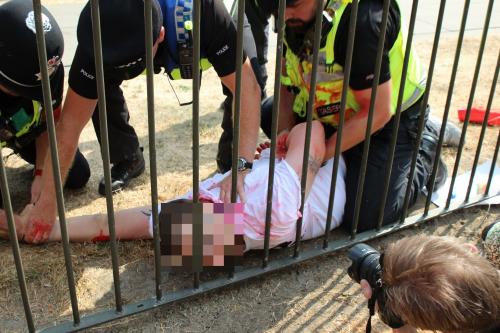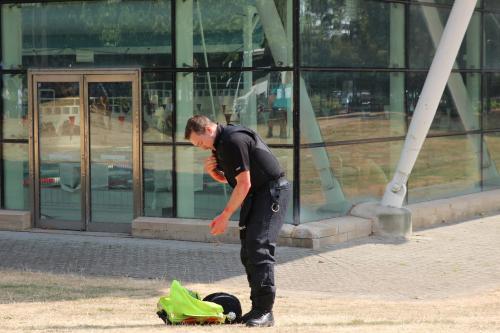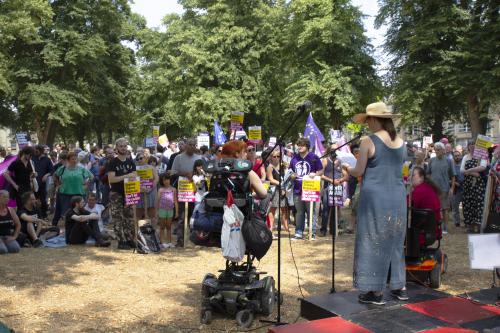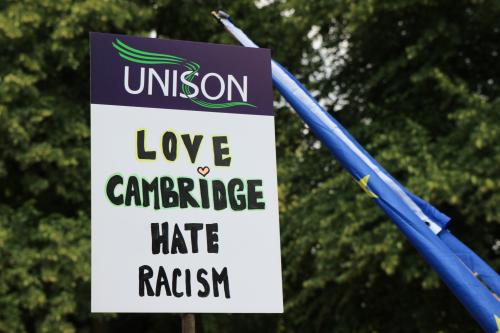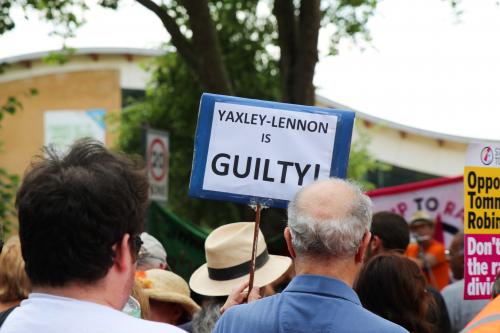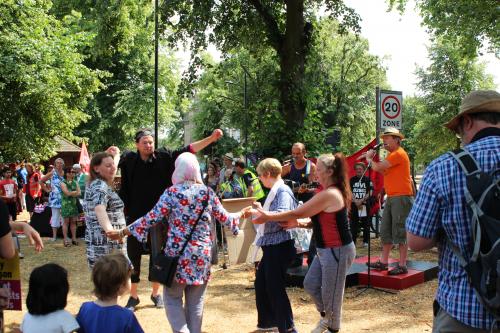 Cambridge Stand Up to Racism and Unite Against Fascism organised a counter-protest and unity festival. Organiser Richard Rose claimed the group was marching in defense of Cambridge's "vibrant, diverse multicultural society", and in a show of support for those who are targets of violence or discrimination.
The other counter-protest was led by the CUSU BME campaign, Cambridge Defend Education (CDE) and Common Cambridge.
Several roads were blocked off in Cambridge in light of the protests, which saw a higher number of police officers than far-right marchers.
The Cambridge Stand Up to Racism counter-protest was supported by Cambridge MP Daniel Zeichner, MEP Alex Mayer and Cambridge City Council leader Lewis Herbert. Leading figures from the UCU, the National Education Union, the Fire Brigades' Union and the RMT were in attendance to show support.
Before the march, Zeichner released a statement saying "There is no place in Cambridge's proudly diverse, multi-cultural and multi faith community for the sort of racism espoused by Robinson and many of his supporters."
Rose, an organiser from Cambridge Stand Up to Racism, said that the counter-protest was motivated by a concern about "the growth of the far right national and internationally, and the growth in race hatred and bigotry that this leads to".
CUSU president Evie Aspinall, on behalf of CUSU and the GU, has also said that the student unions wanted to "explicitly reiterate our commitment as a union to standing categorically against white nationalism, fascism, and the far-right in all their forms."
Cambridge's protests follow similar events in London which took place last weekend. There, thousands of attendees protested in defense of 'free speech', in support of US President Donald Trump, and to free Robinson following his arrest for contempt of court in May.
The far-right march in Cambridge today was organised by Luke Alexander, who said that he believed the protest would "achieve what we want, which is to be heard" about the "injustice of Tommy Robinson" and "what is happening within our country with regards to freedom of speech".
Speaking to Varsity before the march, he said he hoped there would be no violence, after 12 Tommy Robinson supporters were arrested in the London march. The protests in London last week also saw Steve Hedley, a National Union of Rail, Maritime and Transport Workers lead figure, attacked by two Tommy Robinson supporters after attending a counter-protest.