The University will not refund fees for missed teaching during strikes
Cambridge has said that 'few students' will have been 'materially disadvantaged as a result of the industrial action'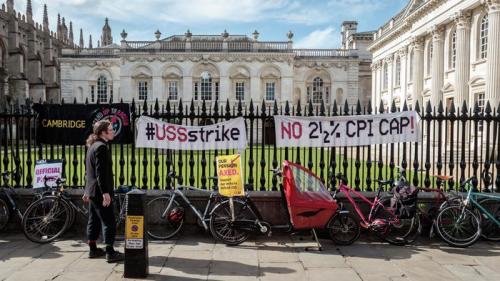 The University of Cambridge announced today that it will not be providing fee refunds or financial reimbursements to students who missed teaching time due to the strike action in Lent Term.
In February and March, students experienced 14 days of industrial action from members of the Universities and Colleges Union (UCU), who were striking to oppose changes to the national universities pension scheme. Some supervisions, as well as lectures and classes, were cancelled as a result of strikes
In a statement, the University outlined the reasons behind the decision not to provide refunds. They claim to have anticipated that "few (if any) students will in fact have been materially disadvantaged as a result of the industrial action". Rearranging lost teaching and modifying exam questions to remove uncovered content were both highlighted as means by which the University sought to mitigate the effects of the strike.
The University also said that annual tuition fees "do not directly correlate to individual teaching sessions". Alongside this, they commented that the terms of admission, which students sign and agree when they accept an offer of a place, "include a clause which states that, providing certain conditions are met, the University will not be liable for matters outside the University's control, which explicitly includes strike action".
However, a complaint form was created by the University's Office of Student Conduct, Complaints and Appeals, for students who believe that they have "valid grounds for complaint", with a deadline of the 30th July. Any complaints are expected to have been first raised "directly with the relevant Department or Faculty at the time of the events giving rise to the complaint".
The University noted that if a reimbursement of fees is ever necessary, any Home or EU student who has their tuition fees paid by the Student Loans Company would have their fees reimbursed to the Student Loans Company.
In May, it was announced that docked staff pay from the strikes would be divided into seven student hardship funds, following consultation with Cambridge UCU members and student representatives.
These funds included the Disabled Student Bursary Fund, which pays for the additional support costs needed by disabled students, the Central Childcare Bursary Fund and the Childcare Support Fund, which assists student parents with childcare costs.
Last term, CUSU council voted to reject a motion calling for them to support refunds to students who missed teaching hours. CUSU President Daisy Eyre, as well as Education Officer Martha Krish and Women's Officer Lola Olufemi all opposed student refunds; with CUSU council having previously voted to support the industrial action.