Motion to support strike refunds defeated by CUSU Council
A protracted effort to demand CUSU support for strike reimbursement came to a close this evening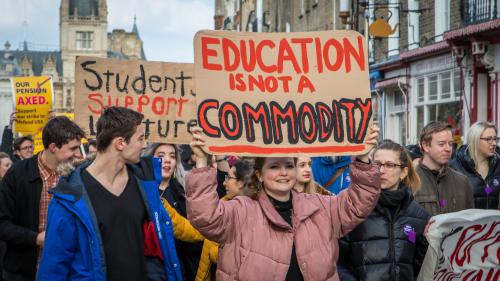 CUSU Council voted this evening to reject a motion calling for the students' union to support refunds to students for missed teaching hours.
Only six students voted in favour of reimbursement, and two abstained. The majority of the Council opposed the motion.
The motion, proposed by Christ's JCR Vice-president Oliver Jones, stated that "students are entitled to fair compensation in the form of financial reimbursement proportional to the hours they have missed and the nominal value of their fees of tuition."
It resolved to "lobby the University to recognise this claim for financial compensation and act accordingly to fulfill it," and called for CUSU to publicise these efforts "to the best of their ability." Jones referenced a survey he created, claiming the 259 responses showed a "clear" response in favour of refunds.
The room was clearly polarised between those who viewed demands for compensation as a student right and those concerned by the increasing marketisation of higher education, with the language growing more heated as the discussion wore on.
CUSU President Daisy Eyre expressed hesitancy to join the debate, but made clear her position against the motion. Eyre explained that she thought compensation money is "not worth it," as it would "barely make any difference to students who did miss teaching". Eyre labelled the motion "a distraction," and argued that student efforts are better focused on preparing for the eventuality of strikes continuing in Michaelmas.
Jones argued that, if further strike action were to take place, the refunds would "show [that] students will fight for what they want," and place additional pressure on the University to preserve existing staff pension structures.
Martha Krish, CUSU education officer, said the refunds would fail to "problematise the marketisation of higher education," and would go "against what people were fighting for." She added that it would not help students by bringing back lost contact hours, or help them to feel more prepared for exams. She went on to say that the threat of compensation payments would not have had a bearing on University's response to strike action, and that the motion portrays the strike as a "money issue" for students.
Georgia Semple, a Murray Edwards student, argued that students asking for compensation for the education they had paid for was not necessarily linked to a lack of support for striking staff.
Simon Percelay, from St John's, retorted that the University is not a product which has broken down
CUSU Women's Officer Lola Olufemi contested this, saying students cannot state that they do not agree with marketisation but "still use the vehicles of it to get compensation," emphasising that "it's an either/or question." She said that in the eyes of the University, this would undermine efforts to oppose further marketisation on the part of students.
Tohin Munshi, a student from St Catharine's, compared the University to a mobile phone service. He said that though he would like his phone service to be demarketised and made free, he felt he should be able to ask for refunds as long as he was a consumer and the service had failed to provide what he had paid for. Continuing the metaphor, Simon Percelay, from St John's, retorted that the University is not a product which has broken down.
In a statement published after the motion's failure, the Cambridge University Conservative Association said that the Council's decision demonstrated "arrant contempt for the interests of the student body", in order "to pursue broader ideological goals".
The motion did not suggest a source of funding for student reimbursement. Jones stressed that the motion did not intend to divert docked pay from striking staff, which the University has agreed to allocate to a student hardship fund. He told Varsity that "we weren't setting a specific stance in terms of how the refunds would be carried out, but just mandating CUSU to pursue the matter."
CUSU first debated its stance on student refunds last term. The motion was ultimately withdrawn over the question of whether withheld pay should be used to refund students or set up a hardship fund.
Before discussing the refund motion, the Council also discussed welfare during exam term. Anna Ward, the Emmanuel Disabled Students' Officer, raised the issue of students feeling pressured by the College's tutorial office to not pursue alternate arrangements for exams.
The Council also discussed the effect of different quiet period policies on student welfare during exam term, with the policies being accused of institutionalising stress.
Updated 11:41pm, 30th April 2018: This article was updated to include comments from the Cambridge University Conservative Association (CUCA).