Window smashed at Cambridge Centre for Jewish Thought
Reuven Leigh, senior rabbi at the Centre, cautioned against viewing the incident opposite Caius as an anti-semitic attack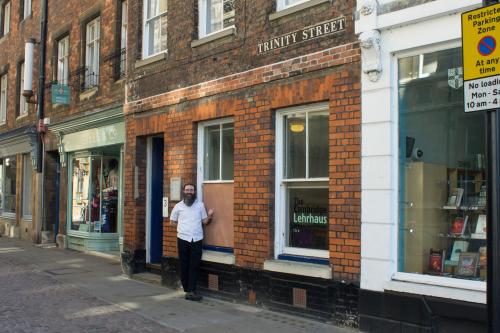 In an act of vandalism on Friday night, a window was smashed at the Cambridge Lehrhaus Centre for Jewish Thought on Cambridge's Trinity Street, opposite Gonville & Caius.
Reuven Leigh, the senior rabbi at Chabad of Cambridge, which runs the Centre, cautioned against framing the incident as an anti-semitic attack. He said "windows on Trinity Street get smashed on a semi regular basis – this weekend it was our turn."
He added that he took issue with a "non-event" being portrayed as "an existential threat to Jewish life at Cambridge."
The Centre is operated by Chabad of Cambridge, and its website describes its aim as "providing Jewish education and access to Jewish life to all sections of the Cambridge community." It plays host to events including a Sunday school and Shabbat dinners.
Leigh referenced his earlier statement made to The Tab Cambridge and picked up by The Cambridge Student, which said "with anti-semitism rife in the Labour party and the racist xenophobia unleashed by Brexit, we as Jews feel terrified that Europe may no longer be a safe place for Jews. We must never forget what happened on this continent just 70 years ago which started with vandalism of Jewish shop fronts in Germany."
Leigh clarified to Varsity that his earlier statement was a "test" to see whether The Tab reporters would recognise that his "over-the-top response" was intended to be taken as sarcasm.
Police are currently investigating the incident. Without further information, the motives behind the act of vandalism remain unknown. As such, some members of Cambridge's Jewish community have been concerned by the potentially anti-semitic sentiment behind the attack.
Presidents of the Cambridge University Jewish Society (JSoc) Abby Zucker and Sarah Davidson spoke on behalf of JSoc student members, and said they "were sorry to hear about damage to the Cambridge Lehrhaus."
They added that "while we hope the incident was random, some residents will be taking extra precautions, but we hope that students remain confident that Cambridge continues to be a safe and welcoming place for the Jewish student community."