Car smashes into front of Comptoirs Des Cotonniers shop
Police are still looking for the driver of the black Mazda CX-5, who fled the scene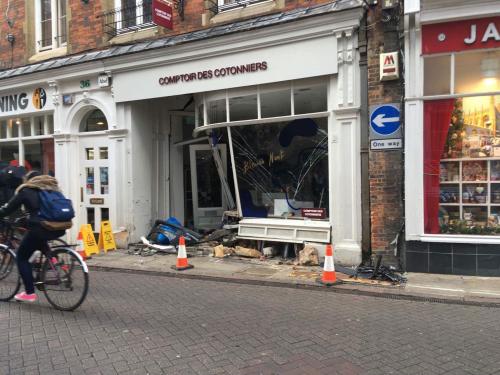 Police are looking for the driver of a black Mazda CX-5 that was driven into the Comptoirs Des Cotonniers shop on Trinity Street last night.
The police were called at 4:17am on Tuesday morning after reports that the car had been driven into the front of the shop, a French womenswear chain. In a statement, Cambridgeshire Constabulary said the driver fled the scene and has not been apprehended.
One woman, believed to be a passenger in the car, received minor injuries to her face and is currently being treated in Addenbrooke's Hospital.
Three people were detained for stealing from the crashed vehicle, though none were booked into custody.
Trinity Street is one of the busiest thoroughfares in Cambridge, with one-way traffic for vehicles and heavy pedestrian footfall. A large proportion of the buildings lining the street are owned by colleges, with student accommodation above many of the shops.
Anyone with information relating to the incident is asked to contact the police on 101, quoting incident 30 of today (November 28)