Evie Aspinall elected CUSU President
A high turnout from Pembroke and the support of MacDonald second-preference voters took Aspinall over the line after Wei took the first-round of voting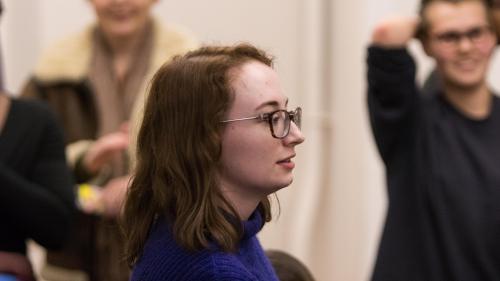 Evie Aspinall has been elected as CUSU's next president, defeating Siyang Wei and Connor MacDonald.
Despite a Varsity poll suggesting that Aspinall trailed in third place, behind MacDonald and with Wei well out in front, Aspinall secured victory in the second round run-off, winning 2,024 votes, just ahead of Wei who won 1,804 votes. MacDonald was eliminated in the first round having received 1,076 first preference votes.
Aspinall's upset victory may be the result of very strong turnout at her own college, Pembroke, which had the highest absolute number of voters of any college, and the second largest turnout percentage behind Christ's. Varsity's poll suggested Aspinall secured 77% of the vote among Pembroke students, and also performed well at Selwyn. Aspinall thanked Pembroke students for their support in a short interview with Varsity after the result was declared. Overall turnout was 4,713 (20.9%), lower than last year's record figure.
In the other contested elections, Shadab Ahmed won 1,691 votes to narrowly beat Rhiannon Melliar-Smith, who polled 1,577 votes, while Christine Pungong beat Walinase Chinula to the role of Welfare and Rights Officer.
The other sabbatical roles were uncontested, and unsurprisingly there were comfortable wins for Emrys Travis as Disabled Students' Officer, Matt Kite as education officer, and Claire Sosienski Smith as women's officer.
The University Councillor election was won by Marcel Llavero Pasquina, who defeated George Breckenridge and Hugo Larose, while next year's Graduate Union president is yet to be determined. The CUSU Elections committee has refused to certify the results of the elections because of ongoing disciplinary matters pertaining to "at least one candidate"
The new officers will take up their positions in July when they replace the current sabbatical team.
All the election news, in one place
Comprehensive news and analysis on the CUSU/GU elections, collected.
Visit Varsity's Elections 2018 hub.