Policy grid: Where do the presidential candidates stand on the key issues?
The candidates weigh in on strikes, rent, decolonisation, divestment and inequality
How should CUSU be responding to the strikes?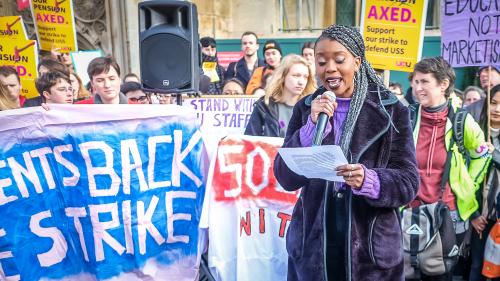 Aspinall
While broadly supportive of the right and the 'need' to strike, Aspinall worries that CUSU has treated student distress and welfare throughout the process as an afterthought.
MacDonald
MacDonald publicly supports the strike action, but adds that CUSU has not shown enough time and care to deal with students' anxieties over missing lectures and supervisions.
Wei
Wei praises CUSU's current handling of the strike action, calling it a critical moment for the future of higher education, and has been involved with student solidarity organising around the strikes.
How would you engage with Cut the Rent campaigns?
Aspinall
Aspinall notes the limitations of CUSU's powers, with colleges making their own final decisions, but would like to centralise resources and templates to support student rent campaigns more effectively.
MacDonald
He thinks going about cutting the rent college by college may be a mistake, and would like more publicly available information across colleges for JCR Presidents to use in negotiations.
Wei
They are involved in Newnham's rent negotiations, and in their manifesto, prioritise centralising rent figures, as well as institutionalising their public availability and coordinating JCR efforts.
Should we decolonise the curriculum?
Aspinall
Worried that Cambridge is "full of white, male traditions," Aspinall sees a need to decolonise and wants a curriculum that exposes students to a broader range of thinkers from different backgrounds.
MacDonald
Despite admitting that decolonisation is not an issue he has particularly engaged with, he believes that questioning the teaching canon is an entirely normal process within a university.
Wei
Wei fully supports University-wide decolonisation efforts, having participated within their own department, and would try to coordinate them between departments, as well as sharing CUSU resources and encouraging resource-sharing.
Do we need to divest?
Aspinall
With a mandate from CUSU council to actively encourage divestment, Aspinall says she would continue with this if she felt it was what students wanted, and would consider how to persuade University leadership.
MacDonald
MacDonald believes that with the possible financial ramifications for the University, he would hold a student referendum on divestment to determine a clear position before moving forward.
Wei
Vocal in their support of divestment, they also note that divestment is an issue of democratic engagement, with the University not having been fully transparent about its investments historically, which must be addressed.
Can we address college inequality?
Aspinall
She considers it unacceptable that provisions for students vary so dramatically by college, and would standardise intermission processes across colleges as well as expand the Bursary scheme.
MacDonald
He would bring JCRs togetherness her to hold colleges to account, and "defragment" student movements across Cambridge, as well as use college comparisons to make them compete with each other over services.
Siyang
Placing special emphasis on educational inequality across colleges, they would seek to standardise education standards, and promote students raising their concerns further. They would also encourage expanded, equal financial support.
All the election news, in one place
Comprehensive news and analysis on the CUSU/GU elections, collected.
Visit Varsity's Elections 2018 hub.