Shakira Martin and NUS allies hit back at bullying allegations
One of her allies criticised the "mob mentality" of the left-wing factions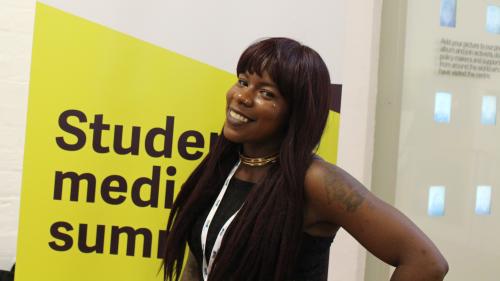 The president of the National Union of Students (NUS), Shakira Martin, has insisted she is a victim of racism, classism, and shameless electioneering after she was accused of bullying and harassing colleagues.
This week, serious allegations have flown back and forth between senior members of opposing political factions in the run-up to the annual NUS elections in late March.
One NUS delegate told Varsity that Martin's allies were afraid to back her publicly, fearing the "mob mentality" of the left-wing factions would trigger a "pile-on" at anyone who supported her or proposed following proper complaints protocol.
Meanwhile, Martin, who is well-known for her direct manner, said she felt the allegations were directed against her partly because she is "a black, working-class woman".
In an interview with the Guardian on Wednesday, Martin said: "I don't have a degree. I'm a single parent. I'm aware of how I sound. To people that know me – yeah, that's Shakira. To people that don't know me, it's creating that picture and it's a false picture.
"I'm a strong, outspoken, articulate black woman that likes piercings and tattoos and I've got swagger. I'm not going to change myself. I'm not going to be anything but Shakira – rough around the edges, straight talking, authentic, real Shakira."
Officers have been told to work from home this week as an investigation is launched into the comments made by several senior figures in the organisation, whose work environment has been described as "toxic".
Senior elected NUS officers are bound by a rule only to speak to the press through official channels, but this has not stopped some senior critics of Martin. However, her allies among the senior elected officers have abided by protocol and not responded to requests for comment.
In a statement to Varsity, one National Executive Council (NEC) member, Joe Cox, praised Martin as "a modernising president who has spent the last eight months working tirelessly to rebuild the link between NUS and [students' unions]."
He condemned Martin's critics for pursuing "a campaign of harassment […] which has seen a tirade of abuse being thrown at her on social media day in and day out for the last few months."
Events spiralled out of control after a Facebook post by Shakira Martin last Saturday, in which she compared political criticism she had received to her experiences of domestic violence, saying she felt like she was back in an abusive relationship.
NUS women's officer Hareem Ghani, a member of the Liberation Left faction, called Martin's words "deeply dangerous" and announced she would submit a formal complaint against the president for allegedly bullying staff and officers. Ghani's allegations were detailed in a Varsity exclusive on Tuesday.
She said that there "needs to be an honest discussion about the atmosphere of bullying, intimidation and manipulation that exists within this institution."
Ghani has since been backed by several senior figures in the NUS, including LGBT+ officer, Noorulann Shahid, and the trans officer, Jess Bradley, who have also accused Martin of improper conduct, including verbally abusing colleagues and harassing them on social media.
One NEC member, the parents and carers' representative, Deej Malik-Johnson, said Martin used his daughter "as a knife to my throat to comply with her agenda" after she allegedly refused to write a character reference for him to see his estranged child due to his position on "the wrong side" of the political divide. He was supported by black students' officer Ilyas Nagdee, who tweeted that the alleged behaviour was "disgusting".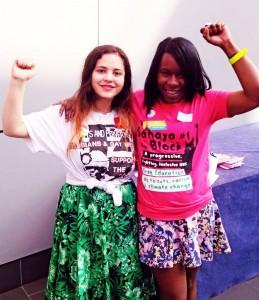 After starting out in the NUS on the left, Martin's political journey led her more to the centre during her tenure as vice-president for further education. Last year, she defeated the incumbent president, Malia Bouattia, in an election where Martin was backed by the two more centrist factions of the NUS – the National Organisation of Labour Students (NOLS) and the Organised Independents (OIs).
The two more left-wing factions, the National Campaign Against Fees and Cuts (NCAFC) and the Liberation left, backed Bouattia, whose defeat followed allegations of anti-semitism made against her, partly based on her claim that the University of Birmingham, where she studied, was a "Zionist outpost".
Martin's main rival for the presidency this year, Sahaya James, is a former ally of Martin from her earlier days on the left of the NUS. James is a senior member of the NCAFC, the hard-left faction.
Cambridge reacts
Speaking to Varsity, Cambridge's newly-elected NUS delegates, who are set to attend NUS National Conference in March, gave a mixed reaction to the controversy.
Hard-left activist Angus Satow said: "The sooner we are rid of this dysfunctional and ineffective NUS leadership, the better our chances of building a strong, grassroots student movement which can once again stand up to a Tory government intent on attacking higher education."
Cambridge University Conservative Association (CUCA) chairman, Connor MacDonald, who is also an NUS delegate, cautioned: "Many of the voices voicing their strong condemnation [of Martin] have also employed vile and abusive tactics that typify the hard left in the NUS.
"Within what may be credible allegations are also very clear political manoeuvrings."
Carine Valarché, a Liberal Democrat, called the allegations "extremely serious" but cautioned that "NUS factionalism and chaos is unsurprising". She claimed that such politics was also seen among the left in Cambridge and had partly led to the election of herself and MacDonald, who are considered to be towards the right of the NUS, as delegates.
This year's other three Cambridge NUS delegates, CUSU president, Daisy Eyre, CUSU women's officer, Lola Olufemi, and Miriam Gauntlett, did not respond to requests for comment.