CUSU and CDE renew boycott of National Student Survey for 2018
The groups claim the survey is used as a tool to aid the marketisation of higher education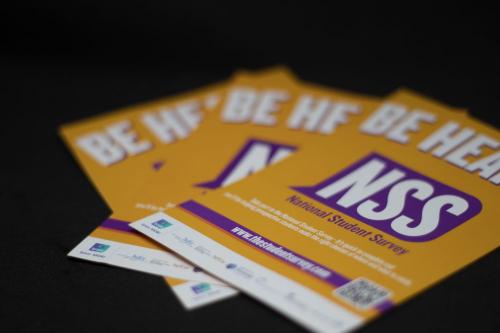 CUSU and Cambridge Defend Education (CDE) today launched their campaign to boycott the 2018 National Student Survey (NSS), as part of a continuing opposition to reforms to higher education that they believe may damage universities and lead to further tuition fee increases in the future.
The National Student Survey is sent out to all final-year undergraduates at UK universities and asks students to rate their satisfaction with their university experiences.
This year's survey is due to be sent out to students over the coming week.
CUSU Education Officer Martha Krish has encouraged students to "boycott the survey" to "obstruct the government".
It follows last year's successful boycott, which saw the University of Cambridge omitted from the survey results after fewer than half of eligible students participated.
The National Student Survey has been linked explicitly to the Teaching Excellence Framework (TEF), which has been widely criticised for linking potential tuition fee increases to measures of university performance — including NSS results — by ranking universities into gold, silver, and bronze categories.
Under the second stage of TEF, which began in spring 2017, universities ranked as gold and silver would be allowed to raise tuition fees in line with annual inflation. Institutions rated as bronze would be able to increase fees by half the rate of inflation after one year of full inflation.
CUSU's renewed opposition to higher education reforms comes shortly after recent opposition from the students' union to the appointment of Toby Young to the government's new higher education regulatory body, the Office for Students (OfS).
In 2016, NUS national conference passed a policy to boycott the NSS until the TEF was scrapped. Subsequently, CUSU, along with 25 other students' unions, voted to boycott the 2017 NSS in a bid to oppose what they saw as the increasing marketisation of higher education; CUSU is further mandated to continue the boycott this year.
Last year's boycott resulted in 2017 NSS data being made invalid for 12 institutions, including Cambridge, Oxford, and Manchester universities. In October, prime minister Theresa May announced that tuition fees would not rise above £9,250 in 2017, putting a temporary freeze on the government's initial plans for a yearly increase.
However, campaigners warn that there is no guarantee that this freeze will continue, or that the link between TEF and tuition fees has been severed.
According to CUSU Education Officer Martha Krish, "NSS results remain an important part of the Teaching Excellence Framework, which the government is using to push up fees and tun universities into service providers in a market.
"CUSU is encouraging students to boycott the survey and refuse to enable those changes. We have an opportunity to make our voices heard and obstruct the government, and we should take it."
Matt Kite, a CDE campaign member and part of the CUSU Education Part-Time Executive, said, "Boycotting the NSS is a chance for students to resist Higher Education reforms that are bad for us and bad for universities too.
"In a week when the NUS' attempts to win influence by working with the government have conclusively failed, with student leaders' applications to the board of the Office for Students being rejected in favour of the bigoted Toby Young, this is the time for us all to take concrete action and obstruct changes that damage our education system."