Eyre condemns appointment of 'ableist, classist and sexist' Toby Young to universities regulator
The CUSU President urged students to sign a petition demanding that Prime Minister Theresa May sack the writer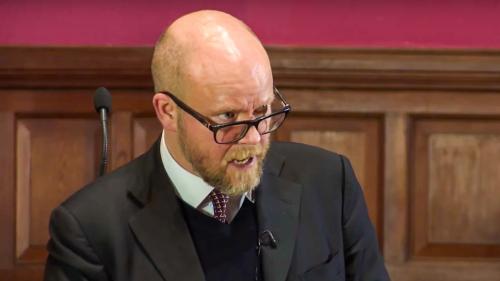 CUSU President Daisy Eyre has condemned the appointment of writer Toby Young to the board of the government's new universities regulator, the Office for Students (OfS), which came into force on midnight on New Years' Eve.
Earlier today, Eyre wrote on Facebook, "As the President of Cambridge University Students' Union, I would like to make it clear that I do not believe Toby Young is an appropriate choice for the board of the OFS.
"Mr Young has shown himself to be ableist, classist and sexist and therefore cannot represent the diverse range of university students. He is utterly divorced from students and the student voice and his appointment reveals the lack of regard for student interests at the heart of the OFS."
The post includes a link to a change.org petition addressed to Prime Minister Theresa May, 'Sack Toby Young from University Watchdog Post', signed by Eyre, which has garnered 45,000 signatures in the twenty-two hours since it was created. The petition demands for Young to be removed from the board, "to show the government is not entirely out-of-touch with public opinion".
But that doesn't disqualify me from serving on the OfS's board. It's customary for regulators to include some people with direct experience of working in the sectors they regulate and some people with other kinds of experience and the OfS is no different. 8/

- Toby Young (@toadmeister) January 3, 2018
Young has since responded to public outcry to his appointment with a statement on his blog, No Sacred Cows, and Twitter in a series of thirty-five tweets, claiming that he has been caricatured as a "heartless Tory toff", and that his past comments have been misconstrued. He argues that given his founding of four free schools, his work with the charity New Schools Network and as a Fulbright Commissioner, and shared commitment with the OfS to free speech, he is qualified for the role.
Of the other twelve members of the board, excluding the chair and chief executive, four have been involved with the Higher Education Funding Council for England (HEFCE), another the Director of the Oxford Centre for Higher Education Policy Studies, two are vice-chancellors of universities and one is a chair of a drama school in London. Remaining members include the CEO of the law firm DLA Piper, the managing director of Boots, a student, and a former employee of HSBC.
Most of the backlash has centred not on claims of Young's inexperience, but his past comments which have come under fire for their elitism and misogyny. The most oft-cited example comes from a column in The Spectator written in 2012, in which Young argues in support of replacing GCSEs with O-Levels and CSEs. Young cites his experience of being told initially to do CSEs as a child and subsequent determination to overturn his failure and get into Oxford, and suggests that any other child would react as "robust[ly]".
Regarding the idea of school curricula designed to be inclusive, he writes, "Inclusive. It's one of those ghastly, politically correct words that have survived the demise of New Labour. Schools have got to be 'inclusive' these days. That means wheelchair ramps, the complete works of Alice Walker in the school library (though no Mark Twain) and a Special Educational Needs Department that can cope with everything from dyslexia to Münchausen syndrome by proxy."
He once tweeted during a Prime Minister's Questions session, "Serious cleavage behind Ed Miliband's head. Anyone know who it belongs to?" Young, who has deleted 48,000 tweets since his appointment, admitted the tweet "wasn't my proudest moment", and added, "I asked who a particular MP who one couldn't see the head of, but was sitting behind Ed Miliband and wearing an extremely low-cut dress … I committed the sin of noticing it and apparently this constitutes harassment in some people's views."
Ridiculous outcry over Toby Young. He will bring independence, rigour and caustic wit. Ideal man for job

- Boris Johnson (@BorisJohnson) January 3, 2018
Some have defended Young's appointment, including vice-chancellor of the University of Buckingham, Anthony Seldon, Michael Gove and Piers Morgan. Foreign Secretary Boris Johnson also described him as the "ideal man for job".