Cambridge comes together for Living Wage Week
CUSU, Cambridge Universities Labour Club (CULC) and Cambridge Defend Education join forces in campaign for colleges to pay employees the real living wage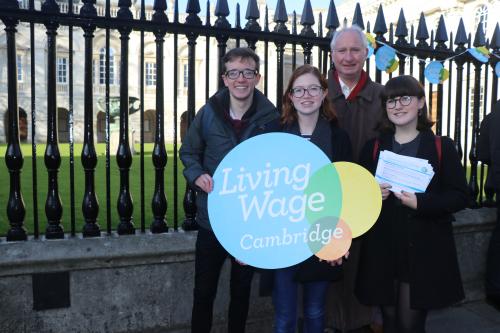 Throughout this week, Cambridge University Students' Union (CUSU), Cambridge Universities Labour Club (CULC) and Cambridge Defend Education have united to encourage the university to pay all its employees the real living wage.
Cambridge MP Daniel Zeichner gathered with students from CULC and CUSU outside Senate House on Monday morning to raise awareness and to encourage academics to give their support to a Grace which requests "that the University of Cambridge seek accreditation from the Living Wage Foundation in the current academic year and therefore pay the Real Living Wage to all staff and contractors who work regularly on University premises."
The current UK Living Wage, calculated by the Living Wage Foundation, is £8.75 per hour outside of London, while within London it is £10.20.
It is hoped that the campaign, if successful, will not only improve the University's own treatment of its staff, but will also set a positive example for other employers to follow.
Daniel Zeichner MP told Varsity that despite "many years" of campaigning, there is still a lot of progress to be made in order to ensure wages are sufficient to provide a decent standard of living, adding that Cambridge is a "particularly expensive city".
Zeichner also noted that Anglia Ruskin University is already an accredited living wage employer, suggesting that it is "time for Cambridge colleges to follow where Anglia Ruskin leads".
While this week is Living Wage Week, CULC and CUSU plan to continue campaigning in support of the living wage over the coming year.
Regarding future plans to continue raising awareness, CULC co-chairs Becca Martin and Edward Parker Humphreys spoke of "leafleting lecture sites" and told Varsity that "we need to generate as much pressure as possible in the university". They emphasised that "students will be key to the campaign".
On Wednesday evening, CUSU also hosted an 'email n chill' session during which students were helped to email academics in their colleges and request their support for the Grace