'Haters gonna hate': NUS delegate infighting begins following Facebook rant
Angus Satow challenges record of fellow delegates Connor MacDonald and Carine Valarché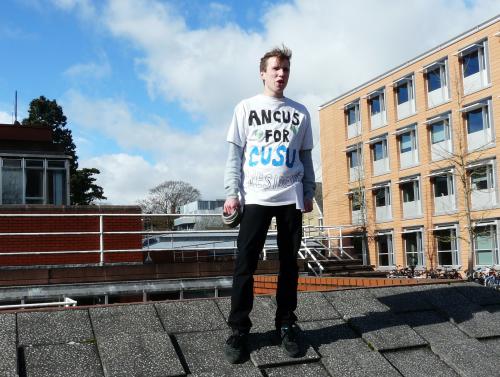 Sparks have started flying between Cambridge's NUS conference team, after delegate Angus Satow hit out at two of his fellow representatives in a post made on Facebook following the release of election results yesterday.
Although congratulating winners Lola Olufemi and Miriam Gauntlett, who he called "fellow progressives", Satow launched an attack on the policies of Connor MacDonald and Carine Valarché, who were both also successful in their bid to win a place in the six-person delegation alongside CUSU president Daisy Eyre.
This year's NUS delegate election was unusually hotly contested, with eleven candidates battling for five places – CUSU president Daisy Eyre takes the sixth slot automatically. The winning candidates come from a broad political spectrum: MacDonald is vice-chairman of CUCA, while Valarché was endorsed during the campaign by CULA, formerly Cambridge Student Liberal Democrats.
Satow criticised MacDonald's campaign, accusing him of being "invested in the maintenance of the status quo", as well as challenging MacDonald's opposition to divestment, and support for tuition fees. He claimed that this undermined MacDonald's ability to suggest that the NUS and CUSU are 'out of touch' or 'ineffective'.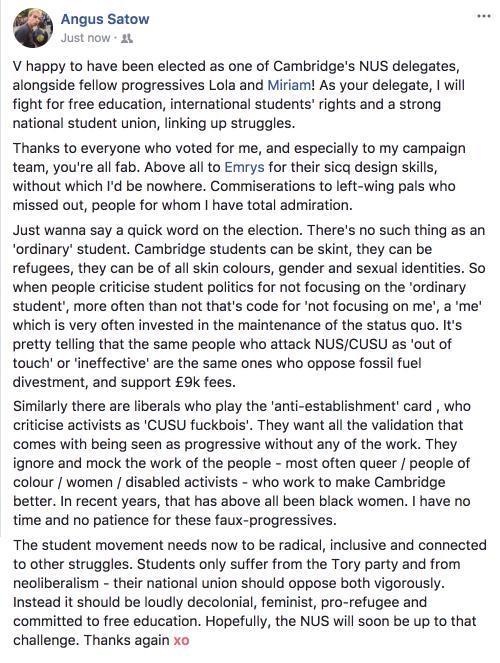 Valarché, who promised in her campaign not to be a "CUSU fuckboi", was singled out for playing what Satow called "the 'anti-establishment' card", and "wanting all the validation that comes with being seen as progressive without any of the work".
During the campaign, Valarché left a hustings meeting visibly upset after an audience member from Cambridge Zero Carbon Society challenged her environmental credentials. At the time, Valarché said that "Considering that one of the candidates on the panel [Satow] was specifically involved in [Cambridge Zero Carbon Society] at a high level, I felt the question was not only unfairly skewed against me, but also slanted in that candidate's favour."
In March, the six candidates will travel to Glasgow together to take part the NUS's annual conference, which bills itself as "the largest democratic gathering of students in the world".
Responding to Satow's post, MacDonald told Varsity: "I find the content of this contribution hugely disappointing; it is neither helpful nor gracious, and betrays a refusal to actually engage with the other elected members of Cambridge's 2018 NUS delegation.
"Furthermore, I take enormous issue with the idea that some of us on our delegation simply defend the positions we do because we are 'invested in the status quo'. I grew up in a relatively poor part of my country; I went to a state school; I am only at Cambridge because I was lucky enough to get a scholarship. The accusation that I, or any of the other delegates are only advocating positions because we are 'invested in the system' and not because of deeply and sincerely held beliefs is simply outrageous.
MacDonald defended his record as president of Emmanuel College Students' Union, saying "as JCR president I, with the help of our amazing LGBT+ officer, managed to get the LGBT+ flag flown the duration of February, and we are now the first college who will be commemorating Trans Awareness Week this year. The JCR has now also funded menstrual cups for those undergraduates who need them. I have advocated for students who have been victims of sexual assault. If you take issue with my characterisations, I suggest you speak to my committee.
"It is this kind of negativity that has repulsed students at this and other universities from the National Union of Students and our student unions. Instead of blaming those of us dissatisfied with the representation we receive from the NUS, it may do well to look in the mirror."
Valarché, rather more succinctly, told Varsity: "Haters gonna hate".