After a shaky start, CUSU Council begins on road to reform
At the first CUSU Council meeting of the year, discussion revolved around Daisy Eyre's proposals for improving accessibility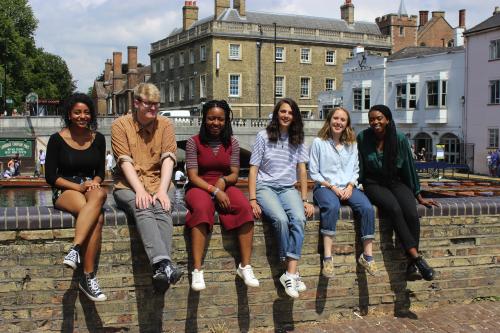 Daisy Eyre, CUSU's president, met a mixed reception on Monday as she unveiled plans to reform CUSU Council's procedures to invigorate student debate.
The changes include changing the way Council operates to draw a distinction between long-terms policies and short-term actions.
Eyre told Council the reforms were aimed at "making students feel that they have more input into CUSU".
Improving engagement was a cornerstone policy of Eyre's electoral campaign, building on changes brought in by the previous president, Amatey Doku, which included more video content and dedicated Facebook accounts for sabbatical officers. Low Council attendance has been a point of debate for some time, highlighted by a student referendum last year which overturned a Council decision to campaign against the publication of class lists.
An investigation by Varsity last November found that Council attendance was less than half CUSU's stated targets, and that many faculty representatives were failing to turn up at all. Council is open to all students, but voting members – the vast majority of those who attend – are from affiliated college JCRs and MCRs, faculties and liberation campaigns.
Eyre said that she wanted to bring about a "culture change", in which sabbatical officers and campaign leaders would relay important messages to JCR and MCR representative, who would then disseminate them to their own student body.
The reforms proposed included plans for CUSU to hold a "roving" Council meeting once every term, which would be held at a different college on each occasion, rather than at its usual venue of the Mill Lane lecture rooms. "It's a little-known fact that students can actually come to CUSU Council," expressing her hope that the "roving" meeting would make the activities of the Council more accessible.
The momentum of the meeting quickly stalled, however, when discussion turned to another of Eyre's proposals. She suggested that the motions CUSU passes undergo a change in that way they are classified, becoming either a long-term policy or short-term action. The rule change would also require that policies would have to be passed by two CUSU Councils, rather than just one, as was previously the case.
In keeping with her manifesto commitment to an open and democratic union, Eyre encouraged attendees to offer their opinions – a move she may have regretted, as discussion began to circulate around the technicalities of this change. Connor Macdonald, President of Emmanuel College Student Union, said that "If we are going to treat policy seriously, which we generally don't, there should be at least two meetings [before policy is ratified]."
Helen Jennings, a recently-appointed CUSU trustee, expressed her belief that the change was "unnecessary," and that the process would "take too long". Other attendees recalled four-hour long CUSU meetings.
The motion in which Daisy made her proposals was eventually passed, but with the amendment of an option for some policies to 'short cut' approval at a second meeting. The amendment may go some way to speeding up the additional bureaucracy that Eyre has introduced, but with last year's budget already taking two meetings to get through Council, voting members expecting dramatically shorter meetings may be disappointed.
At the meeting, Eyre also revealed that recruitment to an inquiry to scrutinise its finances, which was due to take place last term, had not been carried out by her predecessors. Instead, Eyre said she would be "asking that we start recruiting for those candidates today [Monday]", saying that an email will be going out on Tuesday. The inquiry committee will be tasked with looking into the union's long-term financial difficulties, which include a projected loss of £75,000 for the coming year. Eyre said that she would expect an "in-depth and rigorous" report from the committee at the final CUSU Council meeting of last term.
At the end of the meeting, in an effort to drum up interest in the next meeting, Eyre offered a cheery "sneak peek" of upcoming agenda items: the living wage, student debt, NUS affiliation fees, and a new University drive to combat sexual harassment. It remains to be seen how effective Eyre's enthusiasm, or any of her proposals, can be at salvaging CUSU's troubled reputation