Faculty of Classics backs Mary Beard after Roman Britain diversity debate
Professor Beard has been the target of trolls after defending a BBC video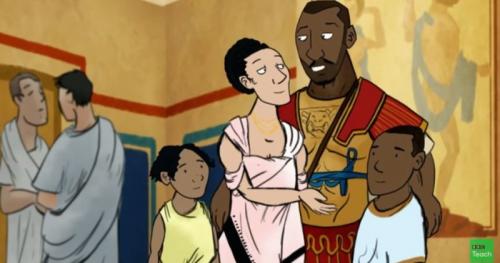 Cambridge's Faculty of Classics has released a statement citing "overwhelming" evidence that Roman Britain was ethnically diverse and defending Professor Mary Beard after she became the target of internet trolls.
Beard has been at the centre of a heated Twitter debate in recent days, after defending a BBC education video that showed a high-ranking black soldier as the father of a family in Roman Britain.
A screenshot from the video went viral after Paul Joseph Watson, a right-wing conspiracy theorist, shared it while claiming "the left" was "literally rewriting history" by showing ethnic diversity in Roman London.
Beard – a popular and distinguished expert on the ancient world, and professor of Classics at Newnham College – defended the BBC's depiction as historically accurate, prompting a stream of abuse directed at her on Twitter early last week. In a post on her Times Literary Supplement blog last week, she said she had experienced "a torrent of aggressive insults, on everything from my historical competence and elitist ivory tower viewpoint to my age, shape and gender".
Beard is no stranger to internet trolling, and has stood her ground against highly personal abuse in the past. Addressing why she doesn't just block the Twitter users sending her abuse, she said "I see the point, but have always felt ambivalent about blocking. It doesn't stop them tweeting, it only means that you don't see it, and it feels to me like leaving the bullies in charge of the playground. And it's rather too much like what women have been advised to do for centuries. Don't answer back, and just turn away."
"One thing is for sure," she said "the Roman empire – Britain included – was cultural and ethnically diverse, from the Syrians in Bath to Quintus Lollius Urbicus, the Ethiopian who met Septimius Severus on Hadrian's Wall, and the wonderful couple from South Shields, Barates and Queenie ('Regina'), he from Palmyra, she an Essex girl."
Several prominent Twitter users jumped to Beard's defence, including MPs Stella Creasy, Diane Abbott and Jess Phillips; American activist Monica Lewinsky; and J.K. Rowling, who tweeted "A historian gave her expert opinion on ethnic diversity in Roman Britain. What Happened Next Will Not Amaze You", alluding to previous incidences of women being harassed on the platform.
Last Thursday, following sustained abuse directed at Beard, Newnham College tweeted: "Wonder why there is still a need for us to be a women's college in 2017? Check out @wmarybeard's [Beard's] timeline".
This afternoon, the Faculty of Classics released a statement, backing Beard and saying "the evidence is in fact overwhelming that Roman Britain was indeed a multi-ethnic society". It noted that such diversity was not spread evenly throughout the province, and said there are "still significant gaps in our understanding" of the ethnic makeup of Roman Britain.
"The question of ethnic diversity in the province has been getting unusual amounts of attention recently," the Faculty said. "Professor Mary Beard has been at the centre of some of this attention. In the Faculty we welcome and encourage public interest in, and reasoned debate about, the ancient world, such as Professor Beard has always sought to encourage."