Monkman and Seagull to host radio show
Stars of University Challenge to present program on Radio 4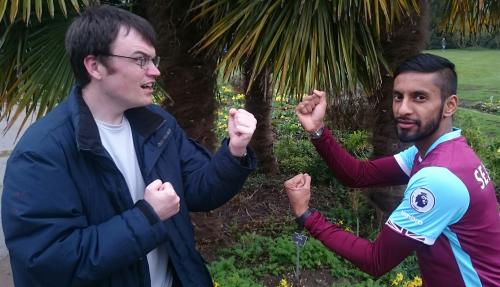 Two Cambridge students are to appear as the presenters of a new Radio 4 program, the BBC announced yesterday.
Eric Monkman and Bobby Seagull, who found fame as the captains of their college teams on the most recent series of University Challenge, will co-host Monkman and Seagull's Polymathic Adventure, a show exploring whether it is possible to be a useful polymath in an academic environment that encourages specialisation.
The half-hour program will feature a series of polymathic guests, including fellow Cambridge alumnus Stephen Fry. Like Monkman, Fry is also a defeated University Challenge finalist, having been part of the Queens' team that reached the final in 1980.
Seagull and Monkman, who has been described by BBC News as "very meme-able", struck up a friendship during their time on University Challenge, and eventually came head to head in the semi-final, in a match described at the time by one user on Twitter as "the #UniversityChallenge equivalent of the Rumble in the Jungle". On that occasion, the Wolfson team led by Monkman edged out Seagull's Emmanuel team by 170 points to 140.
Although Wolfson were ultimately beaten by Balliol College, Oxford in the final, Monkman and Seagull were widely considered to be the standout personalities of the series. In May, students from the colleges that appeared in the final took part in a Monkman themed swap.
Speaking to Varsity, Bobby Seagull, who is staying at Emmanuel to pursue a Doctorate in education specialising in Maths, said that since their semi-final matchup in March, he and Monkman have "grown to become top pals. Now we're working together on a BBC Radio Four programme exploring polymaths and whether there is a useful role for people with wide-ranging knowledge in society. On this journey, we had the chance to talk to academics as well as all-rounder and genuinely iconic British personality Mr Stephen Fry.

"Our 30 minute programme will be broadcast on Monday 21st August at 8.30pm. If listeners enjoy it and there is demand, there might be more radio shows in future and who knows, perhaps Monkman & Seagull on your TV screens too!"