Fashion show headliner cuts set short after hitting audience member
Princess Nokia left the stage after performing only two songs, when an attendee allegedly shouted a slur from the audience.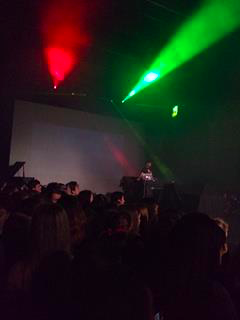 The headline act of Cambridge University Charity Fashion Show (CUCFS) allegedly assaulted an audience member and stormed off the stage halfway through her set at the event last night, after purportedly insulting comments were shouted at her from the audience.
Princess Nokia, an alternative hip hop and R&B artist, had completed two songs and was halfway through a third when an audience member was heard shouting something at her.
Witnesses say they then saw the artist climb down from the stage and hit the man three times in the face, before getting back on stage and saying "When a white guy disrespects you, you punch them in the face."
According to witnesses, she then threw a drink in his face and left the stage.
As of yet it is unclear whether the attack was provoked by any other action on the audience member's part. 
Princess Nokia, who was announced as the show's headliner in November, later retweeted @rosamariot, who said "@princesnokia just punched a white guy in the face for disrespecting  [sic] at a gig in Cambridge and walked off stage, i am LIVING YES GIRL".
Witnesses told Varsity that the audience member, who was standing towards the left side of the stage, "looked a bit shaken but not massively," and was otherwise unhurt.
He told The Cambridge Student: "I was standing in the audience and was told by a fellow audience member that the name of the performer was 'Abigail'. Given that I was enjoying the performance, I shouted out 'Let's go Abigail!'. 
"After I shouted this, she came down from the stage. She slapped me and threw drinks on me."
The Fashion Show took place on the evening of 15th February at the Cambridge Corn Exchange on Wheeler Street, with proceeds from the show going to The Douglas Bader Foundation. CUCFS became embroiled in controversy last year when it was revealed that the charity it had originally elected to support was unregistered and based only in Florida.
FLY, a campaign for women of colour at Cambridge, are expected to launch a joint statement on Thursday with the BME campaign. CUSU's Women's Campaign is also expected to comment on the incident.
CUCFS has been contacted for comment.