Music and activism: King's bunker x Cashu review
Kate Robertshaw reviews Cashu's set at King's bunker and discusses the wider power of musical activism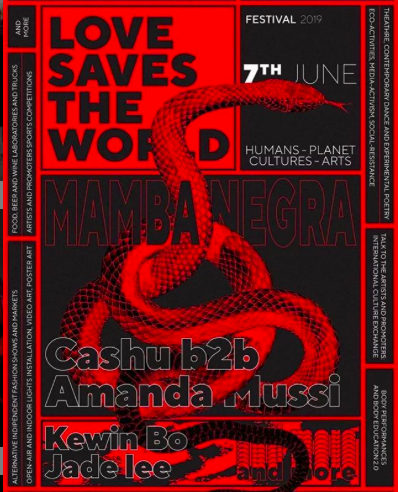 On the 14th of October, Cambridge boomed with the sounds of São Paulo's alternative music scene, as the DJ Cashu, part of the Mamba Negra collective located in São Paulo, Brazil, took to the decks for a transcendent night at Fez, organised by King's Bunker. 
The music itself captured the crowd, offering a mixture of heavy techno alternated with African and Brazilian rhythms, mitigated then by more psychedelic beats. DJ Cashu fluctuated between styles to create unexpected and sonorous moments, accumulating in a two-hour set which entranced the whole of Fez and created a sense of freedom and liberty weaved within the music. 
Cashu, along with Carol Mattos and Mari Herzer answered questions about their work, music and political situation in Brazil, at a panel event in Keynes Hall prior to her set. They revealed the philosophy behind their work and the essence of São Paulo's electronic scene.
Set against the backdrop of São Paulo, a city of extreme inequality, Mamba Negra's mission was to decentralise the dance scene and encourage people to reclaim their space.  At the foundations of their success is their ability to create spaces infused with liberty and openness, blending the boundaries between music, art and activism. The collective was formed at a time when the political situation in São Paulo began to escalate, with leftist riots occurring in response to the increase in the rate of public transportation, resulting in the largest demonstration in Brazil's recent history. Electronic music was gaining currency outside of the club scene, and it became Mamba Negra's way to respond against the political situation and fuelled their anti-capitalist spirit. 
Since launching in 2013, Mamba Negra have occupied a central position in São Paulo's queer electronic music scene. They are a diverse collective founded by Laura Diaz, musician/singer, and Carol Schutzer, the DJ Cashu. They have expanded to become an agency, label, radio station as well as a staple in São Paulo's electronic rave scene. 
Mamba Negra's mission was to create a space in which community and respect were at the forefront of the rave scene. They fight for female, non-binary and queer representation, whilst simultaneously placing sexual and gender freedom at the core of their message. By encouraging people to reclaim their space, they hope that their ideal space could then inspire others to create the same sort of space. In this way, their influence might extend beyond the realms of their parties. 
The anti-establishment nature of Mamba Negra's music and beliefs transpires into their events. They frequently throw illegal raves in disused downtown buildings, as well as block parties. Their reclamation of public spaces places them at the heart of downtown São Paulo, a more industrial setting, away from the signs of a right-wing government and the increasing gentrification taking place in Brazil. Thus, the rigid and obscure background of warehouses and abandoned factories provides a stark contrast to their vibrant and diverse events. 
The proceeds of the night, in the spirit of the event and Mamba Negra itself, went to a São Paulo charity Casa1, who provide a safe haven for LGBT+ people by having a social centre which is focused on cultural diversity and a clinic providing psychotherapeutic care. 
Hearing the issues deeply rooted within São Paulo's institutions highlighted the importance of their work and its tangible spirit. That feeling of reclamation and power protruded from their music, as the mixture of psychedelic sounds and heavy techno produced an atmosphere of other-worldliness, to which all were invited. The dystopian excitement that fuelled the night acted as a reminder of the importance of public spaces, where safety and creativity are the founding pillars. Mamba Negra were equally successful in their activist message as their music, providing a vibrant night filled with rhythm and reclamation.