Student Music Spotlight: Napoleon's Legitimate Lemons
Alice French talks to Gianamar Giovanetti-Singh about Cambridge's exciting new four-piece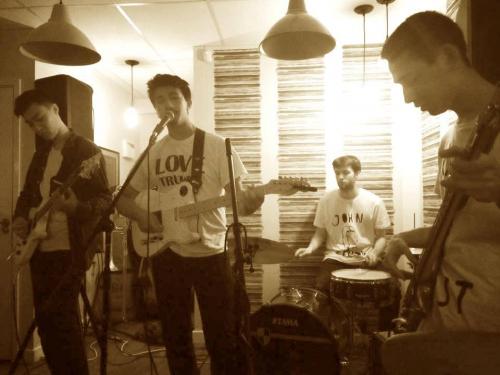 In the first of our 'Student Music Spotlight' series, we meet the vocalist of the zesty psychedelic folk group Napoleon's Legitimate Lemons, Gianamar Giovanetti-Singh.
A: Please introduce yourselves
G: We are called 'Napoleon's Legitimate Lemons' and we're a four-piece set consisting of Clément Robin on bass, Justin Brassett on lead guitar (although he occasionally brings out a trombone), James Burke on drums and Gianamar Giovannetti-Singh on rhythm guitar, vocals and existential crises.
A: Which genre do you best fit in to?
G: I wouldn't say we fit too tightly into any genre; it's occasionally a psychedelic take on folk rock, but at other times we go full post-Beatles Lennon rockabilly tinged with a drop of glam rock in an effervescent ocean of lo-fi latinate blues.
A: What are the perks and/or challenges of being a band in Cambridge?
G: It has been pretty hard for us to play live and record together during term time as the boys in the band go to different universities across the country, or to different countries across the universe. Also finding gigs has been difficult, particularly as we were first starting, but we hope that it's going to keep on getting better all the time.
"Sometimes we go full post-Beatles Lennon rockabilly tinged with a drop of glam rock"
A: What are your goals for the upcoming year?
G: We hope to release an EP or an album in the upcoming year. We've recorded a couple of tracks already, but we're going to work together over the summer to get a really good collection of tunes to release next year. We've already released our first single, "She's Hiding No More" along with an accompanying music video, available on the world wide web at https://www.youtube.com/watch?v=ZfSiYAInRaA
A: Are there any other uni-based artists you're excited by at the moment?
G: We've got an eclectic ensemble of musical tastes — here in Cambridge I'm keen on my next door neighbour's band "Brother", and Clément's pretty excited about "Garden Party" based at Imperial.
A: What's your 'ride or die' track?
G: Our 'ride or die' track has got to be the Velvet Underground's Ride into the Sun. Lou Reed is a tremendous influence on our music and my life and to quote The Strokes's Julian Casablancas, "Lou Reed is the reason I do everything that I do." Ride into the Sun is possibly the sole thing in the world to bring solace to my restless pneuma.
If you would like to be featured in a future Student Music Spotlight piece, please email music@varsity.cam.ac.uk. All genres and levels of experiences warmly welcomed!