Baltimore, beats and Bjork: an interview with JPEGmafia
The military veteran turned MC explains why his "weird rapper" music is political, provocative and often misunderstood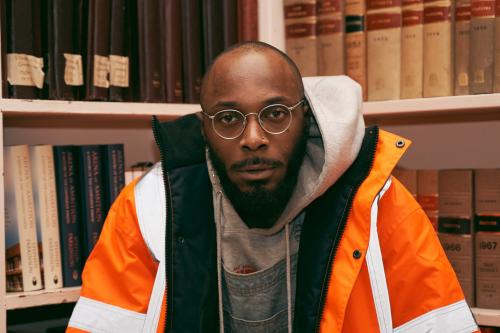 JPEGmafia, AKA Peggy, has just finished his Q&A at the Cambridge Union. The interviewer turns to the audience and announces that Craig David will soon grace the Union. Peggy, laughing, asks "did he just say Craig David? What the f*ck! That's crazy." The proximity of Peggy and David on the Union term card may seem arbitrary. Yet it is somehow entirely fitting. Peggy's music itself traverses the most disparate parts of pop culture. He references political consultant Kelly Conway and rapper Drake in one take and channels O.D.B. and TLC in equal measure.
Peggy first received significant recognition after the release of his 2018 album, Veteran, which was lauded for its political insights and inventive, glitchy production. Since, he has released All My Heroes Are Cornballs (2019) and a string of stand-alone singles to further acclaim. Beer in hand and leaning forwards in his chair, Peggy talks to us about his lifelong obsession with music, his career in the military and his profound love for his fans.
Peggy, born Barrington DeVaughn Hendricks, recalls his early memories of music. As a child, he would tape-record BET (Black Entertainment Television) shows so that he could listen to the music again and again. "Music means everything to me. It's kind of a desperation thing. It's the only thing I'm good at and the only thing I care about." 
In spite of this, Peggy says that his only viable career at the time was in the army. "The military recruiters, they come to poor areas to recruit people like me who have no options. I didn't have money to go to college or really to do anything else". While quick to warn against joining the army, Peggy acknowledges that it informed some of the most pivotal moments in his musical career. It was after escorting a soldier to a psychiatric ward during this period that he heard the "life-changing" album, Dark, twisted fantasy by Kanye West. He confesses that working with West would be his "dream collaboration" but, chuckling, admits "I don't think I would work well with Kanye West". When we ask him who he thinks he would work well with, he replies, "Bjork. I feel like I could make a really nice palette of sounds for Bjork and we could clash together. Either that or Thom York." 
"Music means everything to me. It's kind of a desperation thing. It's the only thing I'm good at and the only thing I care about." 
Since Peggy's time in the military, "Dream collaborations" like these are perhaps not so far off on the horizon. Peggy has since worked with the likes of BROCKHAMPTON and Denzel Curry - artists with 10 million and 6 million monthly Spotify listeners respectively. 
But such projects are a far cry from the small solo live shows Peggy performed around Baltimore at the beginning of his career. He started performing in these intimate shows after he finished his term in the military, moved to Baltimore and started putting out music. First, Communist Slow Jams in April 2015, then, only a month later, Darkskin Manson. Darkskin Manson was a mixtape of songs which were inspired by the Baltimore riots over the death of Freddie Gray, a young black man who went into a coma while being transported in a police van. Peggy continues to be vocal in this respect. In response to articles related to the death of George Floyd and the Black Lives Matter movement, he tweeted "so when the smoke clears and places like Vice aren't writing articles about black issues everyday anymore. I just hope we can have a real discussion about what's going and I hope that we get actual real change not just symbolic sh*t."
Despite consistently releasing music since 2015, Peggy's music remained relatively unknown. It was only with the release of Veteran in 2018 that Peggy started to garner critical success. Expressing his gratitude, he acknowledges that "for me, I've been doing this for so long and performing to nobody with such little success that, for me, any success is great."
The reality of his own success seems to surprise Peggy. "Nobody from Baltimore ever makes it or they just get shot before they do. Me? I'm probably the first rapper in this weird rapper lane to ever make it out of Baltimore." He speaks effusively of Baltimore peers "Butch Dawson, Abdu Ali, Lower Dens and Turnstile" as a few of the musicians that he thinks should 'make it' and as a few of his big inspirations but adds with a sigh that "we all kind of rally around each other to make it big. It just never works." As Peggy hints, Baltimore is home to a famous close-knit DIY scene. But he goes further to say that Baltimore musicians are connected by something more intangible. "[Baltimore] is very harsh to live in so no matter what kind of music you are making, Baltimore breeds a string of desperation that fits it all together." 
Another 'string' that runs through Peggy's music is one of palpable anger. On "I cannot f****ng wait until Morrissey dies", Peggy takes no prisoners as he disses former lead singer of the British rock band The Smiths on account of his recent support of Far Right group, 'For Britain'. Peggy explains that he is not just an "angry man on the internet", as some have suggested, but that he is justifiably outraged. "I watched all these corny, hipster, Pitchfork-a** n****s excuse everything this n**** [Morrissey] did for years. He said all this f***ed up weird sh*t - nobody cared. They were like 'the music's too good'. I wanted to point out the hypocrisy. Because they don't do that with other people." 
"Nobody from Baltimore ever makes it or they just get shot before they do. Me? I'm probably the first rapper in this weird rapper lane to ever make it out of Baltimore."
When asked if he thinks many of his listeners understand that this is his intent, Peggy sighs: "No, not particularly. I don't think they all understand at all." It isn't hard to find evidence for what he means. Early in his career, Peggy decided to use the slur 'cra**er' in his music. This was a conscious use of language aimed to invert and question the usual dynamic of white audiences rapping the n-word back to black rappers at live shows. But it wasn't seen this way by all, leading to numerous anti-Peggy reddit pages.
Despite his frustration with those who misunderstand his lyrics, Peggy seems keen to emphasise his appreciation of those who do 'get it': "The people who don't understand it can at least enjoy it from an audio, aesthetic perspective. You can take what you want from it. I know what I'm trying to do. The people who need to hear it, they get it." 
Peggy's devotion to this kind of fan is clear. When we ask Peggy what to expect from him in the future, he quickly answers: "I wanna showcase my personality but my f****ng personality and do it my way. I'm interested in connecting directly with my fans." Since our interview, this is something Peggy has began to do through his Youtube channel where he posts HTBAR ('How To Build A Relationship') 'vlogs'. In each he reveals intimate conversations with artists such as Danny Brown, Ariel Pink and Lykke Li, to name a few, and lets fans in on private festival footage, unreleased music and informal Q&As.
In a way, Peggy's newfound vulnerability for his fans is in itself an inadvertent act of resistance, this time, against the music industry. Because now? "I'm focusing on yall. I don't care about none of this industry sh*t. None of this FADER [a major record label], none of these mother-f**kers, because, at the end of the day, these fans pay my bills. I trust some of these fans more than some of my family members."
Varsity is the independent newspaper for the University of Cambridge, established in its current form in 1947. In order to maintain our editorial independence, our print newspaper and news website receives no funding from the University of Cambridge or its constituent Colleges.
We are therefore almost entirely reliant on advertising for funding and we expect to have a tough few months and years ahead.
In spite of this situation, we are going to look at inventive ways to look at serving our readership with digital content and of course in print too!
Therefore we are asking our readers, if they wish, to make a donation from as little as £1, to help with our running costs. Many thanks, we hope you can help!