May Ball Review: Selwyn
Oliver Winters was extremely impressed with the elegant aesthetic and atmosphere of Selwyn College's 'Selwyn by the Sea'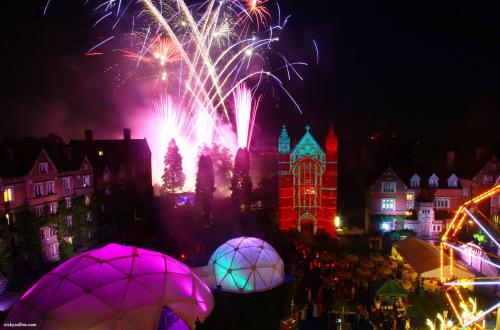 Having been informed by a number of third years whilst queuing in Sainsburys that my decision to go to Selwyn May Ball was at best 'very rogue', I was filled with a certain degree of trepidation, something not helped by the entertainment-less and extremely long queue to enter the Ball. However once we entered, its is fair to say that all preconceptions and worries were blown out of the water. Selwyn was quite simply everything a May Ball should be: glamorous, extravagant and perfectly executed.
The theme 'Selwyn by the Sea' certainly ran the risk of coming across as forced, but was in fact implemented tastefully throughout the Ball. In particular, the use of small touches such as bowls of rock candy scattered around the seating area, or the beautifully illuminated SMB sign on a backdrop of beach huts added to the presentation without ever detracting from the overall atmosphere of refinement. A short but spectacular firework display as well really lent itself to the aura of sophistication and class alongside this playful theme.
Entertainment-wise, the committee hit the nail on the head in terms of putting on a balanced range of activities. Both a Carousel and various games huts providing activities such as ring-tossing attracted large queues but were well worth it. Although I was personally inclined to avoid the giant swings after noting that one had broken midway through the night, they certainly appeared to go down extremely well with the crowd. Finally, whilst I also didn't see the attraction of an outdoor cinema, it certainly seemed popular as exhausted Ball-goers could enjoy a comfort break being dazzled by 'La-La Land' and other classics.
The Ministry of Sound tent bore more resemblance to a London night club than Cindies or Life has ever managed.
The huge array of food and drink available all through the night was superb. Classic May Ball 'brands' of Aromi and Nanna Mex were accompanied by falafel wraps, doughnuts and my two favourite food items from all of May Week, deep fried halloumi and chips and a Build Your Own Waffle stand. Although not as impressive, the drinks on offer were as wide ranging as the food, and crucially in plentiful supply. Notably, a hugely popular Daiquiri tent and an all night Prosecco bar, alongside a plentiful array of cocktails did wonders for driving on a flagging and tired crowd as the night progressed. Although on occasion queues were on the long side, the top quality products at the end made it more than worth it.
One real highlight of the night was the musical entertainment. The Ministry of Sound tent - with an accompanying shots bar and beach balls being tossed around along with a professional DJ -  bore more resemblance to a London night club than Cindies or Life has ever managed. And to cap off the night, an ABBA tribute band playing until 5 am created what can only be described as a Swedish mosh pit sending everyone off to the survivors photo in high spirits and drunken euphoria.
Without a doubt the crowning aspect of the Ball was the decorations which were simply sublime throughout the College. The personalised light show onto the Chapel and the use of searchlights across the sky gave the Ball a real unique feature that I had not seen to such a high standard in any previous Balls I had attended. Just being able to wander around and enjoy admiring the aesthetics is the sign of a truly top quality May Ball, and Selwyn certainly didn't disappoint in this respect. It without a doubt exceeded all my expectations and was a truly magical way to end May Week; I will certainly be going back again