Garden Party Review: Cam FM
Eli Hayes was impressed by the upbeat atmosphere of the CAM FM Garden Party that had everyone in a good mood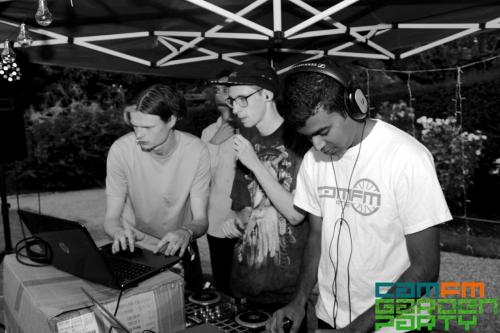 Disappointment is the first word that came to mind when I reflected on my experience of Cambridge garden parties this term: poor entertainment, insufficient supplies of food and drink, and generally lack-lustre atmospheres. With this in mind, I made sure to arrive at the Cam FM garden party in good time to make sure I was one of the lucky few to score a burger and a couple of tinnies before inevitably residing to a small circle on the grass with friends, debating when the appropriate time to quietly leave would be.
I fail, however, to remember another situation in which I have been happier to admit I was completely and utterly wrong. When I arrived at the garden party, which had succeeded in acquiring the wonderfully scenic location of the St John's Scholars' Garden, they were in fact still setting up. It seems fashionably late was still too early to get first in line for the food. While I began to worry that this slow start could only be symptomatic of a generally lethargic evening, the distribution of silent disco headphones (as well as a couple of cans of Stella) quickly changed my tune.
Soon enough, the burgers were ready and the music and crowd had picked up. We were enjoying a boogie and a barby simultaneously; a portable party made possible by the headphones. I was slightly concerned that after two May Balls, my appreciation for silent discos would have faded somewhat, but with the musical direction of some of Cambridge's top student DJs (including an applaudable last minute appearance from Callum Fernando), this disco certainly stood out from the rest.
Despite some eventual problems with the catering – stemming from the company arriving an hour later than scheduled, and worsened by the veggie food running out (as per every event ever in Cambridge) – the vibe was not dampened, and the alcohol, thankfully, was sufficiently stocked to keep us going. I didn't see a single person leave early, which was in stark contrast to my experience of many other similar events throughout May Week. There were smiles all round, to the credit of the team behind the event (very boldly identifiable in their bright orange t-shirts).
"A perfect boogie to end May Week"
Towards the end of the evening, Callum thanked the crowd – apparently, it was the first time they had done this, not that you would have been able to tell from the professional and smooth handling of logistics. He added that he hoped this would be the start of "more music in Cambridge", a sentiment I can only second after attending this event.
In a bid to demonstrate true journalistic integrity, I present some compounding statements from some other, equally happy, attendees:
"If it was a person, I would super-like it."
"Better than John's May Ball."
"So much booze."
"A perfect boogie to end May Week."
The party, it seems, was well received all round; and I'm sure that like my enjoyment, these happy party-goers share in my anticipation for next year's event. Some improvements to the food, and perhaps a bigger and better venue (to cater for the size of crowd the party deserves) would be beneficial. As far as garden parties in Cambridge go, though, Cam FM should be proud for putting together an event that was well and truly above the rest