MET Gala 2018: the most divinely dressed
On one of the biggest nights in the fashion calendar, stars dazzled the red carpet in heavenly outfits. Vulture Fashion charts the most celestial looks from the MET Gala 2018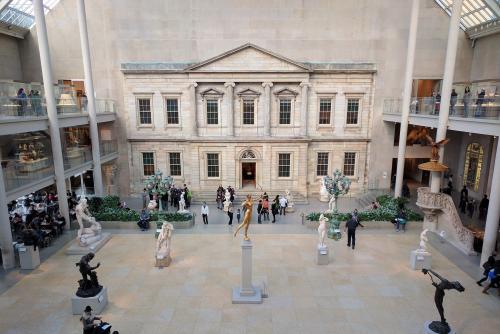 The first Monday of May 2018 saw the stars hit the red carpet at the Metropolitan Museum of Art in costumes inspired by the theme 'Heavenly Bodies: Fashion and the Catholic Imagination'. As it does every year, the event has triggered a wave of discussion in the press and social media, as we all weigh in with our opinions on which attendees made it to fashion heaven, and who committed the most outrageous sartorial sins. Here is Vulture Fashion's take on the most divine looks.
1. Blake Lively
Having already mentioned to Vogue that her Met Gala gown this year had taken over 600 hours to be created by Versace, expectations were already high when Lively emerged, reportedly from a bus rather than a car so that the extraordinary dress would fit. The rich, luxurious red satin and gold embellishment of her train and her heavily bejewelled bodice undoubtedly took everyone's breath away.
2. Rihanna
As co-host of this year's event alongside Amal Clooney and Donatella Versace, Rihanna clearly had no intention of allowing her reputation as Queen of the Met Gala to be tarnished. She stole the evening and the world's attention once again by appearing as a female Pope, in a jaw-droppingly ornate robe and unbelievable headpiece, complete with an iconographic necklace and Louboutin heels.
3. Zendaya
The legendary bravery of Joan of Arc was reincarnated and coated in red carpet glamour by Zendaya. The custom Versace armoured shoulders and chain mail, sparkling with Swarovski crystals, invoked the tragic story of the Catholic heroine, who was martyred at 19. It was a stunning representation of one of Catholic history's few female icons.
4. Ariana Grande
The pop starlet's gown was custom Vera Wang and featured parts of Michelangelo's 'The Last Judgment', taken from his famous work in the Sistine Chapel. Images from the paintings were printed onto her gown and magnificently blended into the ethereal chiffon.
5. Lena Waithe
Master of None star Waithe created by far one of the most memorable moments of the night when she arrived wearing a stunning pride flag cape by Carolina Herrera. The unapologetic boldness of this rainbow coloured, billowing garment was a defiant fashion statement, especially within the context of the long-lasting tensions between Catholicism and LGBTQ+ identities.
6. Lana Del Rey, Alessandro Michele and Jared Leto
Lana's dramatic sacred heart chest plate and enormous blue feathered headpiece were two of the most standout accessories inspired by the night's Catholic theme, providing spectacular additions to the singer's white Gucci robe. Del Ray was accompanied by Gucci's creative director Alessandro Michele, and fellow musician and actor Jared Leto. With suits elevated by opulent golden brocade and circlets atop their long hair, they were certainly among the best dressed male guests.
7. Cardi B
Cardi B might have received more attention for her encounter with Nicki Minaj on the red carpet at the Met, but her extravagant Jeremy Scott gown and jewellery also deserves some discussion. Adorned with countless pearls, with a towering thigh split and shining satin billowing around her, Cardi B brought red carpet maternity wear to a new level of decadence.
8. Solange
Solange's outfit carried a strong message about the sanctity and beauty of black bodies, despite their frequent exclusion from Western religious narratives. Her structural Iris Van Herpen outfit and slick thigh-high boots were strikingly unconventional, but perhaps most meaningful was her black durag, combined with a gold halo, associating a symbol of black culture with a symbol of holiness.
9. Sarah Jessica Parker
Actress SJP went all out with her outfit for this year's gala, in a gold gown with structured shoulders and fiery red hearts embedded in the skirt and train. All eyes were, however, on the outstanding headdress she wore. This showstopper took a shape inspired by a papal headdress, but most impressively featured a miniature recreation of a traditional Neapolitan nativity scene.
10. Chadwick Boseman
Arguably the standout menswear moment of the 2018 Gala was Black Panther star Chadwick Boseman's ivory suit and ankle-length cape, all decorated with golden Catholic iconography. Accustomed to seeing male celebrities customarily avoid the Met Gala's theme and stick to a classic black tux, Boseman's choice to embrace of the scarlet tassels and cross symbols which embellished his outfit was a joy for observers.