10 ways to brighten your spring wardrobe
In spite of the dreary weather, Gabriel Humphreys gives us his top 10 ways to add some life and colour into our wardrobes this spring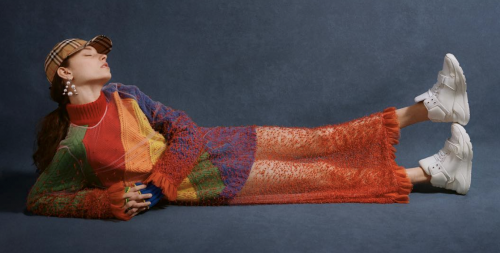 As usual, it's a dull and grey British spring, with the occasional light shower. So, time for a spring clean. Out with the old, in with the new, and all that – slap on some artifice, and pretend the days are actually getting warmer and that you didn't just have to turn up the radiator with some bold and bright spring beauty and fashion choices.
1. Metallics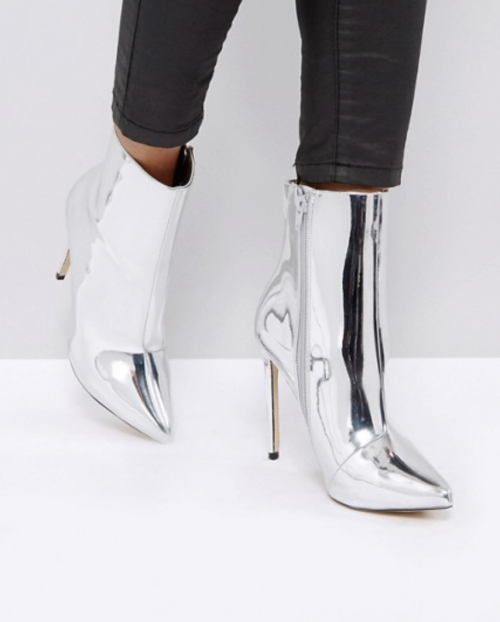 You might think it's extra, but metallics are much underrated, and can work not only as a statement piece to fit with many outfits, but also as an everyday compliment to a variety of aesthetics and colour schemes. The styling options are also diverse – from casual outerwear to tailoring, accessories and dresses. The style has been filtering through to the high-street from catwalks since AW17, with many shops carrying items in a range of metallic shades.
2. Long puffer jackets
Puffer jackets have been flying off the shelves since last Autumn and in spite of the fact I frankly hate them, they're pretty hot right now. Even Chanel proved their vintage jacket silhouette could be enhanced with some stuffing, and New York AW18 Fashion Week pushed hemlines down with a snap of its fingers and set the long puffer jacket centre stage. By taking advantage of winter stock clearance, snap a bargain that will last you through chilly spring showers and that you can use again when the cold Autumn shoots us back to reality.
3. Rainbow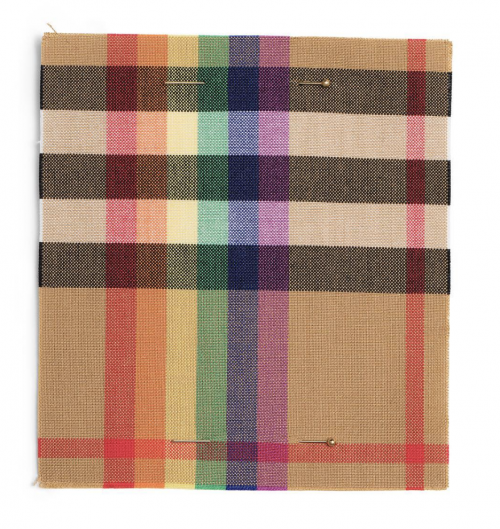 What better way to combat a grim, washed-out April than wearing one shade of every colour? London Fashion Week this season saw the blooming of a rainbow trend. Burberry took the lead, with Christopher Bailey's last collection for the label being a rainbow remix of their iconic print, and Cara Delevingne sporting a floor-length rainbow fur cloak. Perhaps a little too bold for some, but the Burberry February Capsule is worth investing in if you've got the disposable income (£5,900 for a leather jacket, anyone?). Otherwise, there are multiple options in men's and womenswear, especially in light knitwear, that can brighten up and add a splash of colour to any outfit.
4. Coloured eyeliner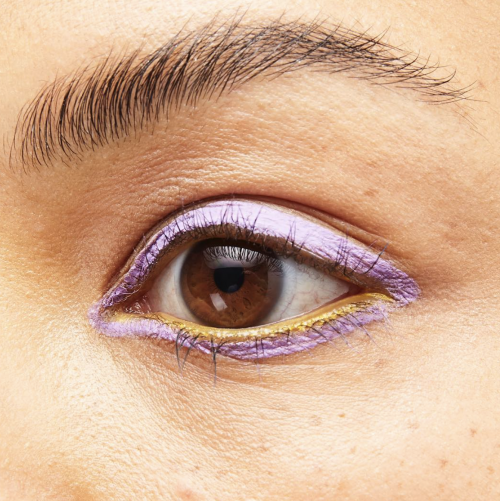 A great way to add an editorial edge to your everyday looks, coloured eyeliner is a standout in recent beauty trends. On the SS18 runways, a bold pale blue seems to be the standout, with painterly, abstract looks dominating. Missoni gave a particularly interesting offer, with blocks of pastel shades, and House of Holland brought us into a new electro-pop realm, with neon pops of colour and nude lips. NYX has a great range of liquid Vivid Brights eyeliners that are perfect to bring some geometric, vibrant flair to match any look.
5. Brocade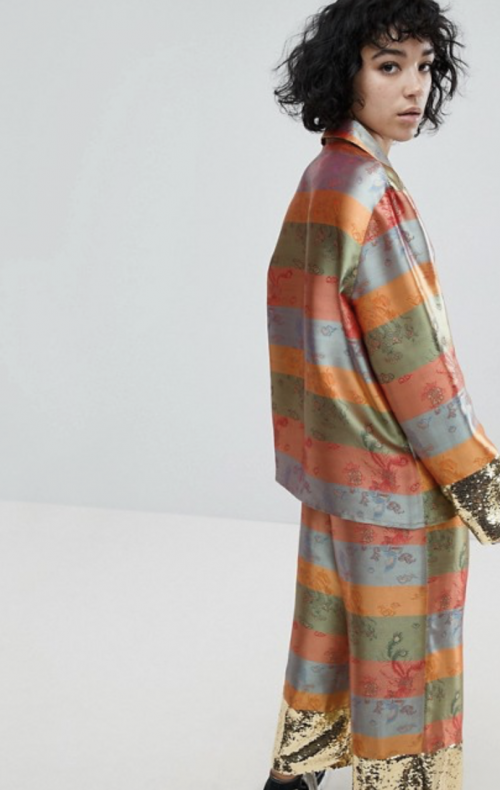 Florals (sort of) for spring? Not exactly groundbreaking, I know, but some of the stylings we've seen over the last two seasons have been. Have yourself a Renaissance moment, with the shimmering metallic brocades from New York and London catwalk for the AW18 season. Full looks of the fabric rather than subtle hints came out on top, but dresses aren't the only option – ASOS has an intriguing co-ord take on the pattern.
6. Fur shoes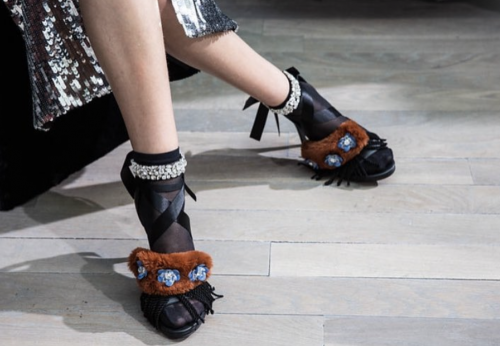 Have yourself a New England spring, and wear fur! Fur (faux, of course) made appearances at many AW18 fashion weeks, particularly on shoes. However bizarre it might seem, this trend can bring a hint of avant-garde and texture to your outfit, and there are some surprisingly sensible and safe options around even from the high-street, unless you have the budget to stretch to Simone Rocha or Markus Lupfer.
7. Graphic tights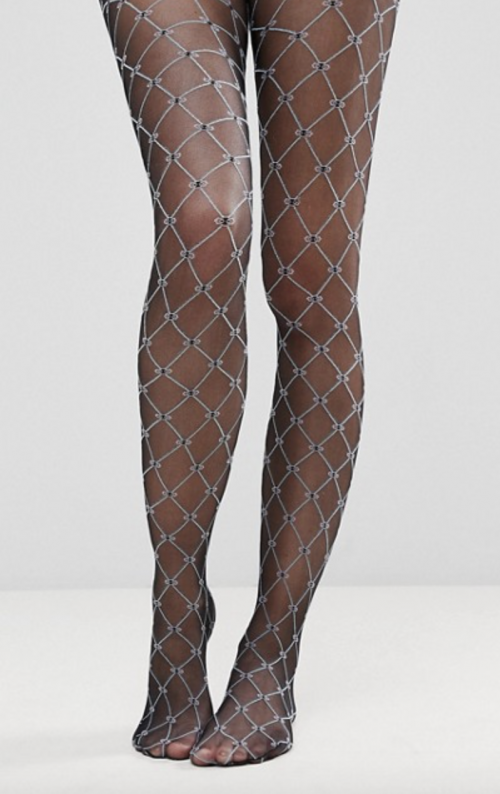 There have been some serious fashion flashbacks to the 80s recently, and one particularly virulent throwback has been that of graphic tights. Not only seen on the runway, this is a practical trend as well – keep the variable, but usually cold spring at bay, and make an often-boring and bland item the statement of your outfit with spring pastels complimented by a bond and bright pair of neon fishnets or even florals. 
8. Plaid / tartan
2018 has been a big year for another revival of a classic – plaid. Many labels found new ways using the fabric, from dresses and jumpsuits to tailoring. Grab yourself a full Clueless moment in a matching suit/skirt à la Emilia Wickstead in her AW18 collection, or use vibrant tartans as outerwear statement, or to brighten your accessories collection.
9. Red lipstick
Fashion and beauty are not industries known for their prizing of longevity, but some classics prove themselves every time. A bold, red lip is not only a great way to cut through natural yellowy spring greens, but there are reds complementary to a wide range of skin tones and it can be an easy way to add class or elevate any look.
10. Text graphics
Ralph Lauren might have said fashion wasn't necessarily about labels, but since when has that been true on any runway? Text is instantly eye-catching and engaging, and Off-White and Dior have been bringing it back with a vengeance. The best way to go with this one is all-out – a subtle logo will look a little bit Year 11 Superdry (I was a victim too) – so strike out with an all over text look or a non-label post-ironic slogan like Off-Whites "For Walking" boots