Met Gala 2017: An avant-garde affair
Robyn Schaffer considers whether the attendees at this year's Met Gala truly embraced the dress code of 'Rei Kawakubo/Comme des Garçons'
Towards the end of 2016, it was announced that the theme of the Met Gala 2017 was 'Rei Kawakubo/Comme des Garçons.' For those of you currently wondering what this theme means, Rei Kawakubo is a Japanese-born designer and head of French fashion house Comme des Garçons, a label known for its avant-garde and theatrical designs which blur the boundaries between fashion and art, and that are far more abstract and conceptual than the average catwalk collection. I thought this theme was perfect for the Metropolitan Museum's Costume Institute Gala, for it was held to celebrate the opening of the Institute's exhibition of the same name displaying some of Kawakubo's finest work.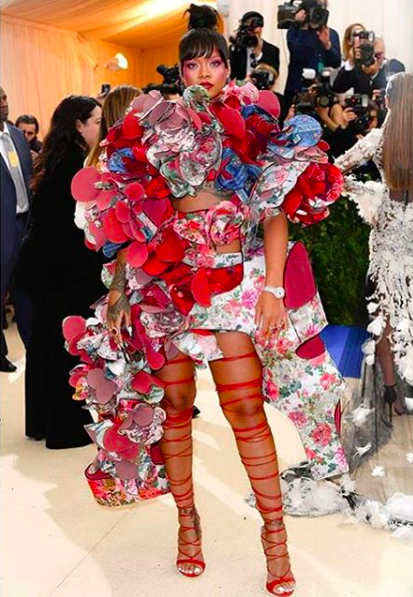 Naturally, this theme allows for some extreme experimentation within the world of avant-garde fashion, and Vogue even posted a series of short YouTube clips where Andre Leon Talley (US Vogue's former editor-at-large) interviewed a host of celebrity guests, asking them for their own definitions of 'avant-garde', demonstrating the importance of this notion for both the exhibition itself and the dress code for the Gala. While some dared to take a leap of faith with their costume choices (it is the Costume Institute, after all), others failed to hit the mark and missed a rare opportunity to pay homage to one of the finest fashion designers and artists of our time.
"It is not only far more interesting, but also respectful, to engage with the theme and designer being celebrated."
Among those who chose to embrace the theme was Rihanna, known for her previous daring Met Gala looks. This year she took the theme quite literally by wearing an outfit by the very designer who was being honoured, consisting of a Japanese-inspired top and skirt covered in a myriad of 3-D flowers, paired with DSquared thigh-high lace-up sandals. On a similar level was Katy Perry, wearing a bright red tulle dress and veil by John Galliano for Maison Margiela. While some relegated Perry onto their 'worst-dressed' lists, this seems a little ignorant, showing a failure to see that sometimes it is not only far more interesting, but also respectful, to engage with the theme and designer being celebrated.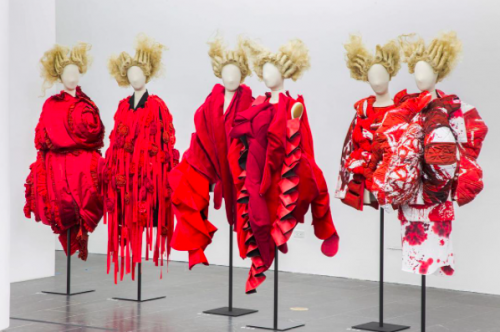 Then, we have actress Dakota Johnson, in an all-black floor length structural Gucci gown, which, while subtle and understated, still turned heads with its resemblance to some of Kawakubo's past pieces. Following suit was model Lily Aldridge in a white silk Ralph Lauren cut-out dress teamed with red thigh-high Balenciaga boots and a fuchsia veil covering the bottom half of her face, once again proving that simple, minimal pieces can still work together to create something 'avant-garde'. Cara Delevingne also had people talking, though not at the expense of her beautifully embellished Chanel trouser-suit. Delevingne showed up at the event sporting a newly shaven head painted silver to match her outfit in a bid to "redefine beauty standards."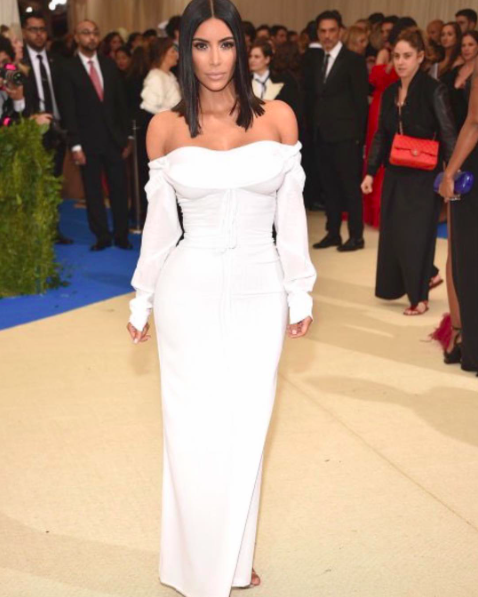 There were also those whose outfits were a little more disappointing. Kim Kardashian-West, ever in the hot seat, wore a plain white off-the-shoulder Vivienne Westwood dress, while legendary supermodel and co-chair of this year's Gala, Gisele Bündchen, opted for a plain silver Stella McCartney gown, which, though beautiful, was a little underwhelming considering her position of honour for the evening. Then there was Kendall Jenner, whose sheer black La Perla number had the model compared to a naked Hank Hill and received generally negative reviews. Blake Lively, a popular favourite, stunned in a gold Versace gown, finished with bright blue feathers at the bottom, however it seemed undeniably similar to many of her previous looks and a tad too much on the safe side.
And so it seems that 2017's Met Gala produced what we are often faced with; a small handful of standout stars who take the theme on board, while most stay in their comfort zone. Perhaps next year will see more grasp the opportunity to experiment with the finest that the fashion world has to offer