Transparent threads: so much more than sweaty knees
Megan Lea explores why there's more to the current trend for transparent threads than meets the eye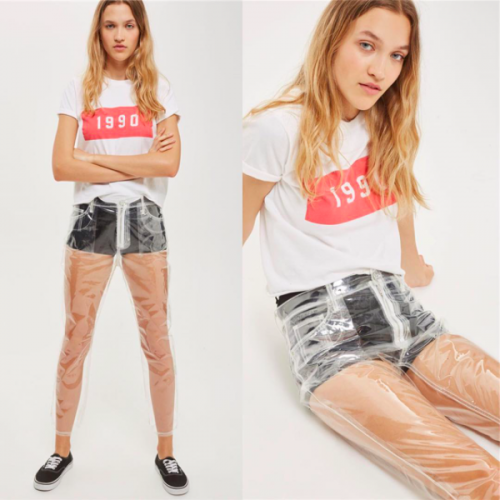 The current trend for clear plastic as a material for clothes, shoes and accessories is an odd one, for sure. It's not 'aesthetic' in a traditional or expected sense, but it is subversive, interesting and even witty – bags are supposed to store personal effects, yet it's not very personal when the world and his wife can see what you're carrying around with you. The same goes for Topshop's new jeans: described on the brand's site as "out-of-the-ordinary clear plastic jeans – guaranteed to get people talking", they are completely see-through and much like their precursors, the 'clear knee mom jeans' that appeared on sale a few months ago, are already the subject of much ridicule.
Over the past few seasons clear plastic has popped up on the runways numerous times: Charlotte Olympia's clutch bags, Loewe's near-invisible trousers, and even dresses and coats at Calvin Klein, are just a few examples. Now that polyurethane and PVC have fully trickled down to high-street stores, the trend is at the mercy of the dubious eyes of those less eager to embrace the spirit of fashion; naturally the 'emperor's new clothes' references aren't far behind.
The more bizarre, confusing, fun clothes there are out there, the better
Of course, this isn't the first time transparency has been in vogue. See-through raincoats have been popular for some time, especially at festivals, but perhaps more memorable are the clingy sheer dresses worn by Kate Moss et al. in the 90s (the even cooler Jane Birkin did it first, way back in 1969). Prettily ruffled sheer gauzy tops and dresses are also trending at the moment, usually in pastels, their flirtiness offset by jeans and white t-shirts. There is something different about the clear plastic look though. It fits in well with the rest of the Kardashian modus operandi of revealing, almost fetishistic, yet high-fashion, but unlike the familiar monotone bandage dresses and fur coats that Kim and co. often pair them with, there's something a little more intellectual about their clear plastic boots.
I hate to make a shibboleth of fashion trends, because as ideas they are available to everyone, and you don't have to be 'in the know' to appreciate designer clothes – even if for most of us the prices put them forever in the realm of fantasy. When something like a pair of see-through jeans comes along though, it is inevitable that there will be a host of commenters taking the piss. Grumbling a toffee-nosed "they just don't understand fashion" in response, however, also misses the point. Yes, clear plastic apparel looks bizarre and uncomfortable and will certainly shock your grandma. But it's also a great talking point, and reveals much more about us than just a pair of sweaty feet or awkward knees: it lays bare some of the great ironies of fashion itself.
Cheap materials, with the right label, can sell for thousands of pounds; impractical and, I imagine, highly uncomfortable garments are there to be worn wherever, and with whatever, you like.  Supposedly, you'll feel extra cool/hip/edgy whilst wearing them too. Whether or not a significant number of people will really wear a pair of clear plastic trousers is unclear (though Topshop's have already sold out), but it's also kind of irrelevant. According to Justin O'Shea, buying director at MyTheresa, "All of those pieces are really identity-driven rather than retail-focused. The end consumer can appreciate it, but they're not desperately wanting to have it."
Like all forms of art, fashion is about ideas, just as internal as it is external. The more bizarre, confusing, fun clothes there are out there, the better. So, scoff all you like but at the end of the day, aren't clothes there to have fun with?