Emma Thompson: 'Don't pretend that this world is equal – it's not. It's a patriarchy'
Anna Menin and Clara van Wel meet the Newnham alumna to talk comedy and failure. And the female orgasm.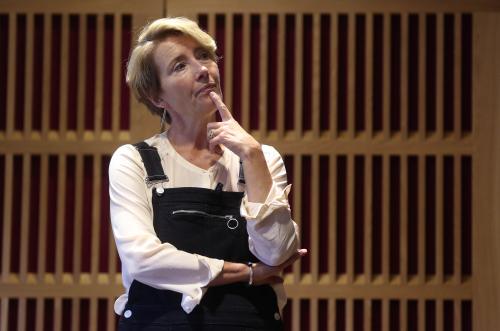 "Is it true that you rode a motorbike down the corridor?"
The first question posed to Emma Thompson by her audience of Newnham students demands to know if the college legend is true. Thompson doubles over in exasperated laughter with an exaggerated, "No!"
The disappointment in the room is palpable, but Thompson is quick to remedy it.
"Well, sort of."
Possessed with comic poise, Thompson regales the eager audience with the truth, featuring an "admirer" who rode the infamous motorbike up Newnham's long corridor and into her room. She gleefully recalls asking him what he thought he was doing, only to be told "I had to come and express my appreciation for you".
"I said: 'you have to get this out of here, I'm in such trouble', and he said: 'only if you get on the back', so I rode out on the back of his Honda 250. Next."
As absurd as the story might be, it isn't much of a mental leap to believe that Thompson could trigger a motorised declaration of love. A mere two minutes in to the Q&A session and her audience are utterly enthralled.
"I like being in the female environment, it's extremely comforting and safe, and it's a wonderful place to be."
Thompson read English at Newnham College, and remembers it with obvious fondness, describing Newnham as "a great haven." This love is not confined to nostalgia, however; she emphasises the ongoing importance of such spaces: "I think we should absolutely have women's colleges."
"I like being in the female environment, it's extremely comforting and safe, and it's a wonderful place to be."
Thompson wrote for and performed in the first – and only - entirely female Footlights Revue along with Sandi Toksvig, who was made an Honorary Newnham Fellow in 2016. During her time with the Footlights she performed alongside comics such as Hugh Laurie and Stephen Fry, who remain her friends to this day. However, she recalls the feeling of being "surrounded" by men in the Cambridge comedy scene.
"I was the girl. I was always the girl. And that was sometimes wonderful, and sometimes quite lonely."
She regrets that comedy remains to this day, "a very, very male domain." Ever at the ready with a comic antidote, she expounds upon her long-held theory about comedy.
"I always think of female comedy as much more organic, where you get laughs, and then you get another laugh, there's no need to go towards this sort of ejaculation as it were."
"The joke is the male orgasm really," she tells a cackling Newnham crowd, "And female humour is the female orgasm, you know – you just simply don't know when it's going to happen. And it could go on and on and on. Or be over terribly quickly!"
Her rapid-fire responses and easy comic bits make her sudden slips into sincerity all the more powerful. She speaks poignantly about failure and its value – belying the earlier insistence that she hasn't "got anything to offer".
"Failure is your best friend. It is your best friend. Obviously not all of the time — if you're failing at things all the time then obviously things can get a little lowering." She recounts how, although the TV sketch show she wrote flopped, and was torn apart by critics, it was seen by the producer of Sense and Sensibility, who then approached her to write the screenplay.
"I attribute my Sense and Sensibility Oscar to the biggest failure I ever had," she says, with feeling.
We sit down with Thompson later that evening, after her Union talk, and begin by asking about recent comments by Judi Dench in which she condemned young actors' "laziness" in pronunciation and "apathy" towards the legacy left by previous acting generations.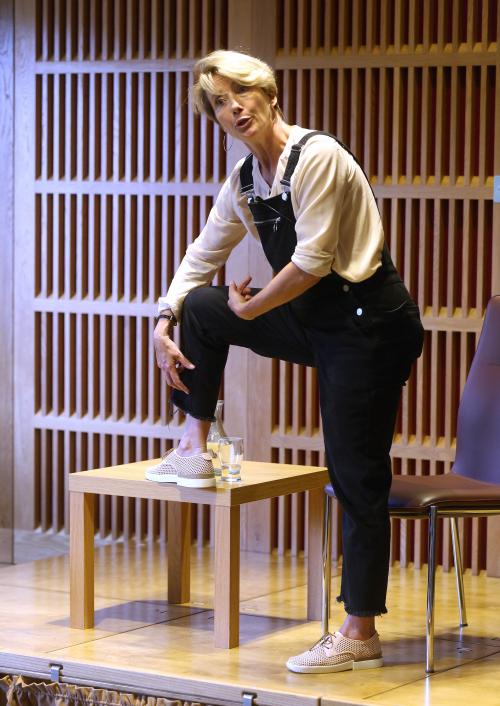 After disclaiming that she hadn't heard Dench's speech herself, she says "I would have thought that all generations must reinvent it, must do what they want to do."
"What acting was two hundred years ago is completely different to what acting is now. We change, and that's important, but sometimes those transitions are hard for people."
"The people who are going into the theatre and film now, they all seem to me to be different to how I was at their age. They're enthusiastic, they're experimenting, they're wonderful, wonderful. So my feeling is that: go for whatever you wish to express. Don't look back; do what speaks to you."
As a seasoned actress and writer, Thompson has no trouble expressing herself. What is her advice to those who do not have a natural confidence, or worry that their contributions are not valuable?
"You have to be brave, and you have to stick to your guns, and you have to keep saying it, no matter what, no matter how small you feel, no matter how ridiculed you feel."
"And remember," she continues, her eyes twinkling, "It is not for us to somehow make ourselves fit in to the man's world –  the man's world is something that is not serving the human race. That is what has to change, not us. They have to come towards us; it is their journey towards us that is key at this point in human history and human development."
"It's not about women going into the man's world and breaking the glass ceiling, no – the glass ceiling is an invented illusion. What there is, is 'how do we communicate?', 'how do we experience one another?', 'how do we make this world liveable?'"
She speaks to us about how, when she was younger, she thought that she could solve these problems through sheer effort, but has now come to the realisation that the most valuable thing is "managing to remain myself".
Thompson admits that "for the last 35 years," this "has not always been easy," but there is a note of bittersweet hope when she says, smiling, "in that hall, that's me – that's the product of years, years of failure, of being belittled, of feeling I can't be funny, or I can't be clever, or I can't respond, so you see, you just have to keep on."
"Don't pretend that this world is equal – it's not. It's a patriarchy – that's what it is. We can't pretend that it's anything else, and we have to offer up different systems. The systems aren't working – the financial system doesn't work – power systems aren't working. We have to change them, they will change, but only if we are ourselves."
Earlier, when answering a question on her experiences of Harry Potter at Newnham, Thompson had said, with a hint of exasperation, "female empowerment is also very important. Let's ask Daniel Radcliffe about it." Does she feel the burden that comes of being a female actor and writer, being constantly asked why these industries struggle with female representation?
"I think it's a perfectly reasonable question," she responds, and praises the work of her former DoS, Jean Gooder, in this field as "fucking brilliant." "She's just doing some serious research. She's not some actor sitting in a corner going 'hmmmm where are all these women?' Yes, it is drearily pertinent, and an absolutely necessary thing, but it's been as drearily pertinent for the last 30 years, as far as I can see, so I don't think that's changed."
With her trademark twinkle in her eyes, she artfully flips the question back on us:  "So, what are you doing about it?"