Catalonia deserves a martyr. Instead, they have Puigdemont
Catalonia has made it clear that it is in search for its own independent statehood, but is crying out for a leader who can take them there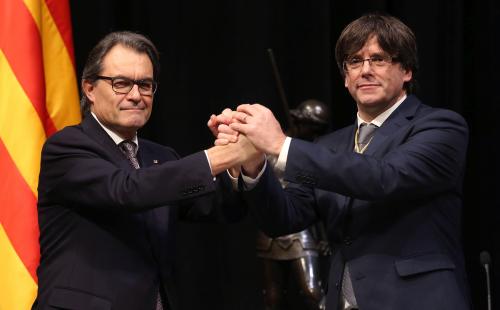 As I wandered through the streets of Barcelona's gothic quarter over the summer, it was hard to fathom how this proud city could concede playing second fiddle to Madrid. Barcelona had all the makings of a proper European capital and its aspiration to become one was omnipresent. The brochures at Parc Guel and the Sagrada Familia made it clear that the sites were expressions of Catalan culture and that Antoni Gaudí had designed them as such.
Around the city, balconies proudly donned the Estelada, the (now infamous) Catalan flag. Entering Camp Nou, I felt a tingling sensation as I read "més que un club" ('more than a club') written across 90,000 seats, a reference to FC Barcelona's commitment to Catalanism through the darkest days of the Franco regime. It was clear that Barcelona aspired to be "mes que una ciutat" ('more than a city').
Barcelona's path to becoming a European capital is contingent upon Catalonia's struggle for statehood. The road to statehood is never easy, and it is always marred by confrontation. Following Catalonia's declaration of independence, Carles Puigdemont appears to have shied away from any such confrontation. On 30th October, the Spanish chief prosecutor announced that he would be bringing charges against Puigdemont and thirteen other Catalan ministers. The allegations include rebellion, which could warrant imprisonment for up to 30 years.
On that same day, Puigdemont and five of his ministers fled to Brussels. On 2nd November the rest of the cabinet, including former Catalan Vice-President Oriol Junqueras, appeared before the court in Madrid, which ordered their immediate incarceration, pending trial. Since then, Puigdemont has appeared before a Belgian judge, hoping to argue against the enforcement of the European Arrest Warrant issued by Spain and has been conditionally released. The process to extradite Puigdemont from Belgium could take up to three months.
"By fleeing, Mr Puigdemont has shown that he does not have the courage of his convictions"
Following these events, I find myself agreeing with what Nigel Farage said on his radio show (and I am just as disturbed by that statement as you are): I am not "particularly impressed" with Mr Puigdemont's course of action. Setting aside the irony of Nigel Farage criticising someone for deserting when the going gets tough, he makes a valid point: Mr Puigdemont is not setting an admirable example for Catalan resistance to Spanish rule.
When declaring that the referendum would proceed, in violation of the Spanish Supreme Court's ruling, Puigdemont set the Catalan independence movement on collision course with the Spanish government. By choosing to unilaterally declare independence, he had taken a bold step which his predecessors had avoided, and poised himself to become the liberator of the purported Catalan nation.
However, it is a hallmark of national liberators that they are willing to suffer for their ideals. Gandhi walked 240 miles to collect salt, only to be arrested by the officials of the British Raj. Nelson Mandela spent 27 years in prison for his belief that all South Africans were equal. To paraphrase Gandhi (the film, not the man), it is through the pain of the oppressed that their oppressors will realise their own injustice. As a result of their martyrdom, national liberators have a unique place in history. They are adored in their respective nations in a god-like manner and it is political blasphemy to question their decisions, even retrospectively. By fleeing, Mr Puigdemont has shown that he does not have the courage of his convictions. For this reason, even if Catalonia attains statehood, he is not worthy of the Catalan people's unquestioned adoration, as he has proved that he is not that calibre of leader.
By way of contrast, I find myself in awe of the sacrifice of Oriol Junqueras and the seven other imprisoned Catalan ministers. As true believers in the cause of Catalan independence, they took the righteous route, which not many a politician would opt for. They chose to abide by their moral obligation to remain in Catalonia for the 2.2 million Catalans who answered their government's call to the voting booth on 1st October at risk of life and limb. Their imprisonment is the most powerful symbol of Spain's diminishing legitimacy to govern over Catalonia. Their hardship is now the reason why the whole of Europe recognises that injustice is currently being perpetrated.
I cannot claim to be an expert in Spanish history so as to form a judgement regarding the Catalan claim to independence, nor am I able to predict the future of Catalonia. One thing I can say is that history should more readily commemorate a martyr than a deserter and, unless Mr Puigdemont returns to help orchestrate the advancement of Catalan independence, he will have lost his right to such commemoration