Despite the admissions statistics, women are still not equal
Recent statistics mask the inequality in race and class in Cambridge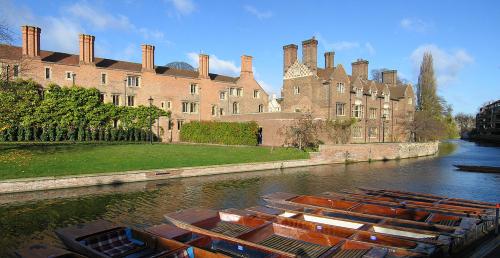 In an era when people constantly scream "FAKE NEWS" at publications (one of them happens to sit in the White House), we need to be more cautious about how news presents facts. News is just a game of statistics. We pick out which statistic we think will make breaking news. For instance, women receive more Cambridge offers than men for the first time in history. Before we celebrate this big step towards gender equality in tertiary education by sharing this news on Facebook with a #becauseits2017, we need consider whether this statistic actually means anything much.
Our current focus on admission statistics in relations to inequalities is misplaced. Based on statistics released by UCAS, a Varsity article published last month marked 2017 as the historical year in which female Cambridge applicants received more offers than male applicants in 2016/2017 admissions cycle.
"An offer from Oxbridge does not define the quality of education young women in this country receive"
The one-dimensional statement of "women receive more Cambridge offers than men" seemingly celebrates gender equality based on simple numerical comparisons. It seems to hint that female students' success is predicated on university admittance, and brushes over the most important issues faced by young women in education. Though it might surprise you, an offer from Oxbridge does not define the quality of education young women in this country receive.
According to the UCAS End of Cycle 2016 report, women are more likely to apply to universities than men. In England, the difference is 35 per cent. What we see in Cambridge is that men and women have the same application rate. In Oxford we see a similar situation. Could it mean that women are just less qualified than men? Offer rate statistics do not suggest so. Those young women who applied actually had a higher chance of success than their male counterparts. And the gap is widening.
This observation is coupled with extremely gendered applications by subject in Cambridge. According to the University's Undergraduate Admissions Statistics report for the 2015 cycle, applications to Economics, CompSci, Engineering and Mathematics are dominated by males, with CompSci being the most imbalanced (87 men to 13 women). Among the sciences, not all degrees are dominated by male applicants, but those that are skewed towards females are Psychological and Behavioural Sciences (PBS) and Veterinary Medicine, science subjects that would be considered "softer" sciences or acceptable for women to study while retaining their "femininity". Gendered applications do not only limit opportunities for women. Arts and Humanities subjects such as Classics, Education and History of Art receive many more female applicants.
These all point to an alarming conclusion. No one could actually know why some women did not end up applying, but one of the reasons can be that young female sixth-formers have less faith in their academic abilities, and therefore are less likely to apply to top institutions. On top of that, boys and girls alike as gender groups show obvious preferences for some subjects over others. They either never develop interests in subjects considered not conventional for their gender because of how they are brought up or educated, or they are too intimidated to apply to a subject that they like because they think their gender is not suitable for that subject. A study released by Princeton University, New York University and the University of Illinois last month showed the disheartening results that girls, as early as the age of six, think that their gender is less clever and talented than the other gender. These girls, of course, would not dream of going to Cambridge or Oxford. Even more, they would not dream of applying to science subjects, subjects that their male co-years will be better at.
However, a person is so much more than their gender. By using gender as the single point of comparison, we are neglecting the multiple sides of a person's identity that come into play in university applications. We must discard the gender dichotomous narrative in statistics analysis in order to understand why a white female living in Bath has a better chance at being accepted at Cambridge than a black male living in Bradford.
The reports show that students from the wealthiest areas in the country (known as quintile 5) are more likely to apply to universities in general. The difference between the percentage of students applying from quintile 5 and quintile 4 (second-most privileged) is 10 per cent nationwide. In Cambridge and Oxford, however, the number of students applying from quintile 5 is double of that from quintile 4. When it comes to offer rate, Cambridge shows an even greater disparity than Oxford.
"White" students still have the highest offer rate and "Black" students the lowest. When compared to the national average, "Black" applicants are extremely disadvantaged in Cambridge, similar to the situation "Asian" applicants face in Oxford.
If the Cambridge brochure had been more realistic, it would feature 17 white students, three Asian students, and 0.3 black students. Ten of them would be male and 10 of them would be female. Twelve of them would be able to afford an extra coffee at Starbucks after the photoshoot, five of them would be content with eating out once in a while, three of them would struggle to pay their college bills.
The fact that women are getting more Cambridge offers than men definitely says something good about the education girls receive in this country. I applaud every woman that has made it to Cambridge. You are reversing the centuries-old education tradition that favours men. But above all, I applaud women of colour, women of disadvantaged socio-economic backgrounds and especially women of both who have made it here. You have defied statistics.
When your application is being read by the University's admissions officers, you are reduced to your name, gender, ethnicity, GCSEs and AS grades on a piece of paper. What could possibly preserve some of your humanity is your photo and your personal statement that follows the same format as everyone else's. Application statistics fail to tell the stories of men and women alike who are told to or forced to put a check on their ambition, because of their skin colour, their genitalia or how much money their parents have in their bank account. They forget that they could as well be an anomaly.