SUBJECT review: 'an excellent space for reflection'
In his new exhibition at Kettle's Yard, Sir Antony Gormley asks us to rethink our experience of space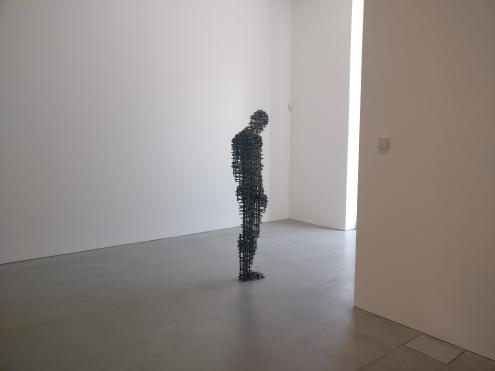 Sir Antony Gormley brings his distinctive sculptural language to Kettle's Yard for a solo show this summer. Perhaps best known for his Angel of the North in Gateshead, he has gone on to exhibit internationally, casting his own body and installing it in relation to different architectures and environments. His sculptures can be found in Brazil, China and New York. In Cambridge he has four sculptures in Jesus College Library, Trinity College North Meadow, Downing Site and Sidgwick Site.
Gormley is no stranger to Cambridge, having studied Anthropology, Archaeology and History of Art here from 1968-71. In a short Q&A session, Gormley said to me that he wasn't a very good student while he was at Trinity. He was more interested in "widening his horizons" and spending time in the King's art studio making films, developing photographs and setting up a pottery society. During our conversation, he stressed the importance of creativity in education and the fact that Cambridge should be a space for alternative ways of thinking as opposed to following a rigorous set of exams.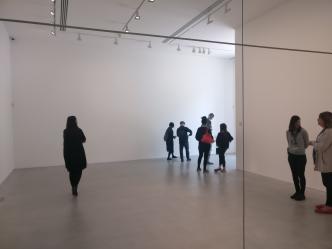 Gormley's belief that "making is also a proposition" resonates with his works, as his sculptures pose provoking questions about our place in the world.  Dressed in his distinct uniform of white t-shirt and trousers, Gormley spoke eloquently of light, empathy and of Kant's subjective experiences. In his speech, he emphasised the importance of the viewer and encouraged the audience to consider themselves in relation to the spatial dimension of the gallery. He urged us to "give the spaces a chance to act on" us.
When entering the gallery, you are confronted by Co-ordinates IV (2018). Two steel bars present the viewer with a route or procession through the gallery space. Gormley expertly reveals the unspoken design of the building or, in his words, the "implied orthogonality of the architectural space" and the power of architecture on the motion of the body.  Gormley characterises this as a way of articulating space in an objective way using the idea of x/y/z co-ordinates. Gormley explains how we perceive space and direction in terms of bodily modes such as up and down, left and right. These are subjective experiences which are then mapped out on to objective spaces. The intersection of  the two steel bars should confuse us as we address the inescapable process of choosing one of these "horizons" to follow.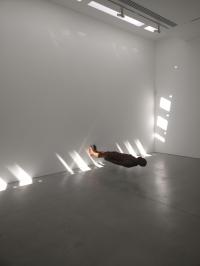 These orthogonal lines are then repeated in Subject (2018), a sculpture of Gormley's body depicted only using 10mm steel bars which intersect continually, weaving in and out of each other and filling the static body with motion. The figure is placed with his head lowered, facing the window onto the street. This lonely "body space" is meant to engage the viewer with a "feeling of empathy", which then becomes uncomfortable with our simultaneous realisation of the sculpture's "lifelessness". The positioning of the sculpture also deals with another of Gormley's interests – light.
Embedded Video (hover mouse over to configure)
The ever-changing nature of daylight will illuminate this pensive figure in continually subtle ways and give the installation an unpredictable atmosphere each time it is visited. Subject is just one of the many figurations of the artist's body which employs computer-aided methods to map his body, enabling Gormley to experiment with form (a technique he has recently adopted). Indeed, the criss-crossing of lines distorts the human form and is reminiscent of pixilation, creating an image of the body mediated by digital screens.
Edge III (2012), conversely, is indicative of his older works and is cast in iron from Gormley's own body.. The remnants of the casting process can be seen in the dark lines which describe the parameters of the body and echo the axal lines of Co-ordinates. Edge is installed with the feet of the sculpture attached to the wall making the body suspend uncomfortably at the height of a bed while weighing 630 kilos. This sculpture explores ideas of rest and meditation which come from Gormley's interest in Buddhism. A dichotomy between interior and exterior is presented as we examine this husk of a body, which is hollow inside but which nonetheless projects centred and reflective energy. Perhaps it is the static, solid materials which comforts the viewer – the permanence of the object gives us hope for our own stability in an increasingly immaterial  world.
Gormley's exhibition is sparse but rewarding if you have the time. It is an excellent space for reflection on our physicality and immediate surroundings and a great opportunity to see the work of one of the most successful and prolific British artists of the last 100 years.
SUBJECT runs until the 27 August 2018 at Kettle's Yard