Review: Private Lives
A frivolous and charming production of Noel Coward's comedy of manners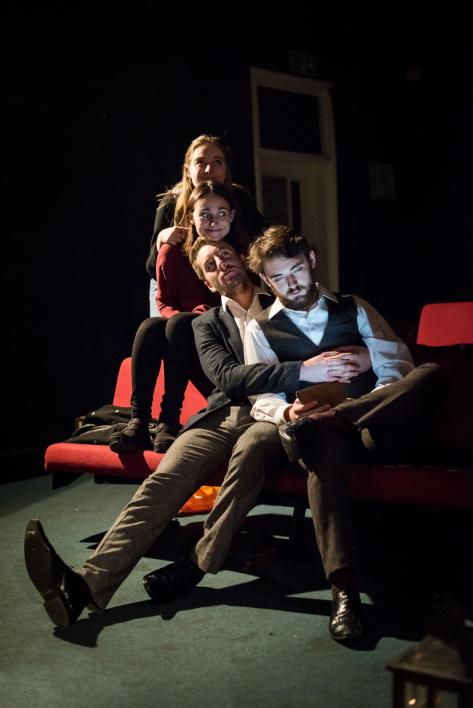 Elyot and Amanda have been divorced for five years after a passionate but tumultuous marriage, so they're naturally a bit surprised to find each other in adjacent hotel suites during their respective second honeymoons: with different spouses this time, of course. Their new spouses, Sybil and Victor, are in turn a bit surprised when Elyot and Amanda declare that they're still in love with each other, and run away together.
Beth Davidson and Will Bishop clearly relish their performances as Amanda and Elyot, and it's down to them that the play is so enjoyable. Charming, witty and so terribly, terribly volatile, they make a wonderful pair as they each slink about the stage, delivering the quick, at times nonsensical dialogue, as comfortably in evening dress as they do in pyjamas. (There is something incredibly satisfying about watching posh people in pyjamas shout and slap each other around.)
Tom Chamberlain and Eleanor Mack were not quite as exceptional as the less endearing Victor and Sybil. Their performances felt too much for me as though they were playing minor characters, allowing Amanda and Elyot to overshadow them with their wit and larger personalities. But as much as Elyot and Amanda are charismatic, they are also extremely infuriating, and only by having a fully developed Sybil and Victor can we fully appreciate this. Amanda and Elyot are fun to watch, but they become much more interesting with a slightly more likeable Sybil and Victor to back them up.
Private Lives is such a well-written play that, at first thought, you almost discredit the production because it seems so easy for it to be good. A strong cast, script and production make for a strong play. I feel that to label the play in this way, though, would be to short-change it. It may not be the most serious play on in Cambridge this week, but it isn't trying to be, and in doing so, it revels in its own frivolity. I don't think I've ever seen such a beaming cast during the curtain call before, and this seems indicative of the fact that they all had a brilliant time being part of it. It was this enthusiasm and commitment to silliness from the actors that made the show, for me, so genuinely enjoyable.