University Challenged review
This spoof panel show suffers from lack of cohesion in its cast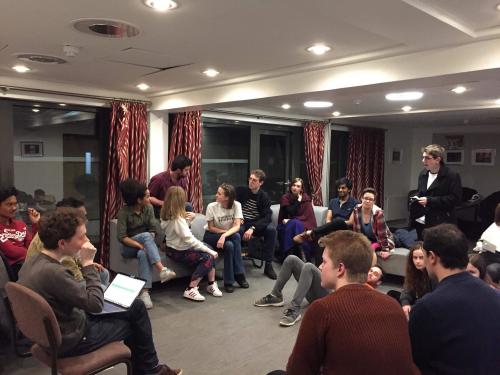 The stage of Corpus Playroom was set up for University Challenged with a range of 'For Dummies' books citing instruction in such themes as 'Churning Butter' and 'A Little Bit of Everything'. The relaxed jazz notes that played in the background were sporadically punctuated with bass beats – the disharmony between the two reflecting the clash of panel shows we were about to experience. Before the theme of BBC 2's University Challenge has a chance to properly show itself, it is visually hijacked by scratches and distortions while the contestants themselves, slightly less demure than the 'real' contestants of the famous show, come running, dancing and cheering onto the stage in front of them. You can't help but laugh at the scene of chaos in front of you as it appears it's going to be an excellent show. This is where it ends though…
As they settle into their seats and introduce themselves and their buzzers, it is clear that they are hampered by a limited script that merely provides context and so they cling to the few ideas they have. As a result, the first ten minutes are filled with the inconsistency of seemingly rehearsed lines that may have worked in one run-through, and uninspired improv that relied too much on their QI-style buzzers' distinct noises to get the laughs. Granted, this could just be a slow start and improvisation does take time to get into, but having seen various improv shows throughout Cambridge, this one really didn't take off as it should have. The jokes were mediocre at best and the relationship between cast members and their engagement with the audience was poor.
"The void between the most verbose and the least was gaping"
Fluidity and ease of interaction were not present, and this resulted in punchlines often being spoken over or, due to poor delivery, completely missed. Because of what seemed like an undeveloped cohesion between the panellists, there were at times some awkward moments of panic – trying to think of something funny to say and, perhaps because of a lack of confidence or experience, they didn't come off. As with all panel shows, some contestants will have more to say than others. However, the void between the most verbose and the least was gaping, as one contestant had very little to say until 'nominated' by another player. While this contestant's comments were the funniest of the night, both in terms of content and comedic timing, Lydia O' Dowd didn't make herself known as much as her few witty lines suggested she could have done. Some played on their mannerisms, whether intentional or not, to some comedic effect. Both Aurélien Guéroult and Giorgio Ragozzino stood out in this vein, the former with some of the best one-liners and audience interaction of the night, the latter, a slightly diluted James Acaster type whose endearing inner-monologue came out in his jokes as he tried to explain his way out of a few holes – he did it well and it produced some genuine laughs.
The host, Dan Allum-Gruselle, did a good job of mediating the sometimes-waning conversation and his dry humour made for a number of laughs, especially in the 'Roast the Host' section which resulted in a few too many jokes pertaining to his small stature, and as one of the panellists said themselves – were a bit too superficial. However, he was attuned to the audience and when things needed to move on, he swiftly moved from one section to the next, awarding points in an amusingly arbitrary manner to the panellists. The show had a clear direction that included pre-recorded add breaks and a variety of different rounds. The one that stood out to me was the Press Conference in which the cast posed information-loaded questions to the host in an attempt to help him guess three things that the audience on the night chose. It was here that the cast seemingly forgot they were performing and their interactions with each other finally came together, the jokes were fluid and the result was purely comedic.
Though this particular show did fall flat at times and could have done with some more direction and cohesion, its saving grace may be its large cast. In total, it numbers 24, only 9 of whom appeared on stage for any substantial length of time last night. Therefore, there is potential behind the idea that could be freshened and improved upon on the remaining nights. With a different combination of panellists and learning from the experience of a first-night run-through – which is at times what it felt like – University Challenged could still pick itself up and end on a higher note than it started.