The Mikado preview: 'freed from the corset'
A diverse, energetic cast mount a fresh take on this Gilbert & Sullivan classic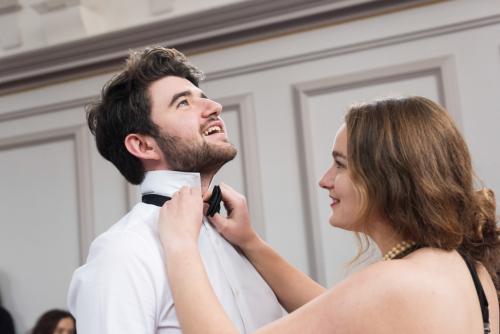 'Expect a pantomime cow, a severed head and a strip tease!', she grins.  Director Eleanor Burke has no qualms with showing off the whimsy inherent in The Mikado, the light opera which is the Cambridge University Gilbert & Sullivan Society's main show this year and will playing in a few days' time in the music faculty's largest hall.  With gender-swapping of roles to create stronger female characters, a new setting in the roaring 20s of New York City and a focus on tongue-in-cheek theatre-related humour, this Mikado promises a new spin on a classic.
"This production hopes to make a comedic mainstay of the Savoy Opera repertoire appeal to a wider, newer audience" 
We find ourselves in 19th century Japan (ostensibly).  Nanki-Poo loves Yum-Yum, she's betrothed to Ko-Ko, the new Lord High Executioner. And Ko-Ko needs to find someone to execute. Otherwise, it's his own neck on the block. Will Ko-Ko and Nanki-Poo come to some arrangement, without anyone losing their head?
This is the old tale, but much will be new about this Mikado.   Firstly, there is the setting.  Just as Shakespeare set plays in Italy to disguise criticisms of Elizabethan England, Gilbert & Sullivan masked their satire of Victorian England by setting this tale in a fanciful faux-Japan.  The Cambridge production attempts to deal with the play's oft-criticised exoticisation of the East by transporting it to 1920s New York, and transforming the court of the Japanese emperor into an old vaudeville theatre which may or may not be run by a mafia boss...  Eleanor says the switch was easy – the Japanese court of The Mikado is not really real, so it is easily supplanted by the world of Gatsby.
New life is also being breathed into the show by the diversity of the team undertaking it - many forces are coming together to put it on (in just three weeks since the start of term!), with Eleanor, experienced at directing opera, and seasoned musical theatre MD Michael Cullen, steering a cast of opera, musical theatre and choral singers alike, from within the university and beyond, many of them undergraduates.  Eleanor highlights that many cast members have never performed G&S (as Gilbert & Sullivan works are known to the theatrically well-versed) before, bringing dynamism to a genre that can often feel quite set in its ways.  With choreographer Vicki Lampitt updating the typical G&S dances and giving them a 1920s twist and director Eleanor focusing on creating a 'chorus of individuals' rather than a homogenous choir, this production hopes to make a comedic mainstay of the Savoy Opera repertoire appeal to a wider, newer audience.  That audience will also have the pleasure of re-writing one of the show's numbers every night – namely, a 'Little List' of 'Society offenders/ Who might well be underground/ And never would be missed'.  Now that offer, surely, is too hard to resist!
The Mikado is playing at West Road Concert Hall on 7-9 February at 7:45pm, with an additional 2pm matinee on Saturday.