She Loves Me preview
Why this ADC show looks set to be "unapologetically charming"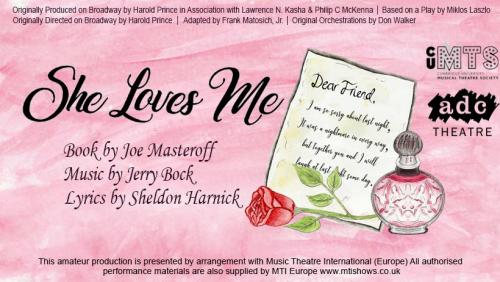 Every so often, we need a show to simply and shamelessly make us smile, and the romantic comedy musical She Loves Me manages to bring a breath of fresh air from a 1930s Budapest parfumerie. Director Jamie Williams tells me this is a setting which doesn't allow half-measures: 'the stage has to feel like a place you would want to be in; it has to be gorgeous and inviting – it's all about the charming aesthetic.' The set, costume, and lighting will mimic the warmth and wonder of the play, then, but they will also reflect its realism. One thing the team could not stress enough was how unconventional for a musical She Loves Me is in its verisimilitude; these are not tropes, but characters that are flawed and well-rounded in a setting that is lifelike and quotidian despite its quirks, made believable by a smart and tight plot. Lead actor Annabelle Haworth (Amalia) praises Joe Masteroff's script, saying 'it is so intricate and well written, it's incredible,' while Williams adds that the audience may only notice the interwoven motifs and crucial details in retrospect. This is a rich ensemble musical, with a large cast but also a big band, and fellow lead actor Robin Franklin (Georg) commends the score: 'it's composed by Jerry Bock, who did Fiddler on the Roof and Cabaret, and they're both so well-known, but I honestly think this is his best score; it's really beautiful but it's also funny, and very clever.' Alex Hancock (waiter/ensemble) agrees, telling me it's a great ensemble to be a part of, and that this is 'a musical for people who love musicals, but even so it is one that people who don't like musicals will be able to enjoy.'
This is a romantic comedy as well as a musical, though the central romance between Amalia (Annabelle Haworth) and Georg (Robin Franklin) is not the only one in the plot, and is very much a slow burn. Their relationship is kindled through a correspondence of letters, leading them to fall in love with each other's minds, and develop an intellectual and cultured relationship with a charming trust in one another. Yet they only know each other on the page, and only as 'Dear Friend' – or so they think. As it happens, Amalia has recently got a job in the same parfumerie as Georg, and the pair hates working together. Bear comments that the pair are 'unconventional, but evenly matched in a strange kind of way.' The actors agree; Haworth describes Amalia's 'relentless energy in a world that struggles to keep up,' while Franklin explains that Georg seems proud, but that when he lets his guard down he too is 'yearning for something more alive.'
"the team cannot stop laughing, and, to be honest, neither can I"
The scene I'm watching is the end of the first act when Amalia and Georg find themselves at the same restaurant, each on a blind date. There is a lovely light comedy to the scene which comes from the contrast in the characters; Haworth's Amalia is anxious and distracted while Franklin's Georg, having had a bad day and a recent revelation, is unabashedly teasing. The team chat for longer than they act, but mainly because they are so attentive to this mismatch; they work on drawing out the subtleties, understanding the different perspectives, accentuating the juxtaposed tones of Amalia and Georg in every line. The rehearsal goes slowly for another reason, too: the team cannot stop laughing, and, to be honest, neither can I – in fact, nothing could have better convinced me that this show will leave you with a smile on your face, because that's how I left the rehearsal room. The team's adoration for She Loves Me was so apparent in the way they talked about the show that I couldn't wait to see the production in order to share in their joy. I didn't get a sense of over-enthusing or sugar-coating, either, but that the team were genuinely excited to share this underappreciated show with others.
Of course, with a romantic comedy musical you have to except some schmaltz, and She Loves Me does dwell in the sweetness at times; assistant director Leo Bear tells me the show is 'unapologetically charming,' and the team agree that the golden age glamour and gaiety is more refreshing than stale, particularly in the Cambridge Theatre scene, where shameless happy endings are uncommon. Williams tells me that the gracefulness is actually the reason the play is so successful, that the emotion or comedy comes exactly at the moments when that lustre falls away. She adds that 'some of the comedy is very extravagant but some is very muted, so you have to find just the right balance' – 'it's a Goldilocks play,' quips Franklin, 'it's got to be just right.' If the enthusiasm and dedication of the team is anything to go by, I have no doubt it will be.