Much Ado About Nothing review
The Marlowe Society's latest production presents an eminently accessible staging of one of the Bard's classic comedies, reminding us why it is still timeless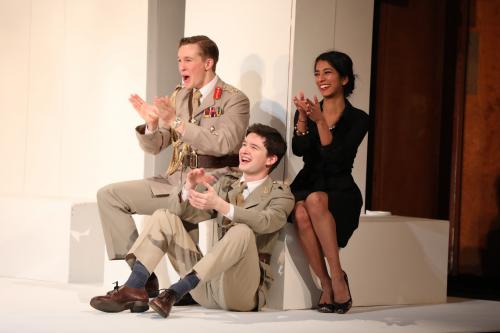 Much Ado About Nothing, a classic staple of Shakespearian comedy, promises a lively display of wit, duplicity and misplaced trust. It is a play which subjects its audience to the dramatization of mistaken choices, linguistic error, and craftiness with language, which highlights a propensity for erroneous judgement not only in the characters which it portrays, but also in the audience members themselves. Any production must, therefore, grapple with a number of difficulties: first and foremost is that of conveying a plot which is not only about deception, but is, in itself, deceptive. This is a play which, when staged, can often be confusing and difficult to follow, especially if you're unfamiliar with the plot. Then, there is the additional difficulty of keeping the comedy fresh and relevant, whilst also not straying too far from the Bard's original wording. It's a difficult play to stage, by any stretch of the imagination.
"On-stage laughter felt real, to the extent that the actors appeared to not just be making comedy, but living it."
One thing is for certain, however: Richard Beecham's production of Much Ado in the Cambridge Arts Theatre successfully surmounts both of these challenges: it is eminently accessible, both in terms of its plot, and in its presentation of the comedy. Perhaps the best word to describe the production is 'unity': the Benedick/Beatrice and Claudio/Hero relationship isn't over-simplified or fragmented into distinct subplots, but each relationship is treated with the depth of attention that it deserves. Shifts between scenes further compliment this sense of continuity: they are slick, professional, and woven together by intelligent light and sound effects.
From the recurring, light-hearted melody which signifies the start of a new scene, down to the minimalistic staging and unashamedly modern costume, everything has been carefully put together in order to draw attention to the actors themselves. But of course, no one goes to see Much Ado for its set: this is a very much a character comedy, and, it is the actors themselves who have the potential to make or break it. Jessica Murdoch and Jamie Sayers delicately depict Claudio and Hero; the wedding scene still stings in all of its cruelty, and their theatrical energy reaches its climax here. They are offset by the witty interplay between Benedick (Harry Redding) and Beatrice (Georgia Vyvan), whose performance is also at its strongest when interacting with each other, drawing on miscommunication and verbal sparring as the source of their comedy. Redding, as Benedick deserves particular mention for his non-verbal performance: his portrayal of a smug Benedick, who believes Beatrice to be enamoured with him, delights because of its comic arrogance.
"The cast draw from the already rich tapestry of wit in the work itself, and add their own spin to it."
Even the more minor characters are not neglected: Dogberry and Verges, two very easily forgotten Shakespearian clowns are given a complete makeover in this play. Portrayed by Eleanor Lind Booton and Amaya Holman as self-righteous members of a nerdy neighbourhood watch, their comedy was well-received by the audience providing a pleasing contrast to the battle of wits between Beatrice and Benedick. One criticism, however, is the fact that at times, the play had the potential to descend into rather slapstick humour. Productions of Much Ado often tread a fine line between the farcical and the witty, and this one occasionally oscillated between the two. Interactivity with the audience, combined with the slightly unconvincing scenes in which Benedick and Beatrice hid behind furniture meant that at times, the play could often feel a bit like a pantomime (although even these scenes did have some slapstick charm). In addition, the second half felt much stronger than the first; perhaps the challenge of exposition for such a complicated play meant that theatrical energy was not always consistent throughout.
However, these minor flaws are not enough to distract from what is, essentially, not only an engaging and amusing, but also genuinely intelligent production of a Shakespearian classic. This is particularly important in any Shakespeare play, where the plot is so well known that productions are judged entirely off their staging alone. Thankfully, here, the cast draw from the already rich tapestry of wit in the work itself, and add their own spin to it; using timing, body language and expression to add to the comedy. There was also a sense that the actors genuinely love the roles with which they were engaging; on-stage laughter felt real, to the extent that the actors appeared to not just be making comedy, but living it. The fact that the whole production was framed within the magnificent setting of the Cambridge Arts Theatre afforded it the grandeur of setting that it deserved.
To anyone who argues that Shakespearean comedy is as relevant now as it ever was, I challenge them to see a mediocre performance of Much Ado About Nothing; comedy can easily be lost in translation or obfuscated by performance. This production does the opposite: despite some minor flaws, it preserves the clarity of the comedy, reminding us that the love-hate relationship between Beatrice and Benedick is as timeless as ever.