The Trial preview 'disarming and hilarious'
Experience chaos and cacophony in this week's highly physical Pembroke Main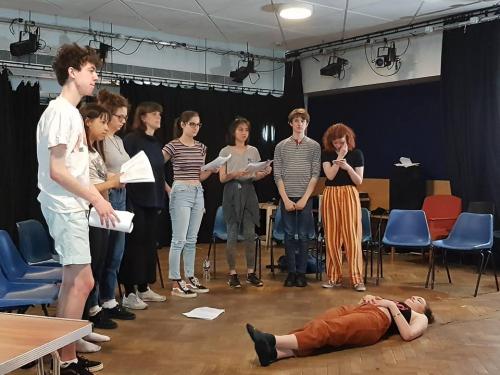 It seems difficult to overstate the cultural significance of Franz Kafka's The Trial. Written between 1914 and 1915, but published posthumously and unfinished in 1925, The Trial is one of Kafka's most celebrated works. Encapsulating so much of what has come to be known as 'Kafkaesque', this is a novel dogged by a relentless impression of anxiety, viewing middle-class society through the lens of grotesque banality. Travelling salesmen awake to find themselves transformed into enormous insects; unresponsive authorities lurk in looming castles; bank managers are pushed through unfeeling, labyrinthine bureaucracies. Welcome to the Kafkaesque.
The Trial recounts the latter story, in which Joseph K., a respectable bank manager, awakes one morning to find himself under arrest by two agents of some unknown authority. With the authorities refusing to inform him of the crime he is supposed to have committed, Joseph K. himself is entirely ignorant of his crime and, in attempting to cooperate with the unnamed authorities, enters into a world of increasingly meaningless, absurd, and ultimately violent, bureaucracy. Steve Berkoff, an actor, author, playwright, and director best known for his style of 'In-yer-face' theatre, began his career adapting Kafka for the theatre, and in 1971 he reworked The Trial into a piece of highly wrought physical theatre which emphasised the work's tension between tortured restraint and staggering absurdity: this is the version which is coming to the Pembroke New Cellars.
The stark brilliance of Kafka's creation lies in the unspecific nature of the gnawing anxiety he portrays
Director Chloe Lansley shows sincere enthusiasm about Berkoff's adaptation, mentioning that she was attracted by the Pembroke Player's call for greater variety in applications, but was wary of doing something completely "off-piste" and thought "it would be helpful to have a practitioner to follow". As a director, Lansley displays a promising balance of artistic vision and practicality, explaining that she is not interested in pursuing a "perfect" production, as is often a temptation in Cambridge theatre. Instead, she stresses the cathartic value of involvement in the production and the importance of experimentation in the rehearsal room; of creating a space of play and liberation from the stresses of everyday existence. She describes this as a project that "gets out all our stress. Exam stress." The cast and crew laugh in collective agreement.
At times in our discussion of social stresses, it feels as if there's an elephant in the room (I notice that one cast member is wearing a – quite clearly ironic – Trump t-shirt). But Lansley and her cast insist that the stark brilliance of Kafka's creation lies in the unspecific nature of the gnawing anxiety he portrays. Tempting as it might be to try and attach specific, current sources of tension to a piece like this, the real terror of Joseph K.'s predicament is that he can never successfully pin down its source. This is an anxiety that is as elusive as it is ubiquitous, and one cast member highlights how The Trial as a theatrical experience is particularly apt at capturing the protagonist's inability to escape his predicament. "When you're reading, you can always just shut the book… you can't do that here," she explains, while someone else chimes in that they hope the performance will almost bring the audience to the point of momentarily "just wanting it to stop".
With this in mind, I felt a wariness about requesting to watch a scene, but was actually pleasantly surprised by how enjoyable, as well as thought-provoking, I found the experience. The ensemble skilfully combines voice and movement work to oscillate between a ridiculous chorus of human characters and a chaotic collection of objects – a cacophony of sound rises in a grotesque parody of an alarm clock which becomes a harsh city buzz. In all honesty though, I feel a reluctance to describe the section I saw in much greater detail. For one thing, I feel as if I'd only be skimming the surface. Lansley, with help of Assistant Director Iris Pearson, has transformed Berkoff's writing into an impression of dizzying activity, and I feel as though I could happily watch this scene as many times as there are ensemble members, finding my attention largely absorbed on first viewing by an excellent, palpably nervous Georgia Vyvyan as 'K'. For another, Lansley and her cast stress the importance of shock-value here, and truthfully, I'd hate to deprive anyone else of that experience. Fast-pace, disarming, and hilarious; the full experience is something special.
The Trial is on at Pembroke New Cellars, 22 - 26 May