University Challenged preview: 'witty, quirky and original'
With a diverse and talented cast, this ambitious project promises to be filled with intimate and amusing moments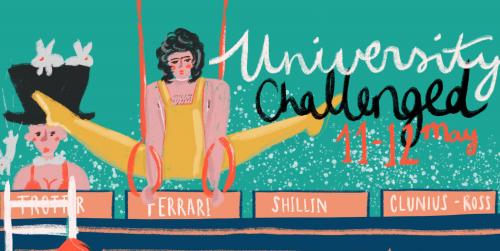 In the words of its creator, University Challenged is a show which "doesn't take itself too seriously". The concept is illusorily simple; an assortment of different panel shows are brought together, including University Challenge (obviously), 8 out of 10 Cats, and Question Time to name a few. The result is something in between the controlled humour of stand-up comedy and the chaotic interplay among different panellists. It quickly becomes apparent that the question-answer format is merely a vehicle through which the comedy is achieved. Or, as its director more aptly explained to me, "like a trampoline that you use to bounce into the comedy".
The attitudes of the cast in the rehearsal room lived up to the show's maxim; no one appeared to take themselves too seriously, and the atmosphere was relaxed and friendly. Run-throughs with the cast appeared to be not so much rehearsals as improvisations and cast members bounced off one another, exploring and storing new material as they worked through various questions. Prompt questions varied from "how long can a chicken live without its head, and what is its quality of life?" to questions about life itself which required slightly more introspection. The unpredictability of the questions merely added to the comedy; philosophical or farcical, the panellists' answers were sure to be comical either way. Witty, quirky and original humour followed.
It is also refreshing to see a well-balanced cast, composed of a large number of freshers
The show itself is by no means a simple project. The cast is huge – nearly 16 people, and it is to be staged in Corpus Playroom, meaning around ten people might be on a small stage at any one time. The director explained plans to have two teams placed at right angles within the playroom, as well as a question team and a judge. The aim is to engage the audience as much as possible in order to create a hectic comedy scene and I was told that a loud and active audience was not only encouraged but expected. It is also refreshing to see a well-balanced cast, composed of a large number of freshers (and not just Footlights members), as well as an equal gender and significant BME participation. Furthermore, the show's creator, Comrie Saville-Ferguson, voiced the possibility of Bobby Seagull himself making an appearance. For those unaware, Bobby Seagull was a past semi-finalist and team captain on University Challenge, whose rivalry with Churchill College's Eric Monkman brought them fame among viewers of the show.
University Challenged is therefore evidently an ambitious project, from its staging right down to its cast. But its high aspirations and parodic style mean that it will by no means mirror the dry and formulaic format of other panel shows (especially University Challenge) – I was told there would be "spraffing, wacky and bizarre scenarios" (apparently 'spraffing' is a Scottish word, I still have no idea what it means or even if I have spelt it correctly). Indeed, the cast members whom I met all seemed to have the sharp wit and vibrancy needed to stage a show of this kind, as well as a fantastic inter-cast relationship. Each night will feature a different series of rounds, for example a music round in which panellists must recognise a song from a limited musical excerpt. The comedy therefore promises to be fresh and original each night.
University Challenged looks to be an intimate and amusing comic piece, equally attractive and humorous to those who do not watch panel shows or otherwise. The concept is simple, but the execution is complicated and well-thought out. Moreover, the production promises comedy in abundance, as well as a relaxed atmosphere in which students can engage, especially in the midst of the pressures of Exam Term. Perhaps its appeal lies most prominently in the dynamics among the cast, who are ready to wittily insult, make fun of and play off each other – all of whom assure me that they will have as much fun as the audience. As Saville-Ferguson pithily phrases it, "Everyone at Cambridge is so smart, but this show makes me realise that some of my friends are so dumb."
University Challenged will be on at the Corpus Playroom from 11–12 May