Peep Back: Mitchell and Webb meet in Cambridge
Francesca Vella-Bonnici delves back into the Varsity archives to look at the comic duo's early efforts to write for the ADC stage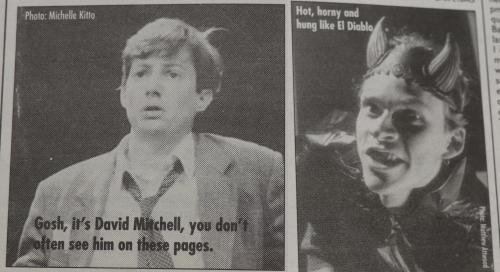 Looking through the Varsity archives of 1994-6, theatre reviews are peppered with mentions of both David Mitchell and Robert Webb. The comedic duo have been responsible for gracing our screens with several hilarious productions, including That Mitchell and Webb Look and Peep Show, which have certainly stood the test of time and continue to be firm favourites. Their tale allegedly began when the pair met at an audition for a Footlights production of Cinderella in 1993. Both undergraduates at Cambridge, Webb studied English at Robinson and Mitchell read History at Peterhouse.
One of Robert Webb's early mentions in Varsity appears in an article reviewing The Barracuda Jazz Option, a comedy sketch show performed in October 1994 and comprised of original material partially written by Webb himself. In the article, a young Webb is pictured with his comedic contemporaries and the reviewer certainly seems impressed by Webb's efforts. In perhaps a slightly backhanded compliment the reviewer commends the actor's performance as "always worth the £3.50 that he […] costs". Similarly, his comedy writing is praised as "exquisite" and "near perfection" and his delivery is described as being "with all the acting skill that you could demand of any play".
David Mitchell's name also crops up periodically in Varsity, and the reviewer of his production of Stud the month after Webb's mention is particularly complimentary. The play (partly written by Mitchell) recounts the lives of two undergraduates at university, and is described as "unashamedly self-indulgent" with "universally excellent" performances. Mitchell's "bravura comic display" is praised as allowing the other actors to make the most of their roles and this early example of Mitchell's writing presumably paved the way for his future successes.
After these early individual acknowledgements, the comedy twosome start to appear together in Varsity articles. The 1994 pantomime Dick Whittington starred both Mitchell and Webb and apparently set the Bridgemas celebrations off in style. Webb's performance is "awesome", his role performed "confidently and masterfully"; while Mitchell "impressively played" the supporting role. The pair are described as "playing off one another to great effect" leading the reviewer to praise the show as "a charming and hilarious show that is never static".
The following year the pair are again referenced in a review of the Footlights 1995 tour production, Fall from Grace, a sketch show depicting the Seven Deadly Sins. The interplay between the two comedians is given a special mention with the contrast between Mitchell's "unworldly sexual innocence" and Webb's "predatory bisexual queen bitch", being described as "particularly memorable".
The list of their skilful collaboration goes on – and the fact the pair went on to work together to compile the 1995 Footlights Revue is testament to their astounding comic ability. In 1996, Varsity published an interview conducted by Mitchell asking Webb about the writing process behind the Summer 1996 Footlights tour, which provides an insight into the gruelling procedure behind the scenes. Webb adopts a light-hearted approach in his answers yet manages to convey the huge task faced by the team responsible for producing such a mammoth collection of sketches every year. The success of the duo was clearly not limited to the Cambridge theatre scene, as both David Mitchell and Robert Webb continue to be household names and familiar faces to the British public