Fowl Play preview: 'wonderfully bonkers'
This charming new student-written production about the Women's Institute has something for everyone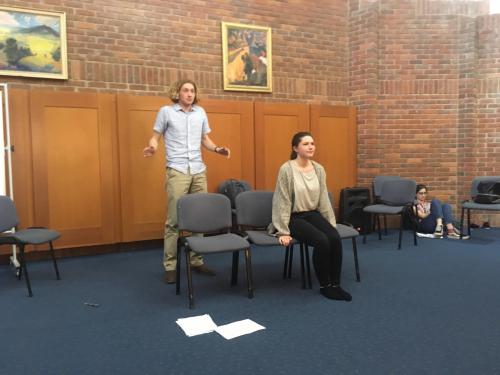 Jam making, flower arranging, baking, crafts, community fetes, detective work, home invasion, chicken racing. Nearly all of these activities are popular pastimes for members of the Women's Institute (WI), an institution founded in 1915 to encourage women to become more involved in food production during WW1. One hundred years later, it seems the WI have branched out into comedy production, namely, one particular comedy production at the Pembroke New Cellars, Emma Plowright's surreal country farce, Fowl Play: No Country for Old Hens.
According to the official website of the Women's Institute, "The WI plays a unique role in providing women with educational opportunities and the chance to build new skills, to take part in a wide variety of activities and to campaign on issues that matter to them and their communities." Die-hard members of the Women's Institute may be worried that Fowl Play brings these noble values into disrepute, making light of the institution's illustrious history. Those militant matriarchs need not fear. Plowright's play stays very true to the principles of the WI, albeit with a few more chicken puns than the founders may have originally intended.
The rehearsal process seems to have preserved the warmth, joy and sense of camaraderie that helped make the WI the illustrious establishment it is today
The characters in Fowl Play certainly engage in a 'wide variety of activities'. The play follows the hapless Carla in her quest to volunteer with her local branch of the WI and complete her bronze Duke of Edinburgh award. There she meets a group of formidable 'ladies of the twilight age'; the 'elected chair' Mary, retired dinner lady and amateur chicken breeder Joan, 'Blonde on the inside' Samantha and mysterious, (i.e. always asleep) Doreen. As Carla joins the group, the ladies are preparing for the town's annual chicken race but find their prize racer has been 'hen-napped'. The ladies' battle to get their hands on the 'Golden Cock' trophy sees them engage with the local community by breaking into their homes, learn new skills such as choral singing and, most importantly, show the prats at the golf club who's boss. Add a romance between Morris dancers and a lot of oversharing, and you have a recipe for hilarity of which WI members could only dream.
The rehearsal process seems to have preserved the warmth, joy and sense of camaraderie that helped make the WI the illustrious establishment it is today. It is immediately obvious how much everyone involved is enjoying the process; notably, the most common direction given is "I know it's funny, but you need to stop laughing". Even Director Joy Hunter can't describe the plot without her face breaking into a wide grin. Actor Archie Williams tells me it was incredible how quickly the cast gelled, and from the lively banter and jokes between scenes, the company's chemistry is clear. Director Madeline Ducharme tells me: "I've sat through way too many ridiculous chicken puns for you to not see this show." The WI would certainly approve; what skill is more important to cultivate than the art of top banter?
Dogmatic jam-makers may still be worried that Fowl Play does not live up to the WI's most important principle; how can a farce about chickens possibly be educational? The answer is, it has already been very educational for the cast and crew. I'm told that the play, set in a quaint Derbyshire village, has educated Ducharme (who is American) on many important aspects of English culture, such as Holby City, Morris dancing, and the nuances of regional British accents. On this point, Williams suggests, "I feel like one of the appeals of this show is seeing how long the accents will hold." To learn the answer to that question, audience members must go along and decide for themselves.
Like a truly great WI meeting, the show is educational (I mean, ish), definitely fun and completely, wonderfully bonkers. So, whether you are a pensioner with a penchant for poultry, an overworked student who needs to escape the stresses of Exam Term, or you'd just really appreciate some advice about how not to go about breastfeeding a chicken, Fowl Play has something to offer you. Pot up your jam, lock up your hens and potter over to the Pembroke New Cellars for an evening of romance, laughter and mayhem. And don't even think about bringing along any shop-bought cakes.
Fowl Play is on at the Corpus Playroom 8-12 May