The Producers review: 'spectacle and sensation'
With its enormous cast and crew, this year's Lent Term Musical showcased Cambridge talent, but somewhat missed the mark in engaging with its problematic subject matter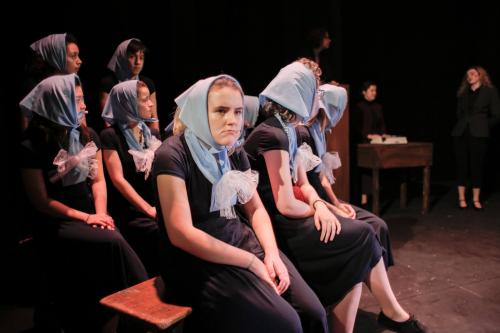 The Producers was never going to be a safe bet. Traditionally high expectations for the Lent Term Musical were compounded by the recruitment of the largest cast to appear on a Cambridge stage within recent memory and a production team extensive enough to provide the basis for a not inauspiciously equipped moon colony. The Camdram page for this show is a transcribed headache – so far, so ambitious. But it's the content of the show that really raised the stakes here.
Geraint Owen's production of The Producers is an ambivalent exposition of Broadway moguls arrived just in time for the post-Weinstein era of industry critique. The show's narrative is drawn from the interplay between two producers bent on profiting from a carefully engineered Broadway flop and a mix of bottom-of-barrel tropes including an effeminate theatre company, an Eastern European showbiz-wannabe and an expatriate Nazi. Any production on this musical will inevitably tread a line between two predisposed directions: incisively satirising the entertainment industry by foregrounding its greed, misogyny, and indulgence in lazy stereotypes, or mishandling the satire and falling into the same spectacularised indulgence that it has the potential to subvert.
To this end, the show presents a somewhat mixed verdict. While it conjures spectacle and sensation in spades, these often come at the cost of more nuanced engagement with its problematic facets. This was particularly evident in Act I, in which character tendencies such as Franz Liebkind's unadulterated Nazism and Ulla's clumsy English and unwholesome reciprocity to the male gaze are played for laughs rather than undercut satirically. Protagonists Bialystock (Meg Coslett) and Bloom (Conor Dumbrell) are spirited and affable, yet their relationship is directed in a manner too charming for Bialystock's naked greed to stand, as it should, as the counterpoint to Bloom's blithe naiveté. The duo's various capers are rather portrayed rather too innocuously to mitigate the unsettling caricature of the characters they encounter, with uncomfortable results. While Act II was more sensitively handled, the redemption and celebration of the protagonists demanded by the narrative and its close seemed to sweep the missteps of the first Act under the carpet rather than engage with them. Consequentially, for a show that set out to present hilarity in a tempered, sensitive manner, The Producers rather misses the mark.
As the avaricious protagonist Max Bialystock, Meg Coslett bears the onus of the show, and its success ultimately hinges on her performance
Political correctness aside, there is a lot to commend here. The whole production is personable, energetic and slickly presented. Musical director Michael Cullen conducts a polished band to a high standard and the music was never less than vibrant and engaging. Moreover, Alex Ridley's stage management team orchestrates a smooth sequence of scene transitions and avoids losing momentum over often coordinating intimidating set pieces; between these two, the show has a steady foundation from start to finish.
As for the cast, it is difficult to pick a place to start from the 25 actors, all of whom maintained a greatly impressive standard and should be proud of their work. Perhaps the most clear-cut of the standouts is Leo Reich's Roger DeBris, who is played with great flair and comes across with an air of inescapable endearment. This excellent performance is exactly the right shade of loveable ridiculousness required to diffuse the show's potential for controversy, most notably in centrepiece number 'Springtime for Hitler', featuring Reich as the all-too-eponymous dictator, where the play's ironic slant lands squarely for perhaps the first time. In his scenes Reich is at the centre of a spectacle too wholesomely frivolous to be taken as anything but pure entertainment. He is supported with equal gusto by Oscar Kong, whose performance as Carmen Ghia complements Reich's with great pizazz.
Conor Dumbrell's portrayal of starry-eyed accountant turned producer Leo Bloom is also pulled off with conviction. Bloom's narrative is in many ways the most developed of the show, and Dumbrell's formidable versatility carried the alternatingly trepidary and boyishly cocksure vacillations that make his character such a dynamic spectacle. Furthermore, as Franz Liebkind and Ulla, respectively, Stanley Thomas and Joy Gingell found themselves saddled with the most trope-ridden characters of the core cast, but rather than shy away from this, both took it in their stride. It is testament to these performances that the more frustrating the characters became throughout the show, the more admiration I developed for the actors. Standouts from the ensemble include Amaya Holman, whose irritable pettiness as Mr. Marks was as dynamic as it was comic, and Capucine May, whose spellbinding rendition of the first verse of 'Springtime for Hitler' showcased one of the evening's finest voices.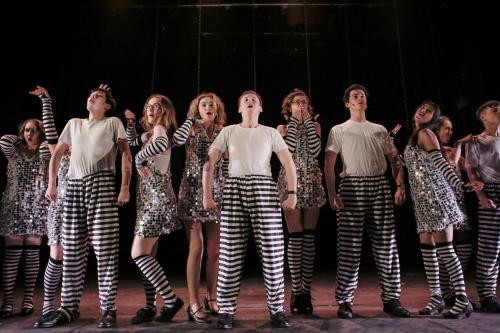 However, the most complex and intriguing of the cast is best saved for last. As the avaricious protagonist Max Bialystock, Meg Coslett bears the onus of the show, and its success ultimately hinges on both the strength of her performance and the nature of its portrayal. This distinction is critical and requires careful engagement. In what she brings to the stage, Coslett is a clear highlight; her voice and stage manner are both forces to be reckoned with, and she fronts the show with nothing less than aplomb.
However, the direction behind her performance leads to an uneasy representation. Bialystock is a thoroughly problematic character in his misogyny, his epitomisation of a corrupt industry, and his innocuous vindication at the close of the show, but to this end he came across as somewhat under-characterised. Elements of his greasiness, his sleaze, his objectification of other characters, his self-centredness, and his relative amorality are present in the script, but not nearly as developed in performance as the character demands; Coslett's Bialystock suppresses these elements and comes across instead as a blundering degenerate whose amiability weakens his satirical potential and tends dangerously towards the right side of the hyphen in 'anti-hero'. This is not a reflection of Coslett's skill as an actor; in the momentary asides in which she draws on these traits, she shows herself clearly capable of presenting them to the fullness of their scope and I have no doubt that she would have been equally as excellent a casting choice for a more transparently depraved Bialystock. However, where this character should have been morally deplorable, or at the least questionable, he was merely unobjectionably ambiguous. As such, Coslett's performance simultaneously represents the full strength of the show's acting talent and the clearest weaknesses in its directorial stance.
The rest of the production value is a mixed bag. The clear highlight is the costume, which is chosen by Emma Tait sharply and with far more focus than one might expect for a cast this huge; Tait has not had a light responsibility but has pulled off one of the best-costumed shows of the year. However, the set design was somewhat inconsistent. The staging demanded a steep range of sets, some of which were pulled off convincingly (for instance, the whole of Bialystock's apartment is wheeled on as a single, cutaway set piece), while others are less so. Roger DeBris' hallway in particular was a sparse sight, and various other scenes are underadorned in a manner that emphasised the wide amount of stage space used in a slightly awkward fashion. The sound mix, on the other hand, consistently navigated an intimidatingly complex range of voices of and instruments and delivered a reasonable standard of aural clarity throughout.
However, at the end of the day The Producers' biggest selling point (both quantitatively and qualitatively) is its cast. All 25 members shine in their respective mishmash of roles and the direction and choreography behind their at times gargantuan on-stage mass are admirable; in the show's most potentially cluttered scenes, the cast were never a crowd, but rather a coherent presence. Coslett and Dumbrell are an excellent leading pair and are backed throughout by personable supporting leads and a powerhouse of an ensemble. It would be disingenuous to call this an entirely 'successful' production given what it seeks and fails to represent, but the spectacle and sensation provided by the actors constitute a very much worthwhile outing for any would-be attendee.
The Producers is on at the ADC Theatre until 24 March