The Producers preview: 'out with a bang'
Boasting 222 hours of rehearsal work and the involvement of 111 students, The Producers is a love letter to theatre, showing off the ADC and celebrating how far student theatre can go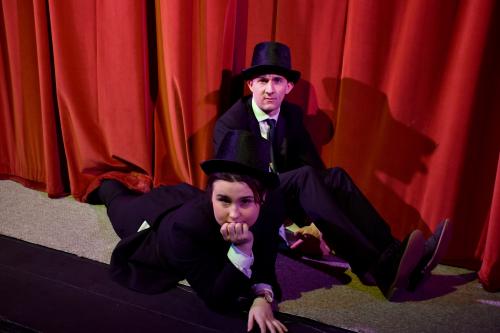 222 hours. Two hundred and twenty-two hours. That's an insanely long time. It's a period of time I can't even get my head around. In 222 hours you could fly from Stansted to New York (where the 2001 Broadway run of The Producers won more Tony Awards than any musical before or since) eighteen times. In 222 hours you could watch every single performance of every single ADC Main and Late from Week 0 to Week 9, and still have a working week left over. When The Producers opens its doors on Wednesday 14th March, 222 hours of cast time will have gone into the rehearsals, with even more hours spent on production meetings and individual work, such as designing and making costumes and rigging lights. If one was judging in terms of sheer effort, this would promise to be a brilliant show, but when I join the company for the sitz (a sing through with the band) it is clear not only brute effort, but also extreme levels of passion, talent, and attention to detail have gone into this year's Lent term musical.
The sitz is held in the Octagon in Catz; I arrive about 45 minutes in, to a room full of people, all highly organised and cheerful. Musical director Michael Cullen sits in the centre of a semi-circle, surrounded by the band, who in turn are surrounded by the cast members, who are surrounded by 8 members of the production team. Seven of these are furiously tapping away on laptops, the eighth, costume designer Emma Tait, is pinning the hem of a vast silvery outfit. I slide in behind them, and Geraint Owen, the director, leans back to tell me about the show.
The premise of The Producers is two producers who set out to create a Broadway flop, in order to rake money in from the overselling of shares. The flop, the show within the show, is called Springtime for Hitler and contains a lot of what might best be described as Nazi jokes. Even apart from that, the musical as a whole contains many jokes that could reasonably be found offensive. Aware that in Cambridge 'reasonably' is often an unnecessary qualification when finding offence, I ask Owen how he feels about putting such a notorious musical on the ADC stage. He has clearly put a huge amount of thought into this question, and rather than trying to gloss over issues with a previewer who doesn't know the show as well as he does, he plunges into explanations, grabbing a copy of the script to show me the more offensive stage directions.
"If you searched in a computer," he says "for the most problematic musical to put on a Cambridge stage, this is what you would get". They have had to be very careful, he explains, as to how and where every joke is landing, and who is being punched. The responsibility he feels as director is clear, and he sees it as his duty that the audience feel no doubt and no sense of uneasiness about the direction the humour is pointing in. Owen has made some changes, the most drastic of which is casting Meg Coslett, a female actor, in the main role of Max. Max is a Weinstein-esque character, the characterisation of which is turned on its head by the choice of a woman to play the role. But it is not, for Owen, a question of merely ticking boxes. Again, he stresses the need to put real thought into these decisions. He praises the sensitivity of his 25-person cast in creating a nuanced production and while it is clear they deserve it, Owen's diligence must also be praised. As a previewer, I find it highly impressive that such seriously thought-out direction can co-exist so cleverly with the easy humour in the room, and the silly hilarity of the songs being rehearsed.
After a break in our chat to listen to Coslett's beautifully powerful voice, we turn to discussing the lent term musical as a whole, and the fact that this will be the last ADC main until the doors re-open next Michaelmas for incoming freshers. Owen sees The Producers as entirely suitable for this slot, as the show is in many ways a love letter to theatre, showing off the ADC, and celebrating how far student theatre can go. It's certainly a dramatically large production, with 160 costumes, a band that cannot physically fit in the theatre, and a DSM desk that will be raised 10 feet off the ground. Not only 222 hours of rehearsal work, but also, a quick scan of Camdram tells me, 111 students are involved. "It's such an explosive show," Owen told me while discussing his direction, "you have to know how to set the bomb off." Certainly, by programming The Producers, ADC management have decided to send the year out with a bang.
The Producers will be on at the ADC Theatre from 14-24 March